last night
after he allegedly leveled a firearm at officers, according to a press release from the Eureka Police Department.
Officers were dispatched to a residence in the 2800 block of Lowell Street at 5:18 p.m. to a report of a man making suicidal threats via text messages who possibly had a gun. Officers set up a perimeter and set up an emergency alert notification to nearby residents to shelter in place, according to the release, as a county mental health crisis negotiator was brought in to assist. According to the release, fire and medical personnel were also dispatched and staged nearby.
At about 7:50 p.m., officers heard what appeared to be gunshots in the backyard, but negotiations continued with the man. At 8:23 p.m., according to the release, the man left his backyard and walked into an adjacent alley, where officers were staging.
"The male was armed with a firearm and refused to comply with officer's orders to drop the weapon," the press release states. "The male leveled the firearm at officers and an officer involved shooting took place. The male was immediately transported to the hospital where he ultimately succumbed to his injuries. No officers were injured during the incident."
The release does not specify how many officers opened fire on the man, nor how many times he was shot. The shooting is being investigated by the multi-agency Critical Incident Response Team, which brings in officers from a host of local agencies.
Find photos from the scene by local photographer Mark McKenna and the full press release from EPD copied below: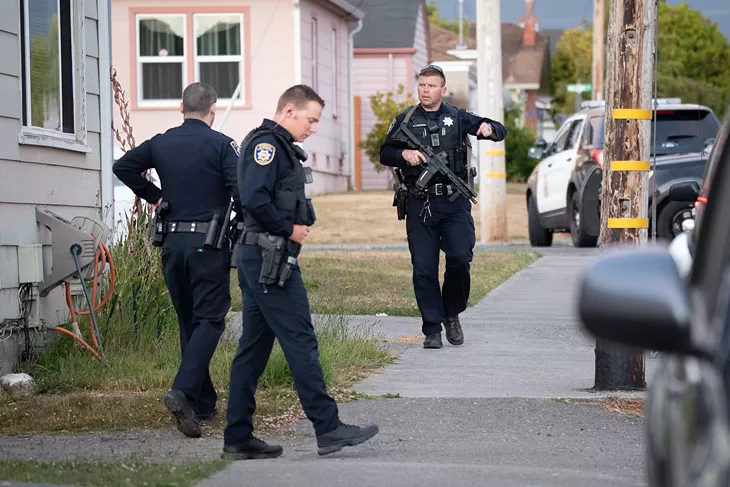 14 slides
MEDIA RELEASE
FOR IMMEDIATE RELEASE
July 23, 2020
Subject: July 23, 2020 Officer Involved Shooting
On July 23, 2020, at about 5:18 p.m., officers with the Eureka Police Department
responded to a residence on the 2800 block of Lowell Street in Eureka for the report of a male making suicidal threats over text message and possibly in possession of a firearm.

Officers arrived on scene and attempted to contact the male. Due to the severity of
the threats, a perimeter was set up and an emergency alert notification was sent out to nearby residents warning to shelter in place. A County Mental Health Crisis Negotiator responded to the scene to assist with negotiations. Upon receiving the initial call for service, Fire and Medical were also dispatched and staged nearby.

Officers and the Crisis Negotiator attempted communication for nearly two hours while the male continued to make threats. At about 7:49 p.m., officers heard what appeared to be gunshots coming from the backyard. Negotiations continued while the male was observed in the backyard with a firearm.

At about 8:23 p.m., the male exited his yard into the alley where officers were. The
male was armed with a firearm and refused to comply with officer's orders to drop the weapon. The male leveled the firearm at officers and an officer involved shooting took place. The male was immediately transported to the hospital where he ultimately succumbed to his injuries. No officers were injured during the incident.

The multi-agency Critical Incident Response Team (CIRT) was called out and is actively investigating this incident as an officer involved shooting. CIRT is comprised of designated representatives from various Humboldt County law enforcement agencies who have specific training in homicide and officer involved shooting investigation. This is an active investigation and further information will be released as available.

###
Media Release Prepared by: PIO Brittany Powell
Eureka police shot and killed a reportedly suicidal man