click to enlarge
After more than four decades behind the counter, Larry Glass has left The Works. The former Eureka city councilman and longtime environmental activist said Wednesday that it was simply "time to move on" from the record store, which has become a North Coast institution.
The good news? It will remain one. Glass left the store in the competent hands of longtime employee Bandon Taylor, seen here in front of the current C St. location in Old Town Eureka:
click to enlarge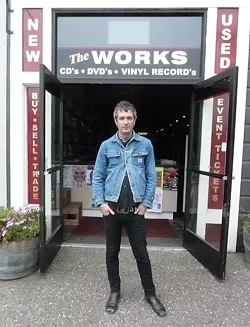 (Fun trivia: Bandon's dad, Rich Taylor, was an employee of The Works in the 1970s.)
"It's been a good run," said Glass, who began his vinyl jockey career in southern California before coming to Arcata in 1971. When he first started at The Works it was located next to the Minor Theatre, and the landlord at the time didn't really understand the concept of a record store, Glass recalled.
"He said we couldn't play music!"
Shortly thereafter the store moved into an old barbershop at 1610 G St., next to what's now the Wildflower Cafe. (At the time it was Northtown Books, in case you've always wondered where that name came from).
In the early days, Glass co-wned The Works with Dave Mulhern. After expanding to Eureka the duo split up, with Mulhern taking the Arcata store and Glass taking Eureka. (Glass later took over both locations, which continued moving to different storefronts over the years.)
Asked about his future plans, Glass said he intends to "enjoy my life more," which means spending more time with his granddaughter and working for environemental causes. Glass is president of the board of the Northcoast Environmental Center and also involved with the Trinity County-based SAFE (Safe Alternatives for our Forest Environment).
"I feel grateful that I had somebody to turn the store over to instead of having to close it down or sell it to somebody who wouldn't carry on the traditions," Glass said. "And I feel fortunate for 40 years of support that this community has given The Works. It's been awesome. I raised two kids, bought a house, built another one."
Ultimately, Glass said, owning a record store proved to be his dream job. "It was a good opportunity to do what I really care about -- turn people on to music and get paid for it."