click to enlarge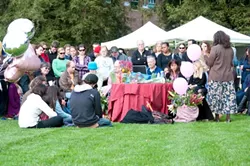 Yesterday evening, a memorial was held for Sophia Parker Pedreros, the
2-year-old girl who died in the Trinity River
. A story on the memorial by
Journal
intern Travis Turner is below the break.
Today, Sofia's dad, Robert Parker, sent the following letter:
Yesterday I attended a memorial service that I had never imagined I would need to attend, a memorial that no parent could imagine attending. The passing of my daughter Sophia touched and affected so many people -- from law enforcement and search-and-rescue personnel working for multiple agencies who searched so diligently for her two weeks ago, pilots and outdoorsmen who volunteered their time and resources to assist in the search, persons who found discarded items along the road having no idea what those things were involved with, Sophia's day care providers, pediatric nurses, parents of her friends, my own academic mentors and colleagues, close friends made over many years, to people who had only known Sophia from what they had read in the newspapers -- all of them brought together and connected to her through the tragedy of her death or the joy of her life.

I am so thankful that many of us were able to come together yesterday to remember my beautiful daughter. Many of these people, especially the many search-and-rescue personnel, I will never have the opportunity to know and thank. Nor will I ever be able to know and thank the innumerable persons who could not attend but lit candles and continue to keep Sophia in their thoughts and prayers.

Yet yesterday all of us who so chose had the opportunity to come together to share in our grief and love for a little girl that many had never had the opportunity to know in life. Without the incredible support that has been shown to my family by our community over the past weeks it is doubtful that I could have even reached a point in where I am able to write this, let alone get through life on a day-to-day basis. To all of those persons I give my heartfelt thanks.

I especially want to thank the staff and administration of Humboldt State University and the HSU Children's Center for so graciously providing the space for all of us to come together. Over the past years both Sophia and myself spent much of our time at the university, Sophia loving her school as much as I loved mine. We could not have thought of a more appropriate place for this gathering.

We also would like to thank Sun Valley Floral farms for their wonderful donations. Sophia's room is filled with flowers, cards, and photos today. That room shines bright with the love that will always be expressed for her and provides us with a lasting acknowledgement of how old and new friends, and strangers, can come together in support. To Naomi Steinberg, for her spiritual guidance, and Joanne Rand for the beautiful music we are deeply grateful. To all of these people I also give thanks.

As we await the arrival of Sophia's relatives from Chile, now working to obtain visas, we begin to plan for a more private ceremony, possibly one where Sophia's ashes will be spread with the winds both here and far away in her mother's home country.

Still, we realize that there are countless families who are out there somewhere experiencing tragedies of their own. We stand together with them and share in their grief. I would hope that their communities are as strong as ours and can extend the same gestures of kindness and compassion that my family has experienced over the past weeks.
click to enlarge
Report from yesterday's memorial service:
"Our hearts are torn asunder by this tragedy," said Rabbi Naomi Steinberg, officiator of the memorial service for Sophia Parker-Pedreros, the 2-year-old girl who'd died in the cold waters of the Trinity River less than two weeks earlier. More than 50 people gathered at Humboldt State's multi-purpose field in the cool afternoon air to hear the service Thursday evening.
The sadness of the event was like a heavy blanket, muffling quiet cries and whispered voices. Robert Parker, Sofia's dad, sat with his own father as two members of the audience shared memories of his daughter.

Grace Goodson, a worker at the HSU Children's Center, said, "She loved to dress up, put her glasses on and say, 'Look at me.'" Goodson went on to say that Sophia was a beautiful girl who loved singing and her books. "She would always ask to bring out the bubbles." Goodson said she loved the bubbles, always wanting to know where they went when they popped.

Parker sat and told stories of Sophia. "She loved fairies. She wanted to be a fairy quite badly," he said. He told a story about bringing home a Tinkerbell costume. Sophia's frank response was that she didn't know how to fly.

Sophia loved the zoo, Parker said. She could name every animal there and had her favorites.

Parker did turn serious at one point to speak of his wife, Claudia Pedreros, currently being held without bail in Trinity County on murder charges. Claudia allegedly admitted to drowning Sophia and letting her body float down the Trinity River.

"A lot of women all around the world suffer deeply, alone and in isolation," Parker said. "They don't ask for help because they are afraid. Sometimes they don't know where to go, or who to go to for help. ... The prevalence of women suffering alone in our society is mind-blowing."

Parker said he hopes everyone will learn about post-partum depression and post-partum psychosis, implying that he believes Claudia suffered from these conditions.
click to enlarge