Renee Saucedo, of the community group Centro del Pueblo, organized the gathering and made the opening remarks to the crowd. She noted that, several years ago, May Day was adopted by the undocumented community. "It's a day where we march and where we speak out," said Saucedo. "No human being is illegal."
Saucedo, and others who spoke, mentioned the sanctuary proclamation currently being drafted by the Humboldt County Board of Supervisors' Human Rights Commission. Saucedo was hopeful that the draft would eventually become an ordinance calling for local law enforcement to stop working with and giving information to U.S. Immigration and Enforcement.
Leila Roberts came as a volunteer with Centro del Pueblo and spoke to the crowd about supporting people in the immigrant community. "Undocumented people are part of this community," she said, adding that since they are our neighbors we should stand with them when they are in danger. Roberts is also the director of the North Coast Small Business Development Center.
Other speakers shared stories of their familys' immigration, with two people telling of their own legal immigration into the country. Kat Thornton, who was born in Brooklyn and raised in Jersey, as she said, told the story of her family's immigration to the United States. She also spoke of the fight for civil rights that she was a part of during the 1960s.
Thorton, 67, said that when the Civil Rights Act was passed her generation thought they were done, thought they could pass the baton. Thorton added, "These fights — I'm just learning at 67 — they're never over because there's always somebody willing to take things away that we thought we had won forever."
Thornton then encouraged the crowd to get their kids, parents and neighbors out to work on these issues.
"You talk about who's an immigrant and who's not an immigrant," she said. "We're all immigrants, or the descendants thereof."
The following video of the protest was taken by Johnathon DeSoto:
May Day : Sanctuary Rally from Johnathon DeSoto on Vimeo.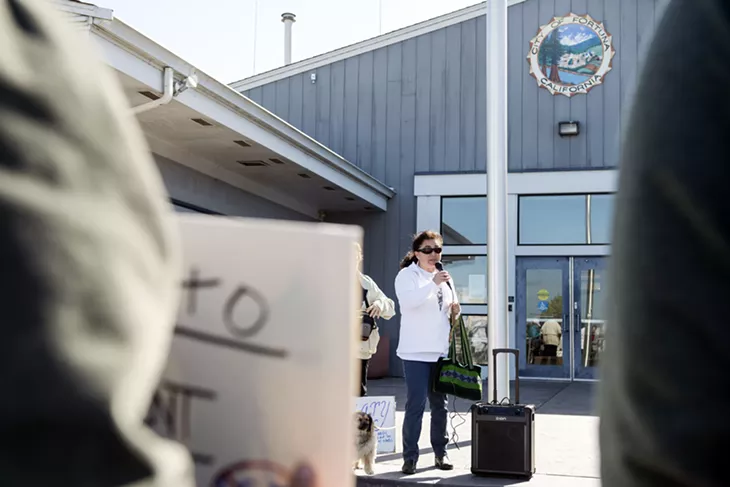 6 slides
Around 35 demonstrators gathered in front of the Fortuna City Hall on Monday to show support for a proposed sanctuary ordinance being considered by the Humboldt County Board of Supervisors. Those in attendance also mentioned that May 1 is International Workers Day and made mentions of the demonstrations taking place around the globe today.