The melodious and distinctive sound of TubaChristmas was back after a year's absence in Eureka's Old Town on Saturday, and TubaChristmas director Fred Tempas welcomed a large crowd of tuba fans gathered under chilly, foggy skies at the gazebo.
This local version of the nation-wide tuba-playing performances of TubaChristmas first started locally in 1988. The local group of tuba players has played every year since then except last year due to the pandemic. Many of the tuba players and director Tempas were festooned with commemorative buttons from years past and other locations.
"We've played in wind, rain and snow in the past," said Tempas. "Moisture isn't an issue for these brass instruments but rain is hard on the sheets of music." (See highlights of the event in the slideshow below.)
Group member and grandmother Joyce Carter, of Eureka, said her extended family of six tuba players kept the TubaChristmas tradition alive last year by playing in her home's driveway for the neighbors. The family members include Jude Carter, now 11, who has been "playing" a tuba in TubaChristmas events since he was 3. His father, Jerry Carter Jr., said Jude is now playing a real tuba instrument in the performance.
Between songs, Tempas, a former local grade-school music teacher, described for the crowd the various types of tuba instruments in the group. Later, he introduced tuba players who'd arrived from Crescent City, Medford, Boston and Ukiah. The group played a second performance in McKinleyville later in the afternoon.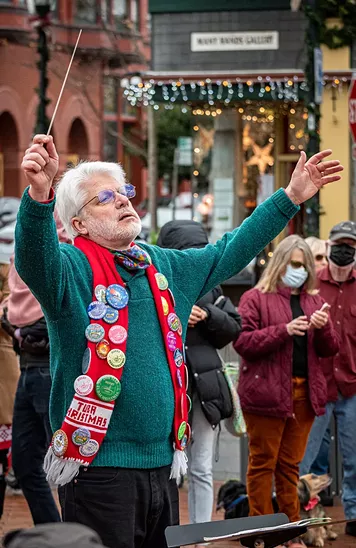 11 slides
The TubaChristmas playlist included a number of jolly holiday classics, including "Deck the Halls," "The Carol of the Bells," "We Three Kings," "We Wish You a Merry Christmas," "Santa Claus is Coming to Town" (with a live Santa Claus in the audience handing out candy canes) and a few originals by local composers. Tempas invited audience members to sing along with the songs, "and if you don't remember the words, just sing 'watermelon, watermelon, watermelon....'" On a more somber note, Tempas dedicated a tuba rendition of "Silent Night" to the memory of his friend and local resident Clint Rebik, who died in November of esophageal cancer.
Tempas said he required all tuba players to be vaccinated for COVID-19 in order to perform in the group and a few tuba players had "masked" their instruments. Most of the all-ages audience members were masked. A few members of the Eureka Police Department also were in the audience.