click to enlarge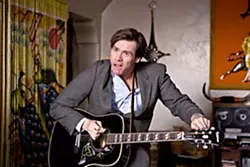 Previews
The Curious Case of Benjamin Button, starring Brad Pitt and Cate Blanchett, has generated Oscar buzz. Benjamin is born looking 80 years old; aspiring ballerina Daisy meets him in a nursing home. They fall in love, but he's getting younger and she older. Seems very promising. Rated PG-13 for brief war violence, sexual content, language and smoking. 159m. At the Broadway, Mill Creek, Fortuna and Minor.
John Patrick Stanley wrote and directed the film version of his own Broadway play Doubt, about a nun (Streep) who begins to suspect a priest (Hoffman) of inappropriate behavior with a young black student. Viola Davis is the student's mother and Amy Adams a young idealistic nun. Another possible Oscar contender. Rated PG-13 for thematic material. 104m. At the Broadway.
Valkyrie is about a plot to kill Hitler by a group of German soldiers led by Colonel Claus von Stauffenberg (Tom Cruise). Cruise's casting caused controversy in Germany due to his prominence in Scientology. Costarring Kenneth Branagh, Terrence Stamp and Eddie Izzard. Rated PG-13 for violence and brief strong language. 120m. At the Broadway and Mill Creek.
Distributed by Disney, Bedtime Stories is a family comedy starring Adam Sandler as a handyman whose stories to his niece and nephew start to come true. Costarring Keri Russell, Guy Pearce, Courteney Cox and Lucy Lawless. Rated PG for some mild rude humor and mild language. 99m. At the Broadway, Fortuna, Mill Creek and Minor.
Based on the popular memoir by John Grogan, Marley & Me is the heartwarming story of a lovable dog (aren't they all?) who teaches his people how to enjoy life. With lovable Owen Wilson as John Grogan and lovely Jennifer Aniston as his spouse, Jenny. Costarring Kathleen Turner and Alan Arkin. Rated PG for thematic material, some suggestive content and language. 123m. At the Broadway, Fortuna and Mill Creek.
From the comic book series by Will Eisner, The Spirit is a CGI film about a dead cop (Gabriel Macht) who comes back to life to protect the city and women he loves from the bad guys (especially Octopus, played by Samuel L. Jackson). With Eva Mendes and Scarlett Johansson. Rated PG-13 for intense sequences of stylized violence and action, some sexual content and brief nudity. 103m. At the Broadway and Mill Creek.
— Charlie Myers
Reviews
CADILLAC RECORDS: "Elvis Presley ain't got no soul; Chuck Berry is rock 'n' roll." So sang Mos Def on his 1999 album Black on Both Sides. Well, in Cadillac Records, Mos Def is Chuck Berry, and the film, which tells the story of Chess Records, the label that introduced the world to legends like Berry, Muddy Walters, Howlin' Wolf and Little Walter, aims to prove Mos' point: "You may dig on the Rolling Stones, but they ain't come up with that style on they own." True dat.
As you might expect, the music is the shining star -- or gleaming hood ornament -- of Cadillac Records. What you might not expect is for the actors to actually sing the songs, and sing 'em so well. It's just one component of an impressive feat of ensemble acting that, along with the tunes, raises what might otherwise have been slapdash Hollywood gloss to something much better.
The always-riveting Jeffrey Wright (recently seen as Colin Powell in Oliver Stone's W) plays Waters with the all the doubt and bravado, all the pride and self-loathing you'd expect of a man whose lethal slide guitar licks and soulful voice carried him from the fields of Mississippi to the top of the charts during the civil rights years, but only with the help of his white label boss, Leonard Chess (Adrien Brody). Racial tension is the undercurrent as Chess builds his stable of "race record" stars, buying each one a gleaming new Caddy as a welcome gift. Eamonn Walker steals his scenes as the fierce Howlin' Wolf, and Beyoncé Knowles is surprisingly effective as Etta James.
At a brisk 108 minutes, writer/director Darnell Martin occasionally resorts to the cheap slickness of television, where she's made her career thus far, to squeeze all these legends into one grand story arc. But so what? With performances this vivid and music this good, Cadillac Records has got its mojo workin'. Rated R for pervasive language and sexuality. 109m. At The Movies.
— Ryan Burns
YES MAN: "Yes is the new no." That's Warner Brother's catchphrase to hook, line and sink you into seeing the latest Jim Carrey flick. Didn't know that people were that into saying no, but maybe I missed some shift of our society from being over-indulgent to cautious.
The film is based on the 2005 biography by British comedian Danny Wallace. In recent years, Wallace, apparently down on his luck and heartbroken, was told in a fateful meeting with a neighboring bus passenger to just say yes. He took the advice and, voila! His life was transformed into one of great adventure, fortune and peculiarity. Sounds like a recipe for comedy. In this recently released cinematic take on saying yes, Carrey stars as Carl Allen, a middle-aged-looking fellow who's gotten caught up in the oh-so negative and isolating rigamarole of working-class American life. The poor character's got no gusto left. He ignores all his calls, says no to friends' invitations and he hides away in his apartment, deliberately dodging any excess contact with the outside world because his self-esteem is all but nonexistent.
One can assume that any number of middle-aged men are divorced, bummed out and pathetic. Sure enough, Carl Allen is one grade A, rejected sack of misery. The man can't handle an encounter with his bangin' hot ex-wife, let alone keep social commitments with his closest homies. Bad scene. By chance and plot advancement, Allen encounters a renegade friend from the past, a man committed to saying yes. Inspired by this outlaw's take on life, Allen decides to attend a seminar on saying YES. The seminar is very mega-church, with Terrence Stamp (The Limey, Star Wars: Episode I), as Terrence Bundley, a dramatically convincing yes-man leader. Allen gets caught up in the spirituality of yes, and next thing you know, he's a yes-man too.
In comes the romance. The dawn of Allen's many yeses bring him to a very attractive Allison, portrayed by Zooey Deschanel (The Hitchhiker's Guide to the Galaxy). So many affirmatives lead to so many opportunities, and before you know it, Carl Allen is a baller. He's got a cute girl, he gets a promotion and he's partying with the best of them. If Allen tries to say no, the covenant he made with Bundley brings a storm of dangerous consequence. Therefore, Allen must uphold his commitment to saying yes, and you can imagine the absurd and sometimes grody situations that arise from this pact.
As the old adage goes, all good things must come to an end. The love interest catches onto Allen's life conversion and she gets pissed. Allen must go through convincing her that he meant all of those yeses and that he truly is a good, spontaneous, fun-loving guy. Yawn. Happy ending. Movie over.
The romance got pretty close to obstructing the comedy, but Carrey and his supporting crew managed to pull it off. The humor could have gone much, much further given the premise, but unfortunately the story line stayed true to the romantic comedy genre. Yes, laughs were sacrificed. Good date flick, but could've been much wackier. Please, just say yes to comedy. Rated PG-13 for crude sexual humor, language and brief nudity. 104m. At the Broadway, Mill Creek, the Minor and Fortuna.
— Emily Hobelmann
Continuing
AUSTRALIA. Epic and romantic action-adventure, set on the brink of WWII. Rated PG-13. 166m. At The Movies.
BOLT. Canine TV star depends on his delusions of grandeur to make unexpected journey cross-country. Rated PG. 96m. At The Movies.
DAY THE EARTH STOOD STILL. Alien named Klaatu arrives on earth and triggers global upheaval. Rated PG-13. 104m. At the Broadway, Mill Creek and Fortuna.
FOUR CHRISTMASES. Couple forced to endure family gatherings when their exotic vacation plans are ruined. Rated PG-13. 89m. At the Broadway.
HIGH SCHOOL MUSICAL 3: SENIOR YEAR. Teen couple lives up their senior year lest they end their romance for college dreams. Rated G. 112m. At The Movies.
MADAGASCAR ESCAPE 2 AFRICA. Penguins marooned on Madagascar jerry rig a plane and head to Africa. Rated PG. 89m. At The Movies.
NOTHING LIKE THE HOLIDAYS. Rodriguez family converges in Chicago for family Christmas filled with drama, stale dreams and heartbreak. Rated PG-13. 99m. At The Movies.
QUANTUM OF SOLACE. Latest installment in the line of James Bond movies. Rated PG-13. 106m. At The Movies.
SEVEN POUNDS. IRS agent with fateful secret makes journey of redemption by changing lives of seven strangers. Rated PG-13. 124m. At the Broadway, Mill Creek and Fortuna.
TALE OF DESPEREAUX. Brave and virtuous mouse seeks life of chivalry. Rated G. 94m. At the Broadway, Mill Creek and Fortuna.
TRANSPORTER 3. Ex-Special Forces stud faces action and adventure while transporting sexy human cargo 'cross Europe. Rated PG-13. 100m. At The Movies.
TWILIGHT. Teen girl gets swept up in unorthodox romance with vampire. Rated PG-13. 122m. At the Broadway.