The Same Old People and a large number of attendees were happy to be "Together Again" at the 47th annual North Country Fair at the Arcata Plaza on Saturday and Sunday after a two-year pandemic delay. The two-day celebration of the Fall equinox, diversity and community featured the All Species Parade on Saturday and the "Together Again" theme recognized the presence of 170 art and craft vendors, local food booths, activities for children and live music and dance performances on three stages.
Organizers have teamed up with Zero Waste Humboldt since 2011 to minimize the event's environmental impact and educate attendees at the same time about "zero waste." Food vendors are required to only provide compostable plates and utensils, and Fair attendees are encouraged to bring their own refillable cups for beer. No single-use water bottles are sold, and attendees separate and dispose their waste as recyclable, compost or landfill.
Given the rainy weather, Sunday's Samba Parade at the 47th annual North Country Fair in Arcata looked like the Samba da Alegria dancers were going to be wearing raincoats, mud boots ... and feathers. The steady rain showers all morning had closed a few of the many vendors who were worried about damage to their wares and canceled morning music performances by the Humboldt Taiko drummers and other groups.
Other musicians set up and risked performing under tents in rainy conditions at the Plaza and Garden Gate stages for a few hardy dancers wearing raincoats or carrying umbrellas. As noon approached, the plaza streets had sparse crowds wandering around looking at the vendor tents that were open.
And then the rain stopped. Crowds of attendees returned to the plaza and Samba da Alegría dancers and musicians emerged from all directions wearing their costumes — and feathers — to line up for the popular Samba Parade. At 1 p.m., under dry conditions, the Samba da Alegria dancers and musicians set off to circle the plaza through packed crowds of watchers and ended in a lively group dance performance at the intersection of Eighth and G streets.
By 2 p.m. and under clearing skies, the Middle Eastern dancers were out belly dancing in front of people sitting on the grass at the Lawn Stage. Attendees finished a most memorable North Country Fair "Together Again" with the rest of the afternoon's scheduled live music performances. See the full slideshow of the weekend's revelry below.
Mark Larson (he/him) is a retired Cal Poly Humboldt journalism professor and active freelance photographer who likes to walk.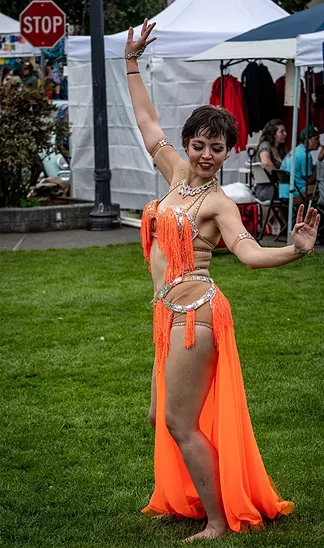 25 slides