click to enlarge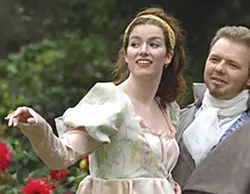 By way of a year-end summing up, this column is about what doesn't normally get into reviews.
The plays we see may have several purposes. Many -- including productions by Humboldt State, CR, Dell'Arte International School, local high schools and organizations like the Laurel Tree Learning Center -- are part of the participants' education. Community theatres like North Coast Rep and Ferndale Rep provide talented community members opportunities to participate in making as well as seeing theatre.
I seldom mention this in reviews, because what these and other theatres have in common is that they charge audiences money to see them, and I review their shows from that standpoint. But I do take their other missions into account, and I expect audiences do, too.
Something else I don't mention in reviews but which productions have in common is the achievement of a group of people preparing and then presenting a play from beginning to end for two or three hours, and then doing it again, over and over. This is an accomplishment by any definition. It's also one of the great benefits to participants: to commit their energies from the beginning of the process, weeks or months before opening, to the end of it. For some, simply sticking with it from first to last actually changes their lives. When audiences applaud, it seems to me it's partly for the accomplishment, regardless of the outcome.
We don't have professional theatre here in the same sense as in San Francisco or Ashland, but audiences here benefit from our particular theatrical ecosystem in ways they might not realize. For example, both educational and community theatres emphasize participation, which often means large casts. Elsewhere there is tremendous financial pressure on commercial theatres to do nothing but small-cast shows. Together with the small cast or one-person shows produced or imported by the Arcata Playhouse, Sanctuary Stage and Redwood Curtain, as well as Jeff DeMark's unique work, we have a rich variety.
Another way our North Coast theatrical ecology is unusual is the predominance of a theatrical style that is relatively obscure in most other places: commedia dell'arte. This is due mostly of course to the Dell'Arte theatre and school, and those associated with Dell'Arte who remain or return here to form other theatrical enterprises.
The commedia emphasis on improvisational satires, often on standard themes, with acrobatics and clowning, may be a local characteristic, but a healthy theatrical ecosystem requires other approaches, too.
So other theatres here (including the companies that wax and wane) bring the balance of classic and newer plays; musicals (including the sterling work of the Humboldt Light Opera), drama and other kinds of comedy. We need them all, and as fortunate as we are to have this much theatre, there are gaps in the ecosystem, too. We could use more.
Because of my very part-time job doing press for HSU plays, I don't write about those productions in my part-time piecework columns here. But I'm dismayed that HSU productions aren't covered much elsewhere in the Journal either. So in this context let me speak up for the role of HSU theatre in the local ecosystem, particularly when the university is taking a hard look at its priorities, and from time to time there have been rumors of threats to HSU theatre's existence.
Besides benefiting the university as a much-needed public interface with the community, HSU theatre brings particular strengths and important contributions in the kinds of plays it does and how it does them. Its recent commitment to doing new plays, often by North Coast playwrights, is pretty much unique here right now. In general, HSU provides training and people essential to North Coast stages, with participation both by students who enliven local theatre while here, and by faculty and former students who remain active in the community.
Lastly, this fall was unusual for offering three productions of Shakespeare. That this theatrical community was able to mount two large cast productions pretty much simultaneously (The Merry Wives of Windsor at NCRT and The Winter's Tale at HSU), while overlapping with the large cast of Noises Off at Ferndale Rep, is astonishing.
Northcoast Prep doing King Lear got me thinking about Ronald Harwood's play The Dresser (also a movie with Albert Finney), which was about a small Shakespeare company playing the English provinces during World War II, based loosely on Donald Wolfit, reputedly one of the great Lears of the century. He was a last exemplar of the "actor/manager" school, and the theatrical style emphasizing the star, declaiming the great Shakespeare parts.
That rejected style had its excesses, but as a general comment, today's emphasis on concepts and creating "stage pictures" may have gone too far in other directions. Those old-style actors knew how to make sure they were seen and heard clearly. They created the stage equivalent of close-ups. It's really not that Shakespeare's language is so difficult; just that there's a lot of it. Instead of devising distractions, I'm in favor of making it easier to see and hear the words spoken.