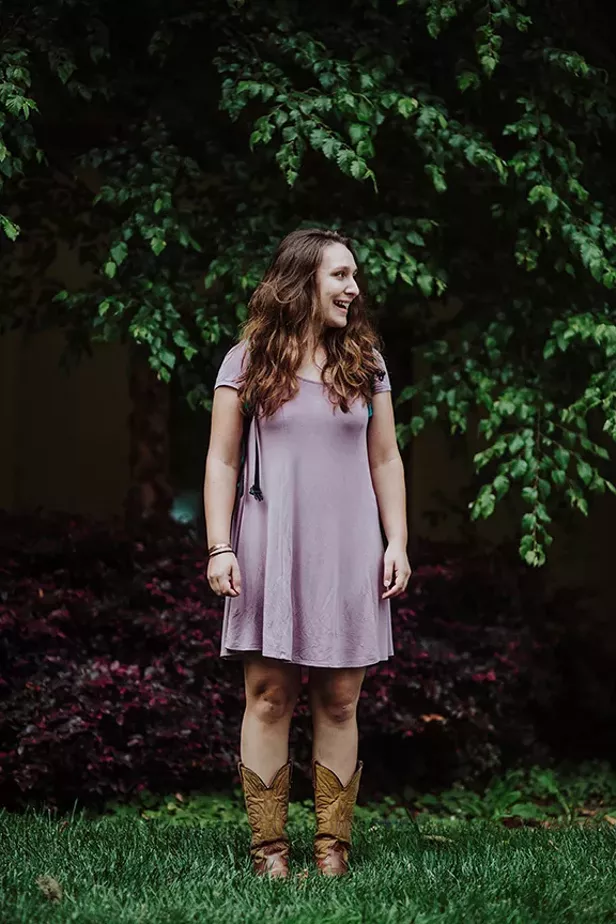 León Villagómez
Robyn Brasuell-Wax, of Modesto, is studying child development and says Humboldt "feels like home; we are surrounded by so much beauty." Here in a mauve dress and cowboy boots, she says her style icons change — Audrey Hepburn one day, cowgirl the next.
León Villagómez
Wildlife super senior Selene Castillo from Fontana finds our area "a really serene place." She's starting the semester in shades of gray and black, with Vans, a denim jacket, leggings and a gray striped scarf. Style inspiration? The Goonies.
León Villagómez
Austin Spurlock hails from Hemet and is a senior psychology, child development and business major. Three fields of study, one serious pair of moccasins.
León Villagómez
Psychology senior Sarah Den Hoed from Hemet is wearing deep reds and a skull motif from the ominously named designer houses Black Heart and Dolls Kill. Her style icon is the edgy Juliet Simms.
León Villagómez
Zulie Blair, a sophomore from right here in Humboldt, is majoring in exercise science. She's dressed in a "comfy yet somewhat stylish" ensemble of jeans and fuzzy boots.
León Villagómez
Environmental science major Natalie Mellick hails from San Diego. Her style influences include "moms/mom chic," which we guess is all about some leggings and layers.
León Villagómez
Travis Shafer, of Pope Valle, is a junior who loves our county's "mellow vibes." For him, Converse and black 501s "feel right."
León Villagómez
Julien Parra of La Puente, California is a junior wildlife major who loves the "super green and gloomy" landscape around here. He's blending in the classic HSU uniform of flannel and jeans.
León Villagómez
Sophomore Daisy Brose is a kinesiology major who is making this protective boot work with her leggings and earth-tone sweater.
León Villagómez
Emily Wooden, a criminology major from San Jose, keeps it simple in Vans, black leggings and a gray cardigan.
León Villagómez
Wildlife management and conservation junior Haley Graf says "skater boys" are her fashion inspiration. She's wearing a Tribe Called Quest T-shirt with some printed Target leggings.
León Villagómez
Samantha Carpenter, of Thousand Oaks, says she's "never been happier to be home and back at school." She's working jeans, Doc Martens and her favorite belt.
León Villagómez
Jean-Paul Ponte is a grad student studying pollination ecology and says "botany doesn't get any better than here." He's following his "metal head" muses in a thrash-ready a metal band shirt, Levis and Adidas.
León Villagómez
Max Oswald of Ukiah is a senior in criminology and he's not afraid of a little color or a vacation vibe in his Hawaiian shirt and flip flops.
León Villagómez
Megan "Dreddie" McDaniel is a journalism major, but today she's wearing a comfy outfit for dance class. She gets her outfits from "hitting those thrift stores."
León Villagómez
You can hear Russ "The Walrus" Walls on Radio Free Humboldt 105.1 FM. On the first day of class, he's keeping it practical and comfy in shorts, a broken-in T-shirt and slippers.
León Villagómez
Jeans, flannel and boots. Wildlife biology junior Ash Walker, of Garden Grove, has adapted to our environment.
León Villagómez
Diana Montano, of Los Angeles, is a sophomore studying social work. She says her button-up, yoga pants and sneaks will keep her comfortable all day long. Beside her is Cleo Domingo, who is here from Camarillo to study environmental science. She is her own style icon in retro glasses, a T-shirt, black jeans and Vans.
León Villagómez
Hannah Williams, of Durango Colorado, is a senior in English and communications. She's wearing some finds from a recent trip to Europe and her style icon is Harry Potter. Ten points to Gryffindor.
León Villagómez
Richard Moog is from Willits and is a junior in environmental science. He loves Humboldt's music scene and presumably this sweet pair of oxblood Doc Martens.
León Villagómez
Rachel Chase, a junior from Clayton majoring in studio art, keeps it low key in a gray T-shirt and black pants — those striped socks, though.
León Villagómez
San Diego native Ashlen McCormick, who's a senior majoring in child development, is wearing leggings and a lace top. Why? Because it makes her look "like a boss."
León Villagómez
Amelia Tigner, of San Diego, is a senior studying child development. She draws fashion inspiration from friends and wears what's comfortable, like these elephant pants, Birkenstocks and this flowy tank.
León Villagómez
Mark R. Bacerra, originally from Ventura, is a senior studying oceanography. He's garnering cred in his Arts and Music Festival volunteer shirt. His style icon skateboarder Heath Kirchart would likely approve.
León Villagómez
Junior Diane McCallian comes to HSU from Aurora, Colorado, to study child development. Her red shoes pop beneath black flowy pants and a deep green jacket.