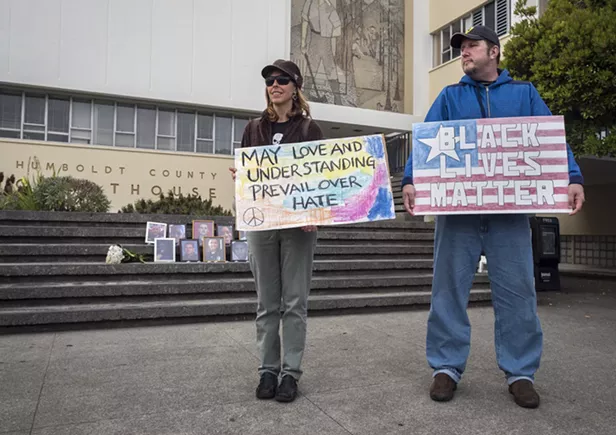 Mark Larson
Jenny Brown, of Trinidad, and Marc Mcgowan, of Eureka, brought their hand-made signs to the Solidarity Vigil at the county courthouse in Eureka on Monday. "I'm here grieving the loss of any life in these tragedies," said McGowan. "It's important for me as a white person to stand up for others of any race."
Mark Larson
Attendees at the Solidarity Vigil held their signs up to gather attention from passing traffic on Fifth Street.
Mark Larson
Tykeshia Leschke, of Eureka, said, "I'm here because I wanted to stand up, and say something. My biggest concern is over those who are not concerned about what's going on. My biggest fear is that many are not afraid about what's going on. 'Black Lives Matter' is just saying that black people are dying at an alarming rate."
Mark Larson
Attendees moved into a circle holding hands as individuals voiced their thoughts.
Mark Larson
Tamara McFarland, of Bayside, one of the informal organizers of the "Solidarity Vigil for Our Beloved Community," arrived early to place 11 framed portraits of recently killed black persons and the Dallas law enforcement officers on the county courthouse steps in Eureka.
Mark Larson
Eureka Police Chief Andrew Mills and other EPD officers attended the vigil.
Mark Larson
Kathleen (no last name shared), of Eureka, said, "It's hard to express the sadness I feel for those who have been killed," she said, "but I'm here to stand with Black Lives Matter."
Mark Larson
Sylvia DeRooy, of Indianola, took the opportunity to talk with Mills and was critical of his stance in his recently published op-ed piece. "My biggest fear," she said, " is that I think a Pandora's box has been opened."
Mark Larson
Leila Roberts, of Eureka, who helped organize the Solidarity Vigil, facilitiated the program during the event.
Mark Larson
Sarah Torrez, of Eureka, shared her song, "Why" at the Solidarity Vigil. "EPD 's long, bad history inspired me to write this song, and I feel as though it's just being covered up by the new police chief with a smiling face," she said.
Mark Larson
Shamara Wyllie Alhassan, of Eureka.
Mark Larson
While the gusty wind prevented most candles from being lit, a few attendees were successful.