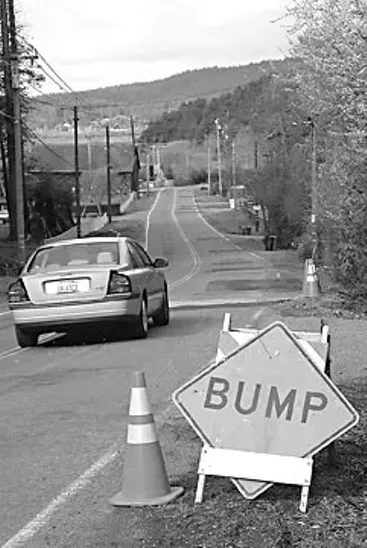 6 slides
"Be prepared," goes the Scout Motto, and it's good advice for government agencies, too. After all, you never know when a new president might decide to inject $787 billion into the economy. President Obama's massive economic stimulus bill -- the American Recovery and Reinvestment Act of 2009 (ARRA) -- has officials at every level of government, in every town, city, county and state, scrambling to assemble their lists of "shovel-ready" projects.
As a symbol for rescuing the most powerful economy in history from a Great Depression-caliber crisis, the shovel seems an unlikely candidate. Along with maybe the hammer, shovels are about the oldest tools in the shed. Nevertheless, "shovel-ready" has become the phrase of the moment, perhaps because the idea of a shovel is as easy to grasp as the tool itself, as opposed to the baffling concept of $787 billion.
With the economy spiraling downward like a fighter jet caught in a flat spin, Obama has called for only those projects that can put people to work, like, yesterday. Nothing that requires environmental reviews, public comment periods or geological surveys -- just start digging, for Christ's sake. Elected officials, executive directors and business leaders have responded by hurriedly slapping bows on their dormant and preemie project proposals. Mayors, governors and city council-members; bankers, scientists and CEOs -- all are hoisting their shovels skyward and pointing them toward Washington, D.C., hoping their scooped blades will be heaped with cash.
In Humboldt County the wish list includes rails and trails, marine terminals, renewable energy projects and new highways alongside simple upkeep chores for our roads, water and sewage systems. Viewed en masse, the cast of hopefuls conjures images of a brave new Humboldt, a Redwood Coast Futurama where trains and cruise ships supply goods and commerce to a bustling green metropolis; where sewage systems and public buildings are powered by the sun; and where the only thing lower than carbon emissions is the unemployment rate.
The reality thus far has been considerably more mundane. At last week's Arcata City Council meeting, Mayor Mark Wheetley prefaced an update on the city's stimulus pursuits with a droll warning: The chamber was about to hear "two of the most overused words in our language these last several weeks." The words he was thinking of were "economic" and "stimulus," but before he could say so, Environmental Services Director Mark Andre hazarded a guess -- Shovel ready? Wheetley nodded: "You might be right," he said. Fact is, you can't have the former without the latter, and thankfully, Arcata has a number of projects locked and loaded, Andre said. Which is saying something. Finding projects that can get underway in mere weeks is a challenge anywhere, he said, but especially in a coastal zone.
Following application guidelines supplied by the League of California Cities (guidelines that change almost daily, by the way), Arcata has submitted applications for such humble projects as replacing water tanks and pipes, managing storm-water runoff in Sunny Brae, installing small-capacity solar panels here and there and fixing up a couple of roads. "Just to be clear," said Public Works Director Dobie Class, "none of these are our dream-type projects." But they're shovel-ready, and at this point, that's the sole criterion.
Eureka has assembled an equally practical wish list, full of projects that could be filed under "Jobs Somebody's Gotta Do." For example, the city hopes to build a "biosolids de-watering" plant to remove the liquid sludge from Eureka's sewage, leaving what Eureka's Deputy Director of Public Works Bruce Young described as a dry biosolid product. "It's very desirable for agricultural applications," Young said. "Around here, some of the lumber companies might want it for fertilizer or to apply in the forests [for trails]."
The city's number-one priority also deals with wastewater. The Martin Slough Interceptor Project, which has been in the works for years, would streamline Eureka's wastewater collection and transport system by routing all of Greater Eureka's crap south to the Elk River Wastewater Treatment Plant. Currently, much of it travels from the southern end of town (no pun intended) to the north side and back again. The interceptor project would allow for the removal of 16 pump stations, and Young said, "We could put a shovel in the ground as soon as we could get a contractor on board." Though the estimated price tag is $22.5 million, Young said the city only requested $15 million in stimulus funding, hoping their attitude of plucky resourcefulness would increase the odds of approval. "These are just pre-applications, though," Young said. "If we're invited back, we'll ask for as much as we can get."
Eureka also put in for highway funding for street rehabilitation and a road projects, including one that would extend Waterfront Drive. "We certainly have a lot of hope," Young said. "We could use [stimulus money] as much as many places, but it's going to be very, very competitive."
Obama's big outlays of money thus far have been similarly pragmatic -- $15 billion for Medicaid relief; $10 billion to the U.S. Department of Housing and Urban Development; $27 billion to states for highway infrastructure projects; $8.4 billion for public transit. Each and every one of these thousands of millions of dollars is intended to have an immediate effect. The Medicaid money, for example, will help low-income families (of which there are more every day) afford health care for the next 27 months. The bill also puts a moratorium on federal restrictions to the State Children's Health Insurance Program enacted through the federal Deficit Reduction Act of 2005.
Humboldt County Department of Health and Human Services Director Philip Crandall told the Journal last week that not only is the moratorium good for kids, "It's also an economic enhancement for our [health care] providers." Crandall called the stimulus bill "a reinvestment in our country" and "one of the first bright spots out of the feds in many years," though he added that the Medicaid boost alone won't remedy the ills of the Health Department. Nor will the $155 million released last Monday to support 126 new health centers. A major stream of county Health Department funding comes from sales tax and vehicle licensing fees, so when the economy is under stress, Crandall explained, it's a double-whammy: Needs increase while funding shrinks. The bill's effectiveness for the Health Department therefore goes hand-in-hand with its overall goal: reinvigorating consumer confidence and stimulating the economy at large.
The $27 billion in highway infrastructure money has also been designed to work quickly. We're not talking about flashy new freeways here (at least not yet) -- more like fixing the potholes on Old Arcata Road, said Spencer Clifton, executive director of the Humboldt County Association of Governments (HCAOG). "Potholes and routine maintenance don't bear the sexy marquee of larger projects, but they're sorely needed," Clifton said. "There are lots of deferred maintenance projects that agencies have geared up, ready to deliver," he said.
They'd better. The ARRA gives states just 120 days to assign much of the highway money to specific projects. Of California's $2.57 billion share, almost $900 million must be obligated by June 30. "And if states don't use it, they lose it," says Recovery.gov, the White House Web site designed to keep stimulus spending transparent to the American public. "Here's the deal," Clifton said. "This 120-day emphasis ... virtually eliminates any project requiring environmental permits." At least in this first wave of funding. County Public Works Director Tom Mattson agreed. "We definitely have a wish list, [and] it's about $300 million long," he said. But since the entire region is likely to get only $15 million to $20 million for county roads, he said, it will likely be used for rehabilitation and overlays.
There is more money in the bill for transportation projects -- almost $50 billion all told. The Federal Aviation Administration sent more than $8 million to Humboldt County for runway improvements at the Arcata-Eureka airport and weather indicators at the Garberville and Rohnerville airports. And there are a few flashy projects at the state level receiving federal transportation funds, like the high-speed rail lines connecting San Francisco, Las Vegas and L.A. (or Disneyland, as Louisiana Gov. Bobby Jindal would have it). Those speedy trains won't come this far north, of course, but some of that transportation cheddar could conceivably make its way into more ambitious projects on Caltrans' District One wish list, like the controversial widening of Hwy. 101 through Richardson Grove, realigning Hwy. 299 at Buckhorn Grade and maybe even building a Willits bypass.
As of press time, California had yet to announce how it will spend its share of the transportation money, and Caltrans officials declined to comment for this story. However, both the Humboldt Bay Harbor, Recreation and Conservation District (HBHD) and HCAOG have assembled lists of local projects that may be eligible for stimulus funds, and both lists include the above Caltrans projects along with estimated costs reportedly supplied by Caltrans officials.
HCAOG is the agency that distributes money from the state's Regional Surface Transportation Program (RSTP) -- bridge-and-highway funding that's divvied up according to a pre-existing formula based on population and miles of roads. "We make sure everybody is provided with some biscuits," Clifton said. "Some get more biscuits in their bowl than others." Early last week, Caltrans provided HCAOG with an exact dollar amount for Humboldt County's RSTP stimulus: $2,879,368. "Although that doesn't seem like much, it's about four times what we would annually see from RSTP sources," Clifton said. More stimulus money will come later through the State Transportation Improvement Program, he said. HCAOG is also taking the lead on the Eureka-Arcata multi-use trail project, though that project's future remains uncertain.
If you're looking for more ambitious plans, look no further than the reliably big-dreaming Harbor District and North Coast Railroad Authority (NCRA). The HBHD has long sought funding to modernize the Redwood Marine Terminal, which they believe would attract large-scale commercial cargo shipping and tourist-laden cruise ships. District CEO and Port Director David Hull is hopeful that the stimulus bill will finally provide that funding, but he said he's not letting his hopes get too high. "The state hasn't worked out all the application procedures," Hull said, "and for freight, rail and port infrastructure improvement projects, I don't think they've got the systems set up yet." Even when those systems are in place, Hull said, Humboldt County has a history of being left at the altar by state officials. "A lot of times it seems like the North Coast is sort of forgotten up here," he said. "It would be really nice if Sacramento acknowledged that we're part of the transportation system, and we need the help as much as anyone else."
Other HBHD yearnings include completing the removal of the dilapidated dock in Fields Landing (to make way for another marine terminal), developing a railroad and timber heritage museum on the Samoa peninsula, some recreational fishing enhancements and, with support from the U.S. Army Corps of Engineers and labor unions, financing a long-term sediment management program in Humboldt Bay. The HBHD has found itself in a precarious position in the months since the Evergreen Pulp Mill was shut down: The resultant drop in area shipping means less funding for dredging the bay, and the mill's new owners, Freshwater Pulp Co., say operations won't resume until August at the soonest. The Harbor District may have trouble simply staying afloat until then. Hull said, "We're pitching hard to make something happen, and our focus is on Sacramento."
The similarly embattled NCRA, having recently settled an expensive lawsuit with the city of Novato, has been diligently repairing levees, bridges and crossing signals between Windsor and American Canyon and expects to have freight trains running that stretch by October. The dangling carrot of stimulus funds has further emboldened the authority's ambitions. With support from Caltrans and Congressman Mike Thompson, the NCRA is pursuing $36 million in stimulus funds to repair the stretch from Windsor up to Willits, about 80 miles. "The key there is that section of the railroad is shovel-ready," said NCRA Executive Director Mitch Stogner. The controversial section from Willits north to Humboldt Bay along the Eel River Canyon, on the other hand, still needs extensive environmental reviews and thus won't be receiving shovels for some time, if ever. "Our assumption is that [section] is not eligible" for stimulus funds, Stogner said.
The NCRA did submit another stimulus funding request, though, to rebuild the line that runs from South Fork north and around Humboldt Bay to Samoa, a 62-mile stretch that Stogner believes may be shovel-ready. That section would probably be used for barge shipments, he said, though ultimately its use would be up to the contract rail provider -- Northwest Pacific Co. Critics, including some in these very pages, have questioned the financial feasibility and environmental repercussions of NCRA's grand plan to restore the entire rail corridor connecting the Humboldt and San Francisco Bay areas. And certainly a line from Humboldt Bay to South Fork would seem pointless without connecting to more populous areas farther south. But Stogner is confident. "Trains are good for the economy, good energy policy and good for the environment," he said. "It certainly seems like an appropriate use of stimulus funds, particularly infrastructure funds. But it's way too early to know what our chances of success are," Stogner allowed.
Such is the case for most everyone. "Right now, everything is a guess," said Jerry Jeffe, deputy executive director of the California Association of Councils of Governments. CALCOG is the statewide organization representing regional planning agencies. Jeffe said that answers will be rolling in quickly this month. While some ARRA funds will need to go through various subcommittees in the state legislature, Jeffe said that "anything with 'stimulus' on it will be considered immediately."
Even once the money comes through, questions will remain for many agencies. Obama's bill includes billions in education initiatives -- "the largest investment in education in our nation's history," Obama proclaimed upon signing the bill -- but HSU spokesman Paul Mann said it could be months before they know how that money might affect the university. "Everything is very much in a state of uncertainty," Mann said. Stimulus funds for California State University system will first have to travel through Sacramento, then to the CSU Chancellor's office in Long Beach before finding their way to the 23 CSU campuses.
Obama originally planned substantial support for rural broadband Internet through the stimulus bill, but a $2 billion fund for that specific purpose fell victim to bi-partisan trimming between the House and Senate versions of the bill. There is still money for broadband, and meetings are taking place this week in Washington, D.C., to determine who gets funding through a broadband grant program. Michael Brinskele, CEO of Broadband Associates, Inc., last month announced his company's plan to bring redundant broadband to the North Coast. He told the Journal last week that he believes the project qualifies for stimulus funding. However, with Broadband Associates' own funding still incomplete and an environmental impact report still required, the project, which includes burying a fiber optic line along Hwy. 299, remains a question mark.
The stimulus bill includes more than $4 billion for Indian Health Services and $510 million in Native American Housing Block grants. Yurok Tribal Chair Maria Tripp did not return calls by press time, but one woman with the tribe who declined to give her name said tribal representatives have been meeting for the last few weeks to develop their wish list.
Some agencies simply got left out altogether, like the Northcoast Small Business Development Center (SBDC). "We didn't get any direct stimulus funding," said Director Kristin Johnson. "I think that's weird. ... We're doing a lot of crisis management with small businesses, and, ironically, there's no money flowing from the federal government to our [SBDC] agencies." Obama's stimulus bill provides nearly $730 million to the U.S. Small Business Administration (SBA) -- the umbrella organization for SBDCs -- to loosen the tight lending market. (The Arcata Economic Development Corporation is a local SBA lender.) Therein lies the key distinction between the SBA and SBDCs -- lending. SBDCs provide management assistance to current and prospective small businesses, but they don't make or guarantee loans.
"We have nice support here locally," Johnson said, "but at the federal level I think they overlook us. They think, 'Oh, they're not lending; we'll put money into loans.' Well, somebody has to work with those businesses to make sure they get loans." She and other SBDC directors aren't taking the snub lying down. Last week they traveled to Washington, D.C., to pay some legislators a visit -- "a nationwide sort of march," Johnson said. "We're gonna go back there and make sure the legislators know that the stimulus package is just the start of what needs to happen in the economy. Everybody talks about how small businesses are going to be the change that gets us out of this economic crisis -- not banks, not corporations. The government has made a good effort to put money into the lending side, but they also need the support structures to get there."
Johnson said she doesn't want to create the impression that SBDCs are struggling. Unlike many other agencies, SBDC funding has not been cut, and for that she's thankful. "But we are part of the solution," she said, "and we got overlooked."
If you look at a pie chart of stimulus spending, the largest wedge -- $98 billion -- goes to energy and the environment, and more than half of that wedge will be spent on an Innovative Technology Loan Guarantee Program, all of which would seem excellent news for the Schatz Energy Research Center at Humboldt State University. The Schatz lab works on a variety of cutting-edge technologies including hydrogen and fuel cells, solar photovoltaic panels and biomass energy from agriculture and forestry. But Peter Johnstone, a Schatz research assistant, said he expects most of the energy money to go -- once again -- to more mundane projects like retrofitting existing buildings to increase their energy efficiency.
"Doing energy efficiency work does more than energy generation at this point in the technology curve simply because there's so much low-hanging fruit," Johnstone said. As an example, he cited two projects recently funded through HSU's Energy Independence Fund, which he described as a small-scale version of Obama's stimulus plan. (HSU students submit grant proposals to a committee of students, staff and faculty, with approved grants financed through a tuition-supported fund.) One project consisted of building a 10-kilowatt photovoltaic system; the other was retrofitting a heating, ventilation and air conditioning (HVAC) system. "Both projects will cost about $100,000," Johnstone said. But when you compare that cost to the respective energy produced or saved, the value comparison becomes lopsided. "The HVAC project will cost about $28 per avoided metric ton [of carbon dioxide]," Johnstone said. "For the solar electricity photovoltaic [project], it's on the order of $450 per avoided ton. As far as bang for your buck in environmental terms, there's no comparison."
Energy efficiency projects will put people to work quickly and have an immediate effect. "Not to say renewable energy shouldn't be part of [the solution]," he added. "It makes sense to do both. A lot of people say, 'Home weatherization? That doesn't sound fun. I want solar energy.' Well, until we address how we use energy, we're not gonna get there."
Still, the Schatz researchers and lab techs will be keeping a close eye on stimulus fund announcements, just in case. As will many others on the North Coast, particularly those who have recently found themselves out of work. The national unemployment rate recently hit 8.5 percent, its highest mark in more than 25 years. California's is in double digits -- 10.1 percent. And here in Humboldt County, the preliminary rate for January stands at 11.1 percent. We've seen a string of business closures and layoffs going back to before the pulp mill shut down. Mervyns and Gottshcalks have both gone bankrupt, and Bayshore Mall parent company General Growth Properties is itself on the brink of collapse. Eureka's Restoration Hardware, which opened in 1980 and eventually expanded to more than 100 locations in the U.S. and Canada, shut its Old Town store in January. Recent revelations of suspicious finances at Humboldt Creamery have local farmers concerned about their livelihoods. Farming jobs are already down 9 percent from a year ago. Approximately 1,100 jobs have been lost this past year in the service industry, the county's largest employment sector. And on Monday, the California Redwood Co. and Green Diamond Resource Co. announced they will be eliminating 85 jobs due to the weak contruction market.
In short, the job situation is no less ugly in Humboldt County than it is across the country. The local projects put forth so far are merely the first nibbles at the stimulus bill, and county representatives plan to bite off as much as possible. "In going through the package, it looks like there's more that we're eligible for than we had anticipated," said Phillip Smith-Hanes, assistant chief administrative officer for Humboldt County. "We're going to pursue all the funds we can in these economic times."
While some people are questioning the wisdom and efficacy of President Obama's stimulus bill -- to say nothing of the government bailouts of automakers and financial institutions -- few will deny that something needs to be done, and fast. The American Recovery and Reinvestment Act will provide billions in tax breaks, grants and contracts for everything from law enforcement and mortgage relief to climate change research, homelessness prevention and education. Whether all those baffling billions in "reinvestment" will lead to "recovery" remains to be seen. But there's certainly no shortage of people locally or nationwide offering this or that project as part of the solution -- standing in the stimulus line, shovels ready.