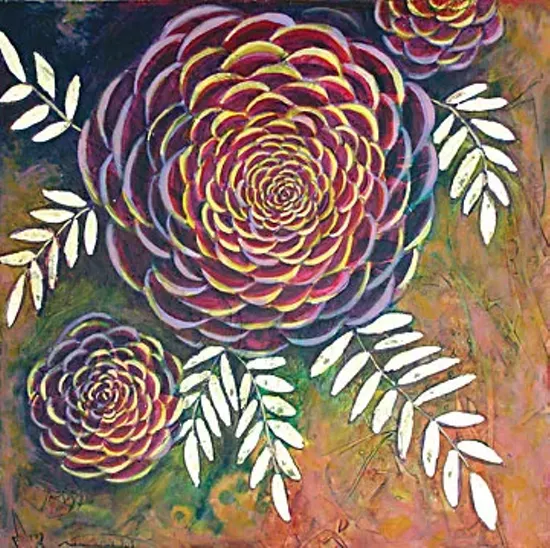 12 slides
Arts! Arcata is Arcata Main Street's monthly celebration of visual and performing arts, held at more than 30 participating locations in Arcata. Visit www.artsarcata.com for even more information about the event or call 822-4500.
1. East Side Deli and Market 420 California St. Russell Bashaw, natural patterns using blends of organic materials, watercolors and wood; Mark, pencil drawings; Alex Hechet and Robert E. Busch, oils on canvas.
2. Big Pete's Pizza 1435 G St. TBA
5. Hempsown 1101 H St. Libby Yee, paintings.
6. Bubbles 1031 H St. Bluegrass music by Clean Livin'.
7. NuGames 1075 K St. Photographs.
8. Garden Gate 905 H St. Wine served as a benefit Friends of the Dunes; Vickie Saratore, glicee prints.
9. Meridian Fine Art Gallery 833 9th St. Wine served as a benefit for Veterans for Peace; Stock Schlueter, Humboldt County Plein Air, paintings.
10. Renata's Creperie 1030 G St. Jan Ramsey, French landscapes.
11. North Coast Co-op 811 I St. Carol, photographs and assemblages.
12. Caravan of Dreams 893 H St. John Bennett, carved wooden birds.
13. Arcata Artisans 883 H St. Wine served to benefit the Breast Health Project; Susan Bornstein and Mimi LaPlant, paintings; Alex Connell, jewelry.
15. North Soles Footwear 853 H St. Megan McKenzie, photographs.
16. Simply Macintosh 837 H St. Rich Hardaway, mixed media.
17. Arcata Exchange 813 H St. Wine served to benefit Planned Parenthood; Georgia Long, oil paintings.
18. Natural Selection 708 9th St. Wine served to benefit Northcoast Environmental Center; Lisa Gray, mosaics.
19. Dottie May's Closet 632 9th St., #A1. Georgia Salmon, mixed media.
20. US Bank* 953 G St. Lea Wyatt, paintings; Scott Ferris, photographs.
23. Umpqua Community Gallery 1063 G St. Ken Jarvela, paintings of Mt. Shasta; Judy Evenson, Steve Coppin, Patricia Sennott, Michael Harris, Ellen Land-Weber, Jim McVicker, Theresa Oats, Kathy O'Leary, Steve Porter, Tina Rousselot, Rachel Schlueter, Patricia Sennott and Joseph Wilhelm.
24. Big Blue Café 846 G St. Helen Vatcher, oil paintings.
25. Moonrise Herbs 826 G St. People of the World, watercolors; Joshua Sutton, massage and crystal healing.
26. Plaza Design 808 G St. Wine served as a benefit for Hospice of Humboldt; Linnea Tobias, mixed media; music by Jease Lecuyer.
28. Willow and Rags 791 8th St. Juliana Tong, photographs, paintings and drawings.
29. Libation 761 8th St. Sarah Star, watercolors and tiles; music by Duncan Burgess.
30. Bon Boniere 791 8th St. Various artists, mixed media.
32. Essence of Humboldt 632 9th St., #A2. Demented Armony, chain mill jewelry.
33. Cafe Brio 791 G St. Jazz music by Weather Machine.
34. Arcata City Hall* 736 F St. Mary Harper, prints.
35. Arcata Marsh Interpretive Center* 569 G St. Mike Anderson, Volery Images: Birds of the Humboldt Bay Area, photographs.
36. Fire Arts Center 520 South. G St., #A. Bob Raymond, ceramics; Tracy Galbraith, fused glass relief tiles and Pate de Verre.
38. New Image Salon Sunny Brae Center. Dora Astacio, photographs.
39. Grandma B's Fudge Shop 887 H St. Live music.
44. Adventures Edge 650 10th St. Steven Johnson, jewelry.
45. Prosperity Real Estate 839 9th St. Artists3, watercolor paintings.
48. Arcata Playhouse 1251 9th St. Clüb Shampoo. 822-1575 or arcataplayhouse.com.
49. Far North Climbing Gym 1065 K St. David Boston, photographs; fashion show features local boutiques.
50. Great Spiral Gallery 930 Samoa Blvd. Vincent Ventola, visionary arts.
53. Plaza Grill Jacoby Storehouse. Terrence McNally, Martin Swett and Sheldon Sabbatini, photographs.
57. Wildberries 747 13th St. TBA
60. Arcata Photo Studios/S&S Events Jacoby Storehouse. Wine served to benefit Queer Humboldt; Fellow Travelers exhibit, Portraits of Gay Elders.
62. Muddy's Hot Cup 1603 G St. Music by Fruition String Band.
63. Jacoby Storehouse Arcata main street office preview; on this day in Arcata, book signing.
64. Hunter Plaid Gallery and Studio 550 S. G St. Ste. 28. Plush Fuzz, audio/visual performance; music by Trees are Neurons.
65. Shoe Shangri-La 1011 H St. Nancy Tobin, Whisk Until Dawn.
66. Rocking Horse Jacoby Storehouse. Castleware, baby items.
*These venues are open only during regular business hours.