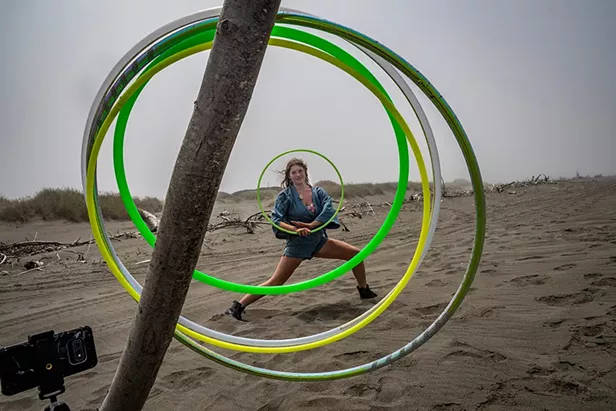 Photo by Mark Larson
First-time attendee Kaylie Kurland, of Arcata, lives next door to one of the event organizers and brought her hoops for a workout in the sand while enjoying the festival.
Photo by Mark Larson
Lorna Kidd applied the finishing water spray to "The Kraken" sand sculpture (it includes a ship at lower right) as part of the Let's Get Kraken team that won the Most Dedicated Diggers award.
Photo by Mark Larson
Rebecca Lewis (left) and Jason Caria look over the handiwork of their Hunter, Hunter & Hunt team that won the Golden Shovel award for their "Crunching Numbers" sand sculpture.
Photo by Mark Larson
A sand-sculpture owl perched on a log received final touch up and water spray from Becky Lindemann (left) and Allye Nelson of the Humboldt Redwood Company team.
Photo by Mark Larson
Occasional fog rolled in to cool off festival attendees and the teams creating their sand sculptures.
Photo by Mark Larson
Even Bigfoot showed up for the event with coconut water and sunscreen (sculpted by Endangered Species team members Kristen Hurant and Thomas Saunders ).
Photo by Mark Larson
The Northcoast Environmental Center team members took to the air when they finished their "Lend a Hand, or Eight" sand sculpture. It later won the People's Choice award.
Photo by Mark Larson
Local food and drink vendors kept attendees, including these two California Conservation Corps (Fortuna) volunteers, hydrated and well fed on a mild sunny/foggy/sunny/foggy afternoon of beach fun.