click to enlarge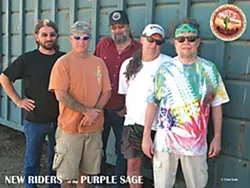 The name sets the stage: New Riders of the Purple Sage was theoretically an update on a cowboy band from the '30s, which in turn was named for a seminal cowboy novel by Zane Grey, the guy who basically invented the Western genre. The New Riders came together toward the end of the '60s. The Grateful Dead's Jerry Garcia was renowned as a guitarist, but he was also a fine banjo player and jammed on bluegrass and country tunes with guitarist David Nelson. Hanging around that scene was a kid named John Dawson, aka "Marmaduke," from Millbrook, N.Y., where Timothy Leary had his psychedelic headquarters. Marmaduke was totally into country from the Bakersfield school, songs by Buck Owens and his Buckaroos and Merle Haggard and the Strangers, with wailing steel guitar, the same kind of thing Gram Parsons was getting into with The Byrds and the Burrito Brothers. Garcia ended up getting his own steel guitar.
The original New Riders was Dawson (who wrote most of the songs), Nelson on guitar and Jerry on steel with Dead lyricist Robert Hunter or Phil Lesh on bass and Mickey Hart on drums. (By taking Dawson and Nelson on the road, the Dead had an instant opening act.) The difference from Bakersfield country was cultural: Where Merle and Buck were doing redneck anthems like "Okie from Muskogee," Dawson was a hippie, writing songs like "Dirty Business," a tale of a coal mine strike that ends with the mine blown up.
At some point after the '60s turned into the '70s, having Jerry and other Dead guys in the band stopped making sense and Buddy Cage, who'd played guitar in Great Speckled Bird (with Ian and Sylvia) took over steel chores. Dave Torbert took the bass chair and wrote some songs; Spencer Dryden (from Jefferson Airplane) became the drummer. The Riders even scored a modest hit in 1973 with The Adventures of Panama Red album when the twangy marijuana tune "Panama Red" became an underground radio staple. The Riders kept rolling into the early '80s then pretty much disbanded, although some other players took over the name for a time.
In recent years the band was resurrected with Nelson and assorted sidemen playing the old tunes. The current touring lineup has Nelson and Cage joined by guitarist/mandolinist Michael Falzarano, who's played with Hot Tuna, and drummer Johnny Markowski and bassman Ronnie Penque from Stir Fried handling rhythm section duties. Riders management notes that "John Dawson will not be a part of this outing due to some ongoing health concerns, but you can count on these guys not only keeping his tunes alive, but taking them to new places as well." See where they take things on Monday, Dec. 1, when the New Riders ride into town for a show at Humboldt Brews.
Incidentally, the Riders' hit "Panama Red" was not written by Marmaduke, it was by Peter Rowan, who's coming 'round again Dec. 20 for a show at the Mateel, backed by The Free Mexican Airforce. Sharing the bill is Crooked Still, a hot bluegrass combo from Boston, whose current line-up includes former local Tristan Clarridge on fiddle and cello.
Remember the old preacher fear campaign that claimed Led Zeppelin was inserting Satanic messages into its music, heard only when you spun the record backwards? Allegedly "Stairway to Heaven" in reverse became an ode to the Devil around the point when they were singing, "If there's a bustle in your hedgerow, don't be alarmed now." I have no idea what that line actually means, so maybe it was a secret message. Well, today Bustle In Your Hedgerow is the name of a band that's sort of a Zeppelin tribute, but not exactly. Keyboard jammer Marco Benevento and drummer Joe Russo (aka Benevento/Russo Duo) have joined forces with bassist Dave Dreiwitz from WEEN and Particle guitarist Scott Metzger to bustle through various Zep tunes, playing parts backwards, forwards and sideways, just to see what happens. They'll be doing that on Sunday Nov. 30, at Red Fox Tavern. I assure you, this ain't no cover band.
Country superstar Wynonna Judd plays next Tuesday at the Arkley Center. (Or do we call her just plain Wynonna at this point?) As you might suspect, the show is totally sold out and has been for some time. Curiously, I received an Events.com e-mail this morning listing the show with a link to "Buy Tickets." It led to TicketsNow, one of those semi-official online scalping services. Tickets were available for most of the shows on her holiday tour, some jacked up to $350 or more, but there were none offered for the Eureka show. Maybe the sellers learned their lesson when they tried scalping part of the CenterArts season.
Walking through town the other day with my friend Willoughby I pointed out a pole flyer for the Blitzen Trapper show coming up Wednesday, Dec. 3, at the Red Fox. From the angular font used for the band-name logo, he figured them for a metal band. They are most definitely not a metal band, although there's an occasional ripping guitar on their latest Sub Pop disc, Furr (reviewed by Zogboy elsewhere in this paper). Most of the guys in Blitzen Trapper grew up in Salem; they're now part of the herd of Portland indie bands. Their sound draws on a wide range of influences: for me, parts bring to mind a those jaunty Brit bands from the late '60s, other times it's Neil Young and/or '90s alt. rock.
Furr starts with the folk-rocky title track, a tale about a shapeshifter (or am I just thinking that because I'm hooked on True Blood?) who changes into a teen wolf and lives out in the woods with the pack: "They allowed me to join in and sing their song ... howling endlessly at the dawn." Or maybe it's a song about being in a rock band. Either way, the protagonist ends up changing back to human form to marry a girl and "settle down upon a farm" to raise a family. Still he dreams of "running careless through the snow" with his old wolf buddies.
Blitzen T. is running careless on the road with The Parson Red Heads, a like-minded Sixties-ish band also originally from Oregon, now based out of L.A. The first song that comes up on their MySpace is a cover of "I'm into Something Good," the Goffin/King song made famous by Herman's Hermits. That should give you an idea where they're coming from. I once owned that Hermits' record, but I like the new take better.
The "First Thursday Film" next Thursday, Dec. 4, at the Morris Graves Museum is Helvetica, a cool documentary about the typeface, reviewed in the Journal a few weeks back (again by Zogboy). The music connection? El Ten Eleven, the L.A. post-rock/math duo that played the Alibi recently, did the soundtrack music. Yes, I took that nap and stayed up late to see them, and it was worth it.
As you are no doubt aware, Thursday is Thanksgiving Day, which makes this as good a time as any to give out some thank yous. Thanks to the folks who run the clubs and cafes and assorted other venues that provide a place for all of us to go hear music. And ditto to the promoters who bring in touring bands, often without making any money in the process. Thanks to the sound men, the lighting techs and everyone else who helps the shows come off. An especially big thank you to the musicians who put their blood, sweat and tears out there to entertain us. And last, to readers who have made it this far, thanks for sticking with me, without you there's be no point in writing this column every week. Enjoy the holiday.