The clear winter sky deepens as night creeps upon Woodley Island, that marina-festooned dab of land in Humboldt Bay closest to Eureka's mainland. The calm water, catching the last light, grows stripes of gold, blue and orange. Against distant spits the ocean thrums. A pair of Canada geese honks by, a gull swoops with a sharp cough and cackling geese sweep over in squiggly formations, their ancient cries trailing south.
Nearby lies long, low, mostly uninhabited Indian Island, its isolated clumps of trees feathering the dark blue sky.
At the tip of Woodley, a layered circle of people gathers. The faces in the outer rings, of all colors and ancestries, brighten with the setting sun. The faces in the inner ring, of Wiyot people young and old, glow from the crackling ceremonial fire in their center. Wiyot elder Cheryl Seidner speaks quietly. "This is for cleansing," she says, dropping a bit of fir bough into the fire. She adds untreated tobacco leaves, a gift from a friend back east who told her to use them for something good. Lighting a cedar bough and wafting the smoke, she says, "This is how we used to cleanse our house. We'd fill it to the rafters with smoke."
Others take a turn singing, praying, drumming and giving thanks. Seidner, buoyed by the sort of tempered giddiness that follows a scrape with death and a long, hard recovery, moves easily from somber prayer to joy.
"Can we have a big 'yay'?" she yells at one point. "Yay!" responds the circle. "One more?" she urges. "YAY!" the circle yells even louder. "Now one more time!" Seidner cries. "YAYYYYY!" everybody shouts. "Yah-hooo!" Seidner yells, laughing. "Because this is our last one forever!"
It was Feb. 22, and it was indeed the Wiyot's last vigil. The tribe has held one every year since 1992, on the last Saturday in February, to memorialize the hundreds of ancestors killed by white men in a series of premeditated massacres in villages around Humboldt Bay in the last week of February 1860. As many as 100 of them, mostly women, children and elders, were murdered in their sleep at Tuluwat, on Indian Island — the center of the Wiyot world — where the tribe's annual World Renewal Ceremony was underway. The tribe was shattered, the people dispersed. Wiyot land became white people land. Tuluwat, over time and heavy use, became virtually a toxic waste dump.
Last year the tribe finished cleaning up Tuluwat. The land was ready. The tribe declared the mourning period over. It was time to dance again.
Next week, beginning March 28 on Tuluwat, for the first time since that terrible February 154 years ago, the tribe will once again hold its World Renewal Ceremony.The Wiyot, you might say, are back — though they've been here all along.
William Frank IV, dressed in a loose red long-sleeve shirt and blue jeans, sat at a long folding table inside the fluorescent-lit Wiyot Community Center on Table Bluff one recent Tuesday night. Head bent slightly, he stared intently at his hands as they threaded a long, white dentalium shell onto a string and slid it down to join a chain of small, bright blue beads.
The 18-year-old was making a necklace for his ceremonial dance regalia. Frank's mother is three-quarters Wiyot, and he was "raised in the culture," as he puts it, learning much from his Wiyot grandmother, Edna Seidner. But he's only been dancing for three years, in Brush Dances with the Yurok Tribe (he is also part Yurok, Hupa and Pomo).
"I was always the 'shy guy,'" he said, adding he used to rarely talk, not even to some of his own family. His elders drew him into dancing, and that drew the words from him; they come out slowly, deliberately, and often begin with "To be honest ..."
He was surprised when Cheryl Seidner asked him one day, recently, to take part in the Jump Dance, the main feature of the World Renewal Ceremony. But he was excited, too.
"To be honest," he said, "I really love what I do. I love to dance, I love to sing, I love to make regalia. It's just simple. I love my tribe and I love helping them. ... If you don't have family, culture and language, there's no point in saying you're 'from this tribe.'"
His grandmother, he said, would be happy to see everyone coming together, doing beadwork, dancing. It's what she wanted, he said.
"It means everything to me," he said. "To be honest, this whole reservation needs to be healed. There's too many egos here, too much hatred between families."
Frank is one of many people, mostly from the Table Bluff Wiyot Tribe and Bear River Band of Rohnerville Rancheria (comprised mainly of Wiyot, Bear River and Mattole people), taking part in regalia-making classes in preparation for the upcoming World Renewal Ceremony. The Wiyot people lost nearly all of their cultural traditions in the short, brutal decline following contact with white settlers. Present-day Wiyot people have had to refashion their culture — language, songs, regalia-making and dancing — with help from the Yurok, Hoopa Valley and Karuk tribes, who share similar customs. For weeks now, the Table Bluff Wiyot Tribe has hosted the regalia-making classes weekly, specifically to prepare for the ceremony in March: necklace-making, taught by Michelle Hernandez, the tribe's 24-year-old treasurer and youth coordinator; dressmaking, taught to the women by Leona Wilkinson (Cheryl Seidner's sister); and dance-feather construction, taught to the men by Hoopa Valley Tribe member George Blake.
On this night, Hernandez worked on a necklace gleaming with white bivalve halves.
"If you're going to dance in a ceremony you have to have some kind of shell, because they make noise," she said. "It's singing. We believe our regalia is living. And so there's also rules to making it: You have to have good thoughts when going into it."
Hernandez said her goal is to bring culture back to her tribe "so our youth would never have that feeling of not having ceremonies."
Across from Hernandez, her 10-year-old sister, Joyce Hernandez, braided buff-colored strips of leather. They would become the soft backs of the necklaces. The Hernandez' brother, Matt, glanced over at her work and said, "They're not tight enough." He put down the necklace he was making and sat down by Joyce to re-braid the leathers. The 14-year-old, who perfected his braiding technique watching a YouTube video, is an expert regalia designer and maker; even the Hernandez patriarch, tribal chair Ted Hernandez, watching from a corner of the room, said as much.
Joyce, picking up a strand of pine nuts she was also working on, sighed a little.
"It's not the most fun thing to do," she said, smiling good-naturedly.
Michelle laughed. She said she and another sister, Lizzie (there are four girls and a boy in the family), "had to drill, like, 200 pine nuts" for her own regalia when she was getting ready for her coming of age ceremony in 2006 — the first ceremony the tribe had held in 120 years. Joyce, at home, had begun the same weary sanding and drilling for her own coming of age ceremony two years from now. She is too young for the Jump Dance — you have to be at least 12 — but she was helping with the regalia for the girls, boys, men and women who would be dancing.
Michelle described the Jump Dance as "a very heavy dance."
"You are dancing for two hours at a time, and mostly with your feet," she said.
Each dancer wears several necklaces, swapping in their nicest for the final day. Each ensemble can weigh as much as 20 pounds. For weeks the dancers have been praying and getting used to eating less: The ceremony will begin, for many, with up to seven days of fasting. Then for three more days there will be more fasting, and dancing. Traditionally, the dancing lasted 10 days; the tribe is starting small, said Michelle, and may add more days each year.
At the feather regalia table, where Blake presided, some men were sanding slender sticks and notching their tips, while others were wrapping deer-leg sinew around the ends of condor feathers — donated to the tribe by Sía, the Comanche Nation Ethno-Ornithological Initiative — then wrapping them onto the sticks.
Liobardo Lopez, 16, sat working with the feathers next to his grandfather Cecil Sherman Jr. Lopez is Wiyot, Hupa, Tolowa and Bear River. He was going to dance in the ceremony.
"It's going to be big," he said.
Sherman Jr, who was still on the fence about whether he'd dance, said he never did any of this cultural stuff with his elders.
"Except my grandpa, Hanson Sherman, who made eel hooks in the back yard," he said. "He was full-blooded Wiyot."
Before white settlers arrived, beginning in 1850, as many as 3,000 Wiyot people lived in about 20 villages sprinkled throughout the Humboldt Bay region, from the ocean to the front range of the coastal mountains and including the Mad and Eel River valleys. Their ancestral territory was bounded on the north by the Little River (at Moonstone Beach), on the south by Bear River Ridge (which overlooks the Eel River Valley) and on the east (inland) by Chalk Mountain in the south (near Carlotta) and Berry Summit in the north (just past Blue Lake).
There were (and are) numerous tribes in the region. The Wiyot are related by language (rooted in Algonquian) to the Yurok (north of Little River and along the lower Klamath River), and their dances and ceremonies were similar to those of the Yurok, Karuk (along the upper Klamath), Hoopa Valley (along the Trinity River) and Tolowa (in present-day Del Norte County). They all were impacted by the settlers' arrival, some more than others. The Chilula Tribe, for instance, ceased to be a tribe. And the Wiyot almost did, suffering deeply from the settlers' concerted effort to exterminate indigenous people. Wiyot were shot randomly and slaughtered en mass throughout the territory. After the 1860 massacres, survivors were herded into Fort Humboldt, presumably for their protection. Then, according to Seidner, who is one of the last three-quarter-blood Wiyot, the people were relocated to different territories and under hard conditions: to the North Spit, then north to Smith River, then east to the Hoopa Valley and finally south to Round Valley. Many died. By 1910, there were only about 100 full-blooded Wiyot left.
Their confiscated land, meanwhile, would endure more than a century of abuse. Indian Island, the center of the Wiyot world, was diked to drain the saltmarsh for agriculture. Later there were lumber mills. At Tuluwat village, on the northeast tip of the island, a dry dock boat-repair shop went in and, for 120 years, deposited toxic chemicals and waste. Collectors seeking Wiyot bones and artifacts ravaged burial grounds, digging holes in the 6-acre shell mound at Tuluwat that had built up over the thousand years Wiyot lived there.
Today, there are around 620 Wiyot people. Some live as far away as Germany. Many still live in their ancestral home and are enrolled in the Table Bluff Wiyot Tribe, the Bear River Band of Rohnerville Rancheria nearby, the Blue Lake Rancheria and the Cher-Ae Heights Indian Community of the Trinidad Rancheria. There are no fluent Wiyot speakers; the last one documented was Della Prince, who died in 1962, according to Wiyot Language Program Manager Lynnika Butler.
"However," said Butler, "in 1925, the linguist Gladys Reichard wrote that she was only able to find a few Wiyot speakers to interview, and that young people were not learning the language."
Reichard further reported that many adults between 40 and 50 years of age — thus born after the massacre — could understand but not speak the language. The Wiyot language, along with the making of regalia, singing of songs and dancing had been fading out for decades.
"We lost traditions, and a lot of traditions went silent," said Seidner. "People stopped talking about it."
In 1981, after the tribe sued, the federal government reinstated its tribe status. Steadily, the tribe has been restoring its culture, relying heavily on neighboring tribes as its teachers. The Wiyot language has been reconstructed using living adults' scant memories of phrases their parents and grandparents spoke, supplemented by audio clips of interviews of two native speakers, Della Prince and Nettie Rossig, by Harvard linguist Karl Teeter in the 1950s. The tribe periodically offers language classes, which some people living in the region attend off and on, said Butler. A few others, who live far away (including Della Prince's granddaughter), are using flash cards, audio and other materials available on the tribe's website to learn Wiyot.
"There are several very talented learners, especially among the tribe's youth," said Butler.
In the early 1900s, the tribe was given 20 acres on Table Bluff by a church group. The tribe moved to its present 88-acre reservation on the bluff in 1991. The tribe bought 40 acres of Cock Robin Island from private landowners. And now it owns some of Indian Island. In 1970, Seidner's uncle, Albert James, suggested his people get Tuluwat back. Seidner and a few others agreed. But it didn't happen until 30 years later, after Seidner became tribal chair and pushed harder for it. In 2000, after the tribe gathered enough money from donations and fundraisers, it bought the 1.5-acre village site on Indian Island. In 2004, the city of Eureka, which had owned much of Indian Island since about 1960, gave the tribe 60 more acres of it.
It took 13 years to clean up Tuluwat. Contractors removed nearly 70 tons of scrap metal and 17 cubic yards of soil contaminated with the highly toxic pentachlorophenol (PCP, used in wood treatment solutions back in the day) and dioxin. Most of the buildings were torn down, and a bulwark of leaking batteries was taken out. They shored up the eroding shell mound. And once the site was cleaned and the remaining contaminated soil neutralized, they capped it with layers of semi-permeable fabric, topsoil mixed with donated crushed oyster shell, and sprinkled it all with native grass seeds. Today, one lone metal shed, recently painted to mimic fresh-carved redwood, looms on the new, green grass, seemingly afloat in the watery, pickleweed-dense saltmarsh at the tip of the island.
Some errant, mud-stuck old dock floats remain to be removed, as well some invasive non-native plants. And someday there might be a dance house. But for now, the island is ready.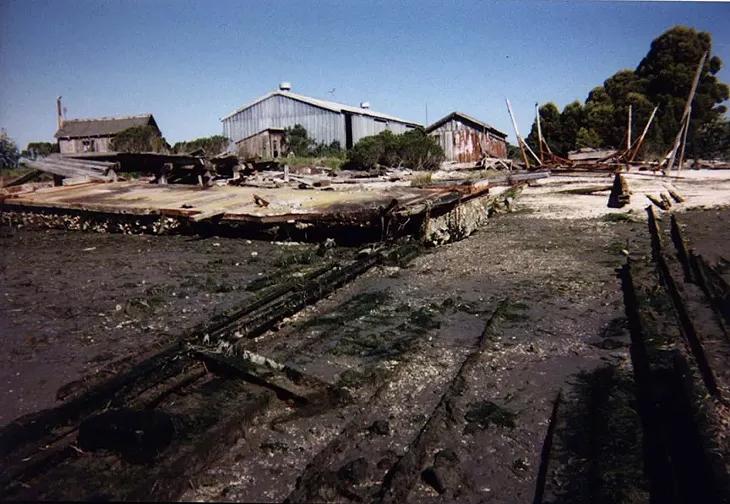 57 slides
The morning of the last vigil, a Saturday, Brian and Rosie Mead's beat-up old Toyota Forerunner, which they just bought, bounced along the winding, dipping road through the dunes along the ocean south of Table Bluff. The tunes were cranked up, funky rap and hip hop jostling with slow-passing window-scenes of golden marsh, gray slough and bobbing ducks. Rosie lit a cigarette, took a drag, and passed it to Brian. The road was rough, with some jolts connecting tops of heads with hard ceiling. Brian, the Wiyot Tribe's administrator, said state Fish and Wildlife recently banned the use of quads to get to the beach, but the tribe was seeking an agreement to lift the prohibition for Wiyots.
When the couple finally arrived at the mouth of the Eel River, they were greeted by a jolly gathering of cousins, uncle, brother and friends standing around a campfire cooking hotdogs. Several guys were already down at the edge of the ocean, a few dozen yards from where the Eel poured out, their long eel hooks propped against their shoulders or held in front of them at the ready. It was nearing low tide, and the eel, smelling the fresh water of the river, were swimming closer to shore.
They're not real eel, actually, but Pacific lamprey — a traditional food of the Wiyot, Yurok, Hupa and Karuk people but pretty much ignored by local non-natives. They are called "jawless" fish and have sucker mouths ringed inside with needly teeth which they use to latch onto large hosts, such as whales, in the ocean. They feed on blood. And they're anadromous, spending up to seven of their early years as tiny larvae in the rivers, hunkered down in the sediment filter-feeding. Like salmon, they swim as adults to the ocean, and back up into the rivers to spawn. Eelers use long sticks tipped with a curving barb to catch them. Then they bring the rich, greasy creatures home to smoke, fry or barbecue on sticks over a fire.
Rosie Mead grabbed her hook — an elegant stick of pepperwood she found while hunting mushrooms in Weitchpec, near where she grew up. Vines had twisted around the branch and it had grown to look like a corkscrew. Rosie had peeled off the vines, polished the naturally turned wood and added a Yurok-style hook to one end, smaller than the large-looped Wiyot-style barb on Brian's eel hook.
Some guys complain whenever Rosie shows up to catch eel, said Brian; most women don't eel.
"But I always have, since I was a kid, because my dad had all girls," Rosie said. (He also had a boy, she added, but "he's an idiot and is always in prison.")
Rosie, who will turn 27 soon, is Wiyot and Yurok. She was the tomboy of the six-sister bunch — nicknamed "Guns" after the band Guns N' Roses ("You know, 'Guns N' Rosie'") but also because she was tough. She followed her dad around as he eeled and carved new eel hooks, hunted and fished. At the mouth of the Klamath, when Rosie was little, her dad would tie a rope around her and let her jab at the water with the hooks she made. "I was always my dad's little partner," she said.
Moments after she planted her feet in the surf, Rosie spied an eel — a brownish curve flashing silver. She watched it swim past, then lunged. If you move too soon, she said, they'll see you and dart away. She swung the stick out of the water and, twirling it to keep the long, slippery creature from wriggling off, walked up the beach, dropped the eel and buried it in wet sand to keep it fresh.
It wasn't the best eeling day. Brian, whose nickname as a kid was "Eelskin," caught nothing. A few of the guys lined up at the surf had had a bit more success. But eeling, Brian said, isn't as good as it used to be. In fact, the tribe has an ongoing survey to learn more about lamprey in the Eel and Van Duzen rivers and figure out what their population needs to thrive.
Likewise, Wiyot eelers are scarce. Only five Wiyot adults know how to catch eel, said Brian, 34. He learned to eel from his uncle Willie Seidner (Cheryl Seidner's brother), who made baskets for catching them in the river. Down at the ocean that Saturday, many of the people lined up in the surf were from other tribes, or were non-Indian friends who'd picked up the skill. Brian, who runs a men's camp for Wiyot youth, said some kids are learning to eel, duck hunt, and clam down in the south bay. Some of them often join the Meads, who have four young boys of their own and also are raising a nephew.
"Alex Lopez, he's a diehard," said Rosie about one 12-year-old kid they're mentoring. "One time he even called his mom to get him out of school so he could go eeling with us."
The Meads weren't planning to go to the vigil that night; they were going night-eeling instead. As for the World Renewal Ceremony, a couple of their older boys might dance on the last day. They weren't sure yet. Brian wouldn't be dancing; it wasn't his thing.
"I'm more of a hunter and a fisherman than a dancer," said Brian. But he's proud, he added, to be Indian, to be Wiyot. "We live off the land. I was born and raised to respect everything. We've got all this beautiful territory."
On the sand-heaving way home through the dunes, the Meads stopped to dig out a mired Jeep and, at the same time, to call the Sheriff to report two teenagers wantonly shooting seagulls out of the sky to fall, dead, into the slough.
"I can't believe they're doing that," said Rosie, outraged.
So what is it to be Wiyot? To be a member of a tribe, that is, that has lost so much and yet retains the belief that, like a few other tribes on the north coast, its top task is to renew the world — to bring this great, spinning, churning, beautiful and chaotic mass into balance so everyone can carry on peacefully for another year?
It's a huge responsibility, said Michelle Hernandez. But it's not all she is. Once, she said, she told someone she was native and that person asked if she lived in a teepee.
"I said, 'No, I live in a house and go to school,'" she said. "It's not 'living in two worlds,' like some people say. It's living in my world."
She practices the Wiyot traditions of her father's family and the Mayan traditions of her mother's family. She also plans to go to graduate school to study filmmaking so she can produce narratives about indigenous cultures all over the world. Then she hopes to finish out her career as a university professor at Humboldt State University.
Brenda Bowie, treasurer of the Bear River Band and descended from Wiyot and Chilula people, wasn't raised with any native traditions. But she was the one who pushed her council to help with the World Renewal Ceremony (it donated $10,000 to buy regalia-making material), and now several Bear River dancers were preparing for the big ceremony.
"I once was told, 'You don't act like an Indian,'" Bowie said. "I am not sure what an Indian acts like, but I do know that I am proud of my heritage and I am getting blessed by being here at the right time and the right place to be a part of this awesome ceremony."
Cheryl Seidner said she thinks about what her parents told her one time: "You are our daughter, and you are Wiyot."
They didn't say to get all puffed about it, Seidner said. It's just who she is. "I'm a human being who happens to be Wiyot, and I think that's pretty cool."
You can learn more about the return of Tuluwat to the Wiyot, the massacre on Indian Island in 1860, and the cleanup at Tuluwat in previous Journal coverage:
The Return of Indian Island
Genocide and Extortion
Sympathy for the Brownfield
An open letter from The Wiyot Tribe:
He' ba' lo',

Re: Attendance at the 2014 Wiyot World Renewal Ceremony

On March 28-30, 2014, the Wiyot Tribe will be holding its first World Renewal Ceremony since February 1860. This sacred ceremony will take place over three consecutive days at Tuluwat on Indian Island, Pi'mad on the South Jetty, and at Rrawuraghu'muk at Table Bluff Reservation.

While it is customary not to turn away anyone who wishes to participate with an open heart, free of anger toward anyone, we ask that the community respect the sacredness of this ceremony. This is not a demonstration or spectator event. The Wiyot Tribe will provide transportation by boat to and from Tuluwat for the dancers, their families and supporters, and Wiyot Tribal Citizens. Parking along Highway 255/ Samoa Bridge is not permitted. Furthermore, attempting to walk across the marsh or cross the channel from Woodley Island is extremely dangerous and not advisable, and there are not any public facilities at Tuluwat, The Wiyot Tribe accepts no liability for anyone attempting to make their way to Tuluwat. No video, photography, or recording is allowed and we ask that no one attempt to record the ceremony from a distance.

We are very grateful for the outpouring of support from the community and all of those who worked to help bring this historic event to pass, so that the Wiyot Tribe can once again "set the world right" and promote ongoing healing for the entire community. We ask that anyone who does wish to show their support by attending the ceremony refrain from coming until the final day, March 30, at Table Bluff Reservation. For more information, please contact the Wiyot Tribal Office during regular business hours at 707-733-5055.


Juwaksh,

The Wiyot Tribe Council
1000 Wiyot Drive
Loleta, California 95551
(707) 733-5055
(800) 388-7633
FAX (707) 733-5601