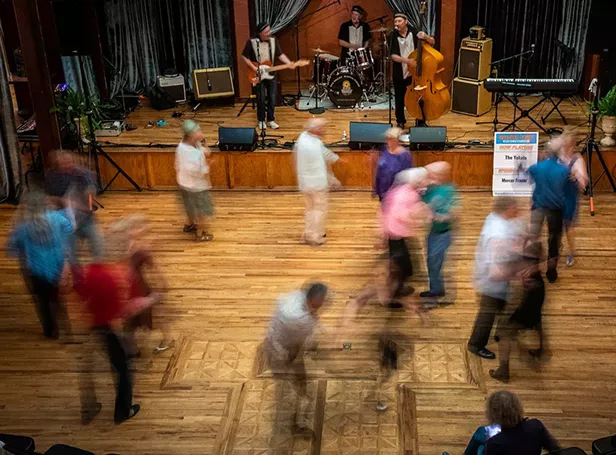 Photo by Mark Larson
This set at The Inn at 2nd & C on late Friday afternoon featured the "local Yokels" including Steve Irwin (guitar), Glen Nagy (bass) and Bill Kerker (drums).
Photo by Mark Larson
Crowd favorite Tom Rigney & Flambeau seemed to be playing everywhere all weekend with six sets (here performing Friday evening at The Inn at 2nd & C) plus being a part of the Sunday Grand Finale at the Muni.
Photo by Mark Larson
Not everyone brought dancing skills to the festival, so the Portland-based Silver Slipper Sisters offered dance lessons and performances between band sets during the festival at the Adorni Center and the Sequoia Center. Pictured here are Candace Keillor (left) and Brenda Russell leading a demonstration.
Photo by Mark Larson
Elana James, of the jazz and Western swing trio Hot Club of Cowtown, offered vocals and fiddle during the Western Swing All Stars' performance on Friday night at the Adorni Center.
Photo by Mark Larson
Long-time festival attendee Jace Baldosser, of Blue Lake, ended a Friday afternoon dance at the Adorni Center with a fancy move with Brett Young, of Monterey,