click to enlarge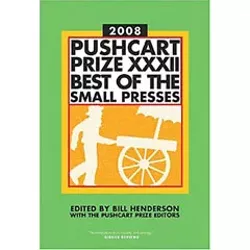 We seek out alternative news, alternative music and alternative films. But what about alternative literature? With hundreds, if not thousands, of small print and online magazines and journals, how do we decide what to buy, borrow or read?
For the last 32 years, Bill Henderson and the Pushcart Press have put together an annual volume called The Pushcart Prizes: Best of the Small Presses. Each year, hundreds of volunteer editors and readers ferret out 500-plus pages of new and exciting literature culled from the hinterlands of our scribbling hordes. Nominations are due each December. A new volume appears the following year. And the 2008 edition is a gem.
From Rebecca Solnit's "Winged Mercury and the Golden Calf," a masterful essay on the secret history of mercury usage during the California Gold Rush, to Robert Pinsky's witty and moving poem "Gulf Music" -- which at first glance you might think is about the Gulf War, but is, in fact, a touching portrait of the New Orleans piano master Henry Roeland Byrd, aka Professor Longhair -- there's something for everyone in the 2008 Pushcart Prize volume.
Now both Solnit and Pinsky are published and respected authors, you might protest. Their books are readily available, widely read, and their newest work often appears in mainstream journals. What's so "alternative" about that?
But what about G. C. Waldrop's thoughtful poem, "Diacritical Remarks," originally in Cue? And Heidi Shayla's short story "Himmelen," from The Georgia Review? Or David Kirby's hilarious poem "Skinny-dipping with Pat Nixon," from The Gettysburg Review?
Even if, by chance, you have heard of these talented writers and/or journals, where else will you find so much good work from so many obscure sources in one place?
That's the beauty and uniqueness of the Pushcart Prizes. With over 200 different contributing editors each year scouring websites, zines, presses and journals, you know they're going to turn up some good stuff few if any of us have seen before. There's no discernable agenda, theoretical bias or aesthetic behind the selections. Originality, excellence and diversity rule.
For writers, especially, those among us aspiring to join the ranks of nominees and winners, these are the stories, poems and essays to read. They're the ones winning the recognition of our audience. This is where America looks when America looks for alternatives.
The Library Journal calls it "essential." Publisher's Weekly labels it "a powerhouse." But, as transcribed by Mr. Pinksy, Mr. Roeland, I think, sings best, "Malla walla tella bella."
Check it out. 2008 is available now. 2009 will be coming soon.