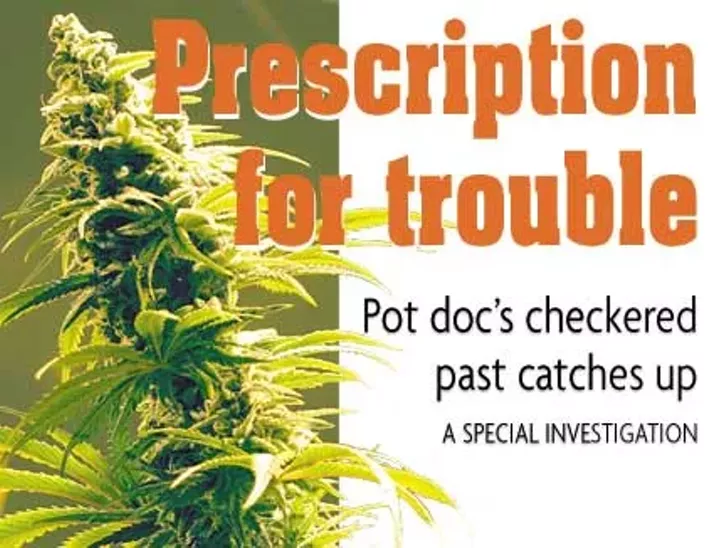 4 slides
While visiting Sacramento a few weeks ago, Patient X, a Humboldt County resident who asked that her name not be published, went to a medical marijuana dispensary to fill her prescription, which she uses for migraine headaches. In her two years as a card-carrying medical cannabis user, the college-aged woman purchased the drug in dispensaries numerous times, from Hollywood to Berkeley, without trouble.
But this time she hit a snag.
The receptionist at Canna Care, a Sacramento marijuana collective, explained to Patient X that her physician, Dr. Hany Assad - owner of Norcal Healthcare Systems Inc., with offices in Arcata, Ukiah, Bakersfield and Oakland - has restrictions on his medical license. According to records from the Medical Board of California, Assad "shall not examine or treat" female patients until 2009. Patient X argued that she hadn't actually been examined by Dr. Assad, that the work had been done by a physician's assistant in Arcata. But Lanette Davies, a Canna Care employee, wasn't biting - after all, that was Assad's signature at the bottom of her recommendation.
"There's nothing worse than to have someone ill and to have to turn them away," said Davies. "But at the same time we need to follow the law."
Davies was referring to two pieces of law in particular: California's Proposition 215, also known as the Compassionate Use Act of 1996, and 2003's Senate Bill 420. One stipulation of SB 420 is that attending physicians must be in "good standing" to recommend marijuana, and Davies wasn't so sure that Assad fell into that category.
Canna Care had been asking itself these questions for a couple of weeks: What are the definitions of "good standing" and "treatment"? Was Assad within his rights to prescribe marijuana to women so long as he wasn't examining them? Or was he cheating the system at the expense of unwitting patients?
It turns out that medical marijuana patients and providers all over the state had been asking themselves the same questions. What to do with Dr. Hany Assad's marijuana recommendations? The doctor had set up a burgeoning statewide medical empire, based on his willingness to recommend marijuana for patients. But was it legal? Was he prohibited from signing recommendations for female patients? Cannabis clubs and issuers of Prop. 215 cards had to deal with the man - but were they staying on the right side of the law?
The answers are starting to become clear, and the California Medical Board and the state Attorney General's office will take action in Dr. Assad's case this week. What that will mean for his presumed thousands of patients, as well as the future of the medical marijuana system, remains to be seen.
Some are hopeful.
"This is a unique situation, I think, the Dr. Assad situation," said Dale Gieringer, coordinator for California NORML, based in San Francisco. "I don't think it reflects more widely on medical cannabis."
Gieringer, a medical marijuana user who was a co-author of Proposition 215, said he recalls when Assad first set up shop in an area of Oakland well-known for pot dispensaries.
"He got his start because he was located by Oaksterdam," said Gieringer. "It was really hot there in 2002, 2003. There were six or seven pot clubs by the BART station. The OCBC [Oakland Cannabis Buyers' Collective], the one who does cards, like 50,000 to 60,000 cards over the years, were there. So there was big traffic, medical pot traffic. And he got an office nearby so people would know ... go to Assad, then get your pot nearby. One, two, three -- like that."
One writer had a similar assessment of Dr. Assad's Oakland practice in a post on 420magazine.com dated last month:
"I looked on the back page of the Oaksterdam newspaper, saw Norcal Healthcare System on Franklin in Oakland and made appointment. ... In the waiting room, the friendly staff had me signing in and filling out forms and paying the bill. They direct you to a large sterile and clean room. ... There, myself and probably a dozen other patients listened to Dr. Haddad [sic] explaining why he supports medical marijuana rather than pharmaceuticals. He mentions that he will appear in court for you (within reason). Then you go back in the waiting room, and he with another Dr. meets everybody individually for review ...
"In and out with recommendation in less than 45-60 minutes ... two minute drive to OCBC to present your new doctor's recommendation ... maybe another 15 minutes to pay for, update and get a new OCBC card. Good to go for another year."
Gieringer said that Assad was one of the first to set up the satellite office business model, which some call "215 mills." In Norcal's case, the satellite offices are staffed by licensed physician's assistants, who examine the patients or their case files from another doctor. The physician's assistant then sends the patients' paperwork to Assad's office in Oakland for a signature. As the 420magazine poster indicated, that signature, on a medical marijuana recommendation, can get you a 215 card that should allow you to buy marijuana in any of the state's medical marijuana clubs.
Prices are reasonable: According to Norcal Healthcare System's website, fees for assessments are $150 for new patients and $125 for renewals in the Oakland and Bakersfield offices; $125 for new patients and $100 for renewals in Ukiah and Arcata.
This business model was apparently successful. "I think [Assad] pioneered setting up offices around the state," Gieringer said. "He's a pilot. He has his own little plane. I believe that he flies to Bakersfield - Bakersfield has really blossomed. There are seven clubs down there."
While his business grew, though, Assad had become a locus of controversy in the medical marijuana community. Because of his history of discipline by the California Medical Board, places like Canna Care were starting to refuse his patients. Some counties declined to issue a 215 card based on Assad's recommendations. This, in turn, angered some people who paid for his services. Within the past month, Gieringer said, he fielded a complaint from a patient of Assad's whose recommendation was denied.
Before Dr. Hany Assad was listed on virtually every medical marijuana website as one of the foremost medical marijuana doctors in California, he was a physician and surgeon for Kaiser Permanente in the Bay Area. A graduate of Aims Shams University in Egypt - class of 1979 - he received his license to practice medicine in California in 1995. According to public records with the California Medical Board, the problems started shortly thereafter.
According to a Medical Board accusation brought against Assad in 2001 - a case which Assad settled before it went to trial -- the doctor had engaged in inappropriate conduct of a sexual nature with two female patients.
The first patient, a 31-year-old woman who is referred to in the document as "K.S.," began seeing Dr. Assad at Kaiser in 1997 for headaches, for which she was given injections of prescription drugs. According to the accusation, "K.S." and Assad began an illicit sexual relationship, which he tried to keep secret.
"During the course of their sexual relationship, respondent [Assad] often told patient K.S. not to speak to others about their relationship," the accusation states. "Respondent gave patient K.S. his pager number but warned her that Kaiser recorded the calls. Respondent told K.S. to leave the message 'please call regarding my medications' as code for contacting him."
Despite their personal relationship, according to the accusation, Assad continued to see "K.S." professionally, prescribing a total of 83 injections of pain medications.
"Throughout 1998, respondent continued to see and treat patient K.S as a patient. Primarily respondent treated patient K.S. for her migraines by prescribing an injection of: Toradol; Demerol; plus Phenergan; or a combination of all three," it reads.
The relationship deteriorated, according to the accusation. On one occasion in 1999, "while patient K.S. was in an exam room after having received an injection for migraine pain, respondent held her face in his hands and said something to the effect that 'I should have killed you when I had the chance.'"
The accusation alleges that the matter came to a head in March of 2000. It states that "K.S." had accused Assad of raping her. She reported the three-year sexual relationship she and Assad had maintained to another Kaiser physician. She then filed a rape complaint with the Vacaville Police Department, which arranged a sting operation at which point Assad was arrested.
The accusation also alleges sexual misconduct with another female patient, this one referred to as "K.R." According to the accusation, in 1999 "K.R.," who was 27 years old, came to Kaiser with what she thought was a case of asthma. She was seen by Dr. Assad.
"During the course of his examination, respondent twice had patient K.R. lie on her stomach and kick her legs while he lifted up the back of her skirt and looked at her buttocks," the accusation reads. "Respondent also squeezed patient K.R.'s legs from the calves down to the ankles ... After K.R. filed a complaint with Kaiser about respondent's examination, respondent telephoned her to say that it was all a mistake and that he had only been trying to help her so that her skirt did not get in the way."
Assad resigned from Kaiser on April 1, 2000, just days after he was arrested by the Vacaville police. In the interview with the Journal, Assad said that Kaiser threw him a big going-away party. He said that he took a position as a physician for the U.S. Air Force, but resigned from that job because it involved traveling and would require that he spend time away from his family.
Charges stemming from Assad's relationship with "K.S." and his examination of "K.R." were brought by the California Medical Board in 2001. In January 2002, Assad settled the Medical Board charges by agreeing that his conduct in the cases of "K.S." and "K.R." were unprofessional and inappropriate. He agreed that he would not operate a solo practice for the next two years, and would not examine or treat female patients for the next seven years.
Sometime later, Assad was back in business with Norcal Healthcare Systems in Oakland.
As news of Dr. Assad's history and status with the California Medical Board began to spread in recent months, County Departments of Public Health in California and individual dispensaries across the state have reacted differently - underlining the ambiguities within the language set down by Prop. 215 and SB 420.
Humboldt County's Department of Public Health, for instance, still accepts Assad's recommendations for female patients who apply for county-issued medical marijuana ID cards, commonly known as 215 cards, which protect patients from arrest.
"We have verified with the state that we can accept [Dr. Assad's] recommendations," to issue Humboldt County ID cards, said Humboldt County Department of Health and Human Services spokeswoman Leslie Lollich. Lollich said that the county employee in charge of issuing 215 cards could not remember when she made the call to the California Department of Health Services, but that she was certain Assad's recommendations were cleared.
Alameda County's Department of Public Health, on the other hand, does not honor Assad's signatures for women, and they too ran the issue by the state.
"We've taken the position ... that we are not going to accept his recommendations for the period of time that there is a restriction on his license," said Pam Willow, management analyst for Alameda County Public Health Dept. "We follow exactly what the state licensing board requires, and we have checked this with the state [ID card] program, too."
Meanwhile, neighboring Contra Costa County will not honor Assad's recommendations for either women or men.
The California Medical Marijuana Program, a division of the state's Department of Health Services, is responsible for issuing 215 cards. But Norma Arceo, spokeswoman for the California Department of Health Services, said that it is up to counties, not the state, to deny an applicant an ID card.
Arceo said that it appears that the counties that have restricted the issuance of 215 cards based on recommendations signed by Assad have done so legitimately.
"During the application review process," she wrote in an April 20 e-mail to the Journal, "the county checks the physician's license on the California Medical Board's website, and in this case they found he [Assad] was on probation and was not allowed to treat women. Therefore he is in violation of his probation by issuing recommendations to women, and not in good standing; and the county has a right to deny that application."
But since 215 cards are not mandatory, the embargo on Assad's signature hasn't necessarily stopped his patients from getting medicinal marijuana. They can still grow their own, or use dispensaries that aren't aware his probation restrictions, or others that have chosen to turn a blind eye. Of course, a police department or prosecutor could decide that a piece of paper signed by Assad would not confer immunity from prosecution, based on the doctor's questionable "good standing."
According to the Humboldt County Recorder's Office, Assad took out a fictitious business name statement to open his practice in Arcata in June of last year. His clinic, in the Arcata neighborhood of Valley West, is in a quiet office building, just next to the motels and fast food joints off the Giuntoli exit. A plastic banner hangs across the front of the building, identifying it as belonging to Norcal Healthcare Systems. There's no indication that the practice is in the sole business of providing medical marijuana recommendations. It does not appear to have taken out any local advertisements.
Nevertheless, lots of Humboldt County people are plenty aware of the business.
Mariellen Jurkovich, director of the Humboldt Patient Resource Center (HPRC), a medical marijuana dispensary in Arcata that has 1,000 clients on its books, said that Assad is one of the most popular doctors for recommending marijuana in the area. She said that she recently became aware of issues surrounding his female patients, through conversations with patients and in online medical marijuana chat rooms.
"We had heard that he wasn't seeing women - but not because of that [state Medical Board accusation] - they said it was because of his religious orientation. People coming in said they knew he couldn't see women; there were assistants seeing them. I said, why is that? How strange to be a doctor and not see women. People said it was some religion that doesn't like to touch women. The site alluded to some sexual improprieties. But I take the Internet with a big grain of salt." (Assad told the Journalthat he is Christian.)
But the bottom line for Jurkovich is that Assad's license is current and renewed, that he is technically fit to practice according to the American Medical Association (AMA), so the HPRC will continue prescribing marijuana to his patients until some higher authority tells them to stop.
"To me, the public is being protected by the AMA," she said. "So why am I protecting the public when they have already gone to him? So I am punishing my sick patients that paid him $150?"
Jurkovich said that she believes many primary care physicians are afraid to recommend medical marijuana either because it is a federal crime or because of the recreational, stoner stigma attached to the drug. That leaves other, less fearful doctors to focus their practices on recommending medical marijuana.
In a phone call last week, Arcata Police Chief Randy Mendosa said that he is familiar with Dr. Assad's practice. "His name comes across my desk on a regular basis," Mendosa said. "I think the impression is - although I've never met him or looked into matter -- the impression is that he will give anyone a recommendation who wants one.
"When I originally heard of Assad, it was a complaint from another physician's office who was upset that Assad was doing this sort of thing, which they thought was contrary to appropriate medical practice. I have no information to prove that. It was a Medical Board issue, so I suggested contacting them."
In his conversation with the Journal, Assad said that the California Medical Board checks on him regularly and has never taken issue with the way he operates his practice. Assad vehemently asserted that his practice was strictly legitimate, and that the counties and pot clubs that refuse to honor his recommendations are in the wrong. His physician's assistants are the ones who see female patients, he said. He refuses to.
Without any prompting, he emphatically denied any wrongdoing against his female patients, saying that the two women in the accusation were in a support group together and conspired against him. He said he was satisfied when the Attorney General offered to settle with a seven-year restriction from treating females.
"This is my only protection from that type of patient," he said, referring to his accusers, who he said were mentally unstable. "After now, I am uncomfortable to see female patients."
When his probation expires in 2009, he said he is not sure what he will do. If he refuses to see women patients then, he could be sued for discrimination. "Maybe I will resign at that time," he said. "Usually I don't want to think about it before it happens. I can't have a camera in my room to protect me. What can protect me?"
Meanwhile, in response to questions put to it by the Journal, the California Medical Board, with help from the Office of the Attorney General, have looked into the question of whether Assad has been violating the terms of his probation. On Monday, Candis Cohen, a spokesperson for the Medical Board, said that after additional investigation, the Medical Board had determined that Assad's practice does not, in fact, conform to the terms of his settlement, and that the board would be meeting with Assad to discuss the case sometime soon.
Cohen was unable to say precisely which of Assad's actions had violated his settlement agreement. She was also unable to say whether the practice of allowing physician's assistants to see female patients that Assad would later recommend for medical marijuana was itself improper, or whether the very nature of Norcal Healthcare Systems' business model was unacceptable.
"We're looking at Dr. Assad's practice to see if it is a legitimate medical practice, with good faith examinations and appropriate physician involvement and direction," said Cohen. "He cannot treat females, and we will be meeting with him to discuss that, as well."
Cohen added that she could not say what discipline, if any, Assad might be facing. She also could not comment on the question of whether recommendations held by his current patients - male, female or both - would still be considered valid. All she could say is that the state would be taking some sort of action.
Meanwhile, it appears that many of Assad's female patients - at least the ones who travel - could be forced to go the route of Patient X. She has since written off the money she paid to Dr. Assad, and obtained a new prescription from a different physician.