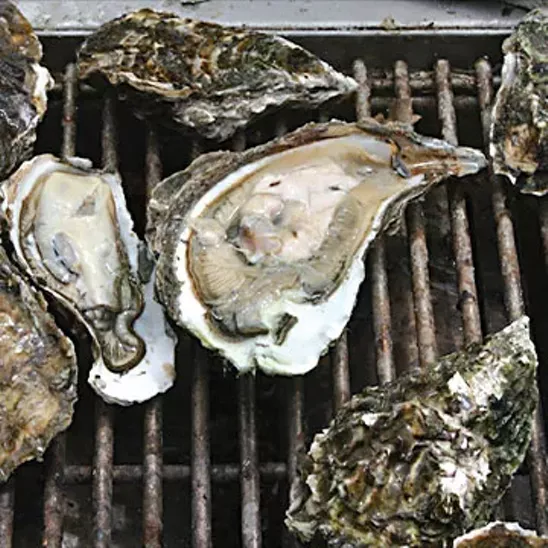 4 slides
Where do good oysters go when it's their time? If they're lucky, they meet their end on the Arcata Plaza on Oyster Festival weekend, which, in case you were not paying attention, was last Saturday. There they are sacrificed on the altar of oystermania and consumed in mass quantities by a huge happy crowd lubricated with corn plastic cups full of microbrew and wine served in commemorative stemware.
Me? I skipped the beer and wine and plunged right into the day's main attraction. My first stop was the Blue Lake Casino booth, where I met Chef Jim Stidson, who fairly recently took over from Jean-Louis Hamiche. While the Oyster Fest is a great place to catch up on restaurant news and gossip, I already knew that Jean-Louis had left behind a long career working for Humboldt's finest restaurants to become a Humboldt County Jail corrections officer. The Blue Lake crew was grilling oysters brought in from Oregon, serving them two ways, either with a wonderfully zingy sweet/hot chili-pineapple relish (five different chilies, including habaneros) or as something they called "Oyster Saltimbocca," a grilled bivalve with prosciutto, garlic, lemon sage and lemon juice. Good stuff. Not wanting to fill up too soon, I skipped their oyster chowder served in a bread bowl.
Down the way Chef Peter Jones and his Folie Douce team were cooking up a prizewinner from years past that Peter deemed "the old reliable." Local Kumamoto oysters are grilled and topped with a splash of sesame oil, a dollop of wasabi and some homemade plum sauce. The sauces are not applied willy-nilly; squeeze bottles are employed to run side-by-side lines of green and purple, just the right amount to provide a subtle mix of sweet and wasabi-hot complimenting that slip-sliding taste of the sea only possessed by an oyster. It was easy to see how they'd taken home first in the past, and why there was a long line out front.
True to form, the longest line of the day was at Smokin' Moses', where the dreadlocked Lee "Moses" Orlikoff commanded a ragtag bunch of shuckers, jivers and grillers (including legendary local fry cook Steve "Fluffy" Crivelli), and not enough servers (as always, beautiful women). Before the day was over they'd sell 5,000 oysters. Mo's secret is his patented barbecue sauce (available at all local stores) and no, I can't tell you exactly what's in it, although the label may give you guidance.
A few booths down Red Lion Chef Rob Layne was mixing seafoods, topping grilled oysters with wild Alaskan salmon tartar dressed with a slightly tangy sherry vinaigrette. Very good.
On the corner by the Hotel Arcata, I found the young crew from Tomo led by Chef Josh Hand. Taking advantage of the proximity of Arcata's most popular sushi joint, they had a runner bringing in hotel pans filled with shrimp and oyster tempura that Josh used to fashion hand rolls. The method: Lay down a sheet of nori mounded with rice, lay on an oyster (previously dipped in tempura and fried) and some green onion, sprinkle with sesame seeds, add a bit of flying fish roe and a splash of "spicy ginger citrus" sauce, and roll into a cone. Josh, whose arms are festooned with Japanese tattoos, explained that the citrus is a mix of lemon, lime and orange to simulate yuzu, an Asian fruit that's hard to come by in the States.
On the opposite corner I found Sweet Mama Janisse of Bless My Soul serving up fried oysters of a different sort: Southern-style. Hers were dipped in corn flour, dusted with a mix of Old Bay Seasoning and granulated garlic, deep-fried, then served with a choice of spicy sweet sauces: mango/chipotle or fiery habanero/peach. Added bonus, a bowl of black beans and rice. The bad news: I was too late for crayfish, which she'd brought in from the Sacramento River area. (She promised she'll have them at her Eureka restaurant as long as they are in season.)
Chef Ed Zamarripa from Samurai was grilling oysters and topping them with his top secret "Kaki Dynamite Sauce." He explained that despite decent sales, he's often lost money at the Oyster Fest due to overtime for his employees. This time out he offered his services for a volunteer-run booth benefiting the Humboldt Bay Rowing Association crew team. (His daughter is a member.) Among the other volunteers: Second District Supe candidate Clif Clendenen. (His daughter is a crew team member, too.)
Near there I ran into Humboldt Bay Harbor Commissioner Mike Wilson and asked him about the potential downside of bay-raised bivalves: contamination. Dioxins are probably not a problem in oysters, he explained, since oysters are grown suspended in the water column, not in the sediment where the toxic chems settle. How about agricultural runoff and sewage spills? Well, as they say, shit happens. But, said the Commish: "The oyster growers monitor water quality more than anyone. It's a really well regulated industry."
Todd Van Herpe, owner/operator of Humboldt Bay Oyster Company, told me pretty much the same thing, but in greater detail. Along with Kuiper Mariculture, HBOC is a key part of the bay's all-important seed oyster business, producing baby oysters for growers up and down the coast, along with grown-up oysters. Todd's crew of family and friends offered exquisite mesquite-grilled Kumamotos with a cucumber salsa made with peeled, fine-diced, seedless English cucumbers, equally fine-diced jalapeño peppers, both red and green ("for color variation"), cilantro, lime juice, rice vinegar and, Todd concluded, "of course, black pepper."
He figured there were about 24,000 of his oysters at the festival. Eight thousand or so for his booth; a few thousand each for booths run by Eureka High students and by Mad River Farms (the jam makers); a slew of shellfish for the Shuck Shack, a booth next to Todd's run by one of his employees, Conor Eckholm.
"This is my first year on my own," said Conor, obviously a man who loves his work — and oysters. His dad, who described himself as Conor's manager, had come to town for the festival (and Father's Day). He proudly announced that his son held the title of champion oyster eater, having won the "The Point's Shuck and Swallow" contest at last year's fest.
"Wait 'til you see the belt," he said with a chuckle. It was truly a sight to behold. Hand-crafted by Todd, it was patterned after the over-sized trophy belts worn by professional wrestlers. The centerpiece, a half-dozen gold-plated oyster shells, each with a pearl, was flanked by matching gold scallop shells, then a series of stars. Conor's shucking partner, Aidan Semingson, is another oyster grower, employed by Kuiper. (Coincidentally, Aidan's wife, Taffy Stockton, was this year's Oyster Festival coordinator.) Aidan had a similar belt, but with crisscrossed Oxo oyster knives in the middle, each in a slot, so it was in fact a functional tool belt. To complete the picture and help them get into character, each had a red, white and blue flag robe a la Rocky.
When contest time rolled around, a row of tables was set up in front of the music stage and mounded with oysters. With Shuck Shack supporters humming the theme from Rocky, Conor and Aidan brandished their belts defiantly, then found places at the end of a table. Five more teams of two were lined up against them. The contest was delayed briefly, waiting for Smokin' Moses to arrive. When he did not show (he told me later he was taking a nap), Fluffy took his place.
A countdown launched the action and each team had five minutes to shuck and consume as many mollusks as possible. It was clear from the start that no one was going to beat the clockwork precision of the Shuck Shack duo. Aidan was an oyster knife master, popping oysters as fast as Conor could suck them down, outstripping the competition by a mile, and in the end 60 oysters met their end, one every five seconds. Awesome! Of course Conor and Aidan took home first prize once again.
A panel of judges including event emcees Cliff and Amy Berkowitz from KHUM awarded a collection of other prizes. You could say the judges favored Asian-style fare. First place went to Tomo for that oyster tempura hand roll sushi discussed above. Second also went to Tomo for their oyster shooters with wasabi-lime and ginger-garlic dressings. Third place was awarded to Folie Douce for their old stand-by: grilled Kumamotos with wasabi and plum sauce. A People's Choice Award (based on votes from the crowd) went to Curley's Grill, who served two kinds of oysters, one with virgin Bloody Mary salsa and another with an orange fennel vinaigrette.
The KHUM folks also awarded their own special prizes: a best non-oyster prize went to Curley's for a delicious caramel-dipped apple drizzled with white and dark chocolate and nuts. (Sweet!) And another went to Oberon Café for "Ode to Grove," a grilled oyster with Cypress Grove chevre and a baked apple slice.
You say you've never heard of the Oberon Café? The name is more than a century old, but the establishment is brand new. To be more precise, it's not yet open, but is ready to go in the space in Old Town across from the Vance once occupied by Pacific Flavors. Stop by on the Fourth of July for a preview, and watch for breakfast, lunch and dinner (including steaks cut from local grass-fed beef) soon thereafter.
Didn't I tell you the Oyster Fest is a good source for restaurant news? And the oysters were excellent all around — hell, downright heavenly in some cases.