Mark McKenna
Mark Wheetley, left, holds the ribbon for the opening ceremony. Owner Josh Neff, center, and Merrick McKinlay, right, listen to Joellen Clark-Peterson of the Arcata Chamber of Commerce address the gathered crowd before cutting the ribbon.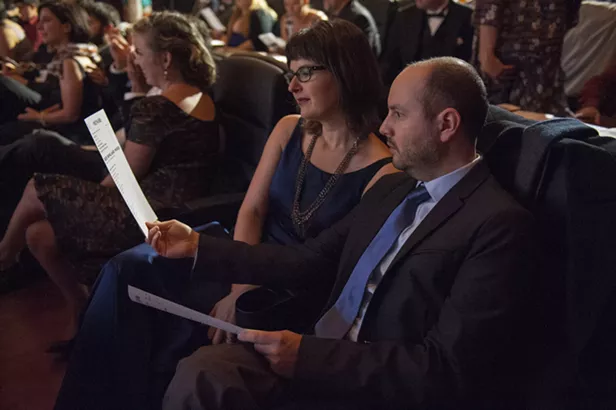 Mark McKenna
Sarah Fay Philips and Brent Eviston browse the new menu.
Mark McKenna
Michael Leigh explains the ordering process at the theater to patrons.
Mark McKenna
Something from the drink menu.
Mark McKenna
Minor Theater owner Josh Neff, right and Merrick McKinlay address the sold out crowd and thank supporters.
Mark McKenna
McKinlay and Neff in their vintage finery.
Mark McKenna
Movie patrons enjoyed several local short films including Orick, by Jensen Rufe.
Mark McKenna
The rapt crowd in their fancy new seats.