click to enlarge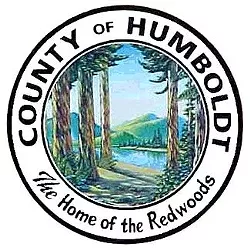 On Monday afternoon, the Humboldt County Board of Supervisors gave themselves a new compass. This instrument is designed to help them navigate the treacherous waters of the general plan update, a complex voyage through highly contentious policy decisions. The primary destination is an updated general plan, the document that governs land use decisions in Humboldt County's unincorporated areas. Beyond that, the compass will serve to guide future amendments to the plan. On a journey like this, a good compass is essential. But here's the thing: The county is now more than 13 years into this particular voyage. The destination is within view. And until Monday, county leaders were using a compass with an altogether different polarity.
Here's what happened. Last Thursday, 2nd District Supervisor Estelle Fennell sent county staff an email saying that she'd "been hearing from several people" about the guiding principles in the general plan update. These 12 principles, which were adopted unanimously by former boards, are meant to reflect community values. They're the compass intended to guide the update process, and all but two of them were drafted in 2004 after a robust public input process that included dozens of meetings, hearings and workshops across the county, with input from more than 2,000 community members and a wide variety of interest groups.
But Fennell felt they didn't reflect community values accurately. In her email to staff she said she'd been "tossing around some ideas" of her own, and with help from 1st District Supervisor Rex Bohn she'd come up some new principles, which she'd put in writing "for discussion at Monday's meeting."
Over the weekend, various interest groups sent out "action alerts," and sure enough, supervisors' chambers were packed come Monday afternoon. Much of the testimony recalled the acrimonious meetings of years past, with developers lamenting the "no-growth" enviros, property rights advocates lamenting the war on their rural lifestyles and environmental advocates lamenting the war on nature. The fundamental divides over land use issues in the community were re-exposed.
And yet, when the matter was turned back to the supervisors, Fennell argued that everyone is essentially on the same page. "We really all love living in this county, the rural lifestyle," she said. "I think it's time for us to move forward."
And with that, she proposed swapping out the existing guiding principles with the new set (to which she added a few words on the fly, at the suggestion of public speakers). Fennell defended the swift change of course by suggesting that Monday's contentious hearing was sufficient public involvement. "This is a wonderful, wonderful thing," she said after two hours of divided public commentary. "I believe so much in public participation, and this is the first time as supervisor that I've seen a full room." She further justified the move by saying that over the years, she'd attended most of the Planning Commission meetings on the general plan update.
Third District Supervisor Mark Lovelace countered that, like him when he was an environmental advocate, Fennell was paid to attend many of those meetings. She served nearly three years as executive director of the Humboldt Coalition for Property Rights, known as HumCPR. (Fennell recently voted to appoint that group's leaders, Lee Ulansey and Bob Morris, to the county Planning Commission.) Lovelace also reminded the board of the work done in the past. "While we've had great input here today," he said, "it pales in comparison to what went into developing the original guiding principles."
Bohn argued that county staff had preconceived ideas about what direction the general plan should take and ignored public comments that didn't align with that direction. "It feels like a lot of people got to go see the swimming hole but didn't get to go swimming," he said. Like Fennell, he indicated that Monday's meeting fixed that. "That was as robust as it gets today," he said.
In a hurried 4-1 straw vote just before the dinner break — with Lovelace objecting — the board approved the new principles. It replaced a set of values forged through years of public process with one developed behind closed doors and made public less than four days earlier. Theoretically the board can revisit and revise the principles at a later date, but the majority showed no inclination to do so.
How do the county's new guiding principles differ from the old ones? They offer a less specific vision, largely eschewing the notion of planned development focused around existing services in favor of laissez faire growth. They put a stronger emphasis on property rights and rural development while deemphasizing environmental protections.
Below you'll find both versions of the principles, with some compare-and-contrast notes. As the supervisors continue their review of the general plan, Monday's actions raise significant new questions. With a new compass in hand, will they change course even further? And as they look back over the years of work already completed, will they again decide to backtrack and land in new destinations?
• Original principle: "Protect agriculture and timberland over the long term, using measures such as increased restrictions on resource land subdivisions and patent parcel development."

• New version: "Encourage, incentivize and support agriculture, timber and compatible uses on resource lands."
Gone are protections for agriculture and timberlands, replaced by incentives to produce on those lands.
• Original principle: "Provide sufficient developable land, encourage development of affordable housing for all income levels, and prevent housing scarcity under a range of population growth scenarios."

• New version: "Promote and facilitate the creation of new housing opportunities to mitigate the decline in availability of affordable housing for all income levels."
These two may seem similar, but the differences are meaningful. The original principle was geared toward maintaining an adequate housing inventory. The new version takes for granted a decline in affordable housing and calls on the county to actively "promote and facilitate" new opportunities. The general plan update is a planning document intended to last for 20 years or more, yet the new principle is based on a variable market assessment — one that may already be incorrect. According to the latest data from the Humboldt Economic Index, home sales have increased by more than 15 percent in the past year while affordability has returned to pre-housing bubble levels.
• Original principle: "Ensure efficient use of water and sewer services and focus development in those areas and discourage low-density residential conversion of resource lands and open space."

• New version: "Cooperate with service providers in delivering efficient water and sewer services and infrastructure and support scientifically proven alternative waste management systems in areas not served by public sewer."
This change comes straight out of HumCPR newsletters. The new principle eliminates the goal of focusing development around existing services and instead opens up the county's rural lands to development.
• Original principle: "Protect natural resources, especially open space, water resources, water quality, scenic beauty, and salmonid habitat."

• New version: "Preserve Honor landowners' right to live in urban, suburban, rural or remote areas of the county while using a balanced approach to protect natural resources, especially open space, water resources, fisheries habitat and water quality in cooperation with state and federal agencies."
At the meeting the board directed staff to add "fisheries habitat" into the new principle. That version places landowner rights ahead of environmental protections, which are left to "a balanced approach." It doesn't specify whose definition of balance should be applied. Opinions in this county vary wildly about how best to resolve the opposing values.
• Original principle: "Support the county's economic development strategy and work to retain and create living-wage job opportunities."

• New version: "Support economic development and work to retain and create living-wage job opportunities."
The new principle deletes the county's role in planning economic development.
• Original principle: "Provide a clear statement of land use values and policies to provide clarity in the county's permit processing system and simplify review of projects that are consistent with the general plan."

• New version: "Provide a clear statement of land use values and policies in the county's permit processing system and simplify review of projects."
The new principle eliminates the requirement that projects be consistent with the general plan, which raises the question: Why have a general plan at all?
Two principles were changed only slightly. To the one that read, "Adhere to a practical strategy that can be implemented," the supes added, "utilizing constructive cooperation and common sense." The added terms are not defined. And they inserted the word "diverse" to create the following principle: "Preserve and enhance the diverse character of Humboldt County and the quality of life it offers." The extra word seems unlikely to affect policy.
Another principle — "Include actionable plans for infrastructure financing and construction" — was simply deleted.
And three principles were left unchanged:
• "Ensure that public policy is reflective of the needs of the citizenry as expressed by the citizens themselves."

• "Maximize the opportunities to educate the public about the planning process, in order to have meaningful participation in the development and maintenance of the plan."

• "Support a broad public participation program at all levels of the decision making process; including study, workshops, hearings, and plan revisions."