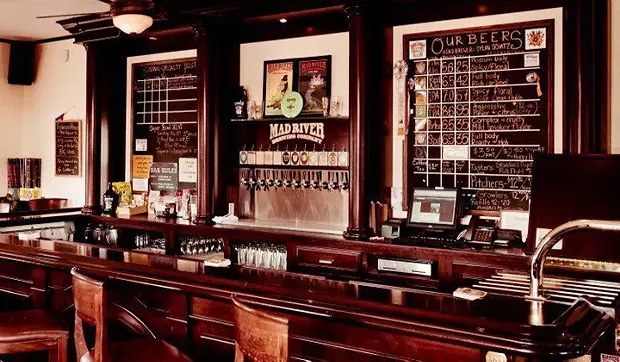 Mad River Brewing Company (MBRC) was built on the foundation of reuse and recycle. They utilize used and modified equipment such as Sierra Nevada's first brewing system. MBRC recycles all of their paper and metal products and have contracts to give the spent brewing grains to local farmers.
MBRC has always been about the beer and the hard-working people that produce handcrafted ales to share with family, friends and the rest of the world. Since the beginning, Mad River Brewing Company's mission statement has been "to produce the highest quality craft beer possible" and has pulled them through three decades of production.
Their talented Brewmaster, Dylan Schatz, and his work ethic have won national acclaim for MRBC. In 2010 they were Small Brewing Company of the Year at the Great American Beer Festival! That means they were considered the Best Brewing Company nation wide that sells less than 15,000 barrels a year! They have also been recognized for their individual beers: Steelhead Extra Pale Ale won Gold Medals in 2008 and 2012, and a Silver Medal in 2010 at the Great American Beer Festival and at that same festival, Jamaica Red Ale won a Silver Medal in 2011.
Microbrews and American pub fare with outdoor seating and live music most weekends.
Price: $-$$

Third Thursday of every month, 6 p.m.

Free
Wed., March 4, 5 p.m. 2020

Fri., Feb. 28, 6 p.m. 2020

Thu., Feb. 27, 6 p.m. 2020
See all past events at Mad River Brewing Company & Tap Room »