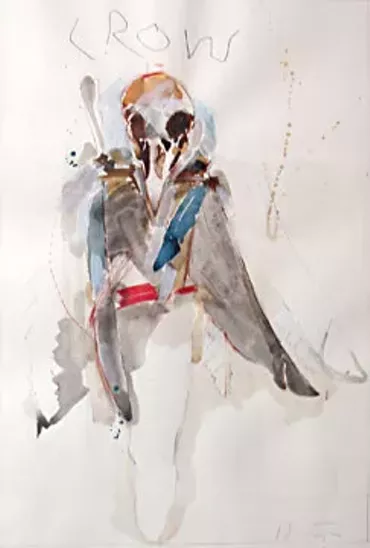 5 slides
I first became aware of Brian Tripp when my College of the Redwoods art class met at his apartment in downtown Eureka. It was a trip. He lived in a second floor loft apartment, one big room, and every inch of the floor (less a narrow pathway) was covered with boulders and hunks of wood. I don't remember much of that experience except the rocks and the questions it brought to my mind which still keep me awake on occasional nights. Questions like, how many trips did it take to get all those rocks up the stairs? Are they still there? What is the weight bearing capacity of a second story floor?
That was many years ago, and Brian has moved on since then. He now lives out in Orleans, but he is still doing art and he still incorporates a lot of rocks and pieces of wood in his brightly colored and very distinctive sculptures.
Brian is currently part of a group show at Piante Gallery in Eureka, and he was instrumental in pulling together the 14 Native artists. Group shows are hard to write about, and a show of 14 artists is nearly impossible. I can't wrap the whole thing up neatly in a bow and tell you that the show is about "xyz." There isn't even a theme to this one, but if there is one overarching rhythm to the show, it is the heartbeat drumming of an Indian dance ceremony.
I went down to the gallery to poke around a bit while they were setting up the show and the mood was one of happy chaos and excitement. It was early on, and I didn't get to see much, but I talked to George Blake as he was setting out his carved spoons and elk horn purses. Bob Benson stopped to admire George's work as he went on to the next room to set up his own. When I came back the next week, after the show was up, it occurred to me that this show was a celebration, a gathering of friends, an expression of culture. Or, as Brian put it, "we're all from the same swimmin' hole." The only exception to that is Frank Buffalo Hyde, who hails from Santa Fe and has only been in this community for a couple of years. But his work is a strong addition to the show.
The name of the show, Keeping the Faith, was Brian's idea. He told me, "we've all been involved in our cultures, teaching and working with kids, we're all artists making art, keeping the faith with art." Some of these people he's known all of his life. Some he'd never met before but has shown with in the past. One way or another, he says, they have "been rubbing on each other for quite a while, in good ways and in bad ways."
The work runs a wide gamut, and represents a range of styles, media and content. Bob Benson, who is well known for his evocative watercolors, is showing work that represents new directions he has taken since his retirement, including jewelry, sculpture and some large, stunning prints. Lyn Risling and Julian Lang both paint with dreamy colors and a storytelling style that uses traditional symbols and modern images. Frank Tuttle's gorgeous collages are laden with melancholy symbols and words.
George Blake's knowledge of traditional craft is extensive and he has been instrumental in keeping old ways alive and passing them on to younger generations. His carved elk horn purses are exquisite, but I take issue with the price tags stuck directly on them. I have a hard time putting a dollar value on something of such rare beauty, although I recognize the need for an artist to make a fair living.
Rick Bartow is nationally known and has shown solo at The Smithsonian's National Museum of the American Indian. In an online statement he says of his process, "Using Coyote's tail for a brush and Raven's beak to make my marks, I am blind to my destination. I begin to erase marks, attempting to cover my tracks and, like forgetful Coyote, I lose my way. Yet the record of my comings and goings is visible like the lines left by the tide as it advances and recedes."
While many of these artists represent the "old guard" as it were, there are also some younger artists: Annelia Norris, Alme Allen and Frank Buffalo Hyde, for example. There are carvings, watercolors, oils, jewelry, sculptures, prints, photography and collage. Working in a variety of media, these 14 artists are from all walks of life, but as Brian says, "we're all making art, and we've all come a long way."
They've come a long way, and they have come home. Someone once told me that he didn't understand the term "Native American" because he was born in America so he was just as native as the Indians. At the time, that didn't sound right to me, but I couldn't quite articulate why. After all, what do I know, I'm just a white kid too. It wasn't until later that I realized the flaw in his reasoning. There is a difference between being born here of parents from elsewhere, and being born here of ancestors who have lived in the very same place for generations upon generations. When your family has always been here, your relationship with the place is in your bones and your blood, and not just under your feet.
These artists all have the the place of their birth in their souls, and this is apparent in their artwork. Brian recited a poem to me that he had written about homecoming, and it sums up what this show is about and why it is unique. It's called "In the Spawning Ground."
I am from the spawning ground
It's the one that we all know
At one time or another
we all swam from the same hole
That's when my water broke
That's when my Father spoke
He said, when I was young I was told
Know how the water tastes
Know which way it flows
Feel the wind
Know which way it blows
Learn from the animals
The birds and the bees
Say a prayer for the home ground
The rivers, rocks, mountains, oceans and trees
Always give
more than you take
Always work hard
for the people's sake
Don't tell lies
Do things right
Sing your own song
and you won't be wrong
So what I know
is what I owe
Take it
Use it
Then put it back
in the ground
Where it was
before it was found
And then give it light
and make it bright
and let it grow
With love, with respect
That way, that day
we all can grow.
Keeping the Faith will be up through August at Piante Gallery, 620 Second Street in Eureka. The 14 artists are: Alme Allen, Rick Bartow, Robert Benson, George Blake, Frank Buffalo Hyde, Julian Lang, Frank LaPena, Deborah McConnell, Louisa Debrose McConnell, Karen Noble, Annelia Norris, Lyn Risling, Brian D. Tripp and Frank Tuttle.