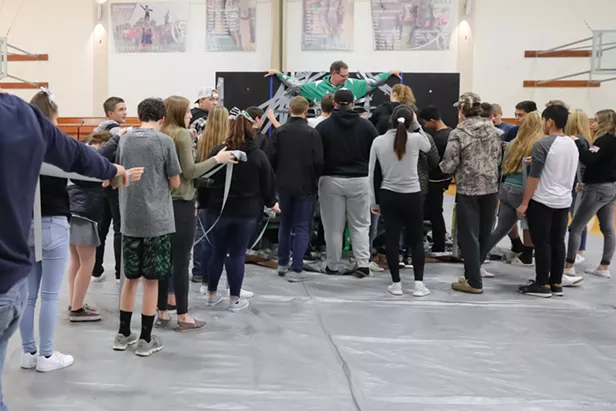 Sharon Falk-Carlsen
St. Bernard's kicked off its food drive with a rally. The students who brought in cans of food were given strips of duct take to tape President Paul Shanahan to a wall. Afterward, the same kids used him for target practice with water balloons and then a pie in the face. Following that, the students competed to build gingerbread houses while blindfolded and to wrap a gift box.
Jose Quezada
Chabad of Humboldt celebrated the beginning of Chanukah at sunset Dec. 9 on the Arcata Plaza with a large crowd witnessing Rabbi Eliyahu Cowen light the central torch on a giant menorah set beside the statue of President McKinley.
Jose Quezada
The 42nd annual Fortuna Christmas Music Festival was held Dec. 9 at the River Lodge with the Scotia Band, All Seasons Orchestra, College of the Redwoods Concert Band, Eureka Brass, Fortuna Union High School Music Department, Mariachi Réal de Mexico, Tuba Christmas, A Company of Voices and the traditional Festival Finale community sing-along framed the annual musical event.