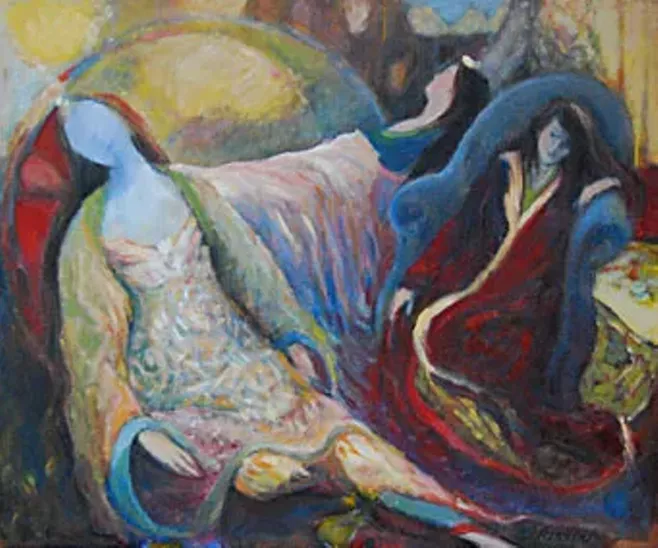 6 slides
Presented by USBank, with Eureka Main Street and the Humboldt Arts Council. Opening receptions for artists, exhibits and/or performances are held the first Saturday of each month. Phone 707-442-9054, for more information or to have an exhibit/performance included. http://aweurekatoday.blogspot.com/
1. WORLD CUP 1626 F St. Georgia Long, recent works.
1a. F STREET CAFÉ 1630 F St. Laura White, paintings; Jeff Davis, photographs; Mike Stengl, watercolors.
2. THE INK PEOPLE CENTER FOR THE ARTS 411 12th St. Mad Creator Show, Don't Get Mad, Get Creative, art with passion.
3. HUMBOLDT ARTS COUNCIL at Morris Graves Museum of Art 636 F St. Performance Rotunda: music by Dave Wilson and the Blue Lotus Jazz Ensemble; William Thonson Gallery: Susan Needham, Joyce Jonte and Suza Lambert, Hues of Emotion, figurative works; Homer Balabanis Gallery: Morris Graves: Selections from the Humboldt Art Council Permanent Collection and C.T. Wilson Redwood Tree painting; Knight Gallery: Mary K. Connelly, Topophilia (love of place), paintings of room interiors; Anderson Gallery: Suzanne Onodera, From the Landscape of Memory, landscapes; Mel Schuler Sculpture Garden: The Jan Milstead Collection and The Pacific Rim Sculptor's Group Gift to the City of Eureka; Floyd Bettiga Gallery: Arleen Olson, Images from Humboldt Wild.
4. EUREKA CONCERT AND FILM CENTER 612 F St.
5. EUREKA OLD GLASS HOUSE AND ANTIQUES 604 F St. Artisans Faire: Susan Sicard, handcrafted beeswax ornaments; Stephanie Bishop, handcrafted jewelry; Helen Thompson, hand painted oysters with wall hangers and magnets and other shells; Mariana Krattiger, handcrafted hats and purses.
6. PRAXIS 530 F St.Amy Lou, bags; Mark McKenna, photographs of Amy Lou bags.
7. OBENTO 517 F St. The Heiffer Project.
8. SACRED PALACE--BIKRAM YOGA--HUMBOLDT 516 5th St. Closed this month.
10. EUREKA SPA 601 5th St.
10a. ARKLEY CENTER FOR THE PERFORMING ARTS 412G St. Eureka Symphony 8 p.m.-9 p.m. $16 adults/$9/free for kids under 12.
11. PLAZA DESIGN 427 F St. Augustus Clark; music by Bossa Passa Tempo.
12. NORTH COAST DANCE 426 F St. Samba Na Chuva, Humboldt Rockers and African Dance Company with drumming by Dun Dun Fare.
12a. SIDEWALK GALLERY at Ellis Art and Engineering 401 5th St. Ayla Kahn, Shadow and Light.
13. WACHOVIA SECURITIES/AG EDWARDS 318 5th St. Garland Street Studio artists, various media.
14. AMIGAS BURRITOS 317 5th St. Marsha Lee, photographs of flowers and local scenes.
15. COCHRANE AND ASSOCIATES 402 E St. Shirley Nan Ruchong, Joan dal Porto, Edda Jurak, Barbara King and Pat Rhodes, Painting in the Style of Decorative Art.
15a. NORTH COAST BIG BROTHERS AND BIG SISTERS 428 C St. Ste. G. Mentors, mentees and community supporters, A 'Little' Art Makes a 'Big' Difference, mixed media.
16. EMPIRE SQUARED 47 W. 3rd St. 6th Annual Invitational.
16. CHERI BLACKERBY GALLERY at the Studio 272 C St. Group show, That Thing That Saved Us; cabaret with same theme at 7 p.m.
17. ACCIDENT GALLERY 210 C St. Lein Truong, Adorationland; Phyllis Barba, Everything Under The Sun; music by Weather Machine.
18. C STREET HALL GALLERY 208 C St. Jay Brown, John Crater, Curtis Otto, Seth Smith, Tom Klapproth, Georgia Long, Laura Dodd, Eric Furman, Linda Wise and Ian Herriott; music by Dogbone.
19. RELFECTIONS 202 C St. The Boys and Girls Club, mixed media.
20. OLD TOWN ANTIQUE LIGHTING GALLERY 139-B 2nd St. (At the Eagle House.) Janet Stock, Portraits of Wildflowers, photographs; Joyce Carter and Mary Harper, Music for Two Flutes.
21.STEVE AND DAVE'S 1st and C Sts. Music by Dr. Squid; John Harland, photographs.
22. THE TREASURE TROVE 220 1st St. Becky Saucedo, yarn fabric, wildflower jewelry and beads; Drawing at 8 p.m. for door prize.
23. CHAPALA CAFE 201 2nd St. Southwest artists' prints.
24. HUMBOLDT COUNTY GENERAL STORE 219 2nd St. Daniel Solomon, photographs.
25. GOOD RELATIONS 223 2nd St. Daniel Solomon, photographs.
26. ART OF WINE 308 2nd St. Ralphie Hendrix, Victoria Ryan, Pete Zambas and Sara Starr.
27. NORTHCOAST KNITTERY 320 2nd St. Suza Lambert, paintings.
28. RUSTIC WEST TRADING CO. 339 2nd St. John Houston, photographs; Kathy Marie, altered art and crafts; Diana Marshal, handcrafted and woven items.
29. CLARKE HISTORICAL MUSEUM 3rd and E sts. Music by The Sidekicks; new exhibits on lighting and paper dolls.
30.THE BEAD SHOPPE 418 3rd St. Gone on yearly buying trip.
31. GAIA IMPORTS 426 3rd St.
32. SHIPWRECK 430 3rd St. Rochelle Fugate, Endearing Sentiments by Shipwreck!
33. THE RITZ TEPANYAKI 3rd and F sts. Suza Lambert.
34. CIN CIN ALL ITALIANA 201 3rd St. Richard Dunning.
35. CAFÉ NOONERS 409 Opera Alley. Rob Graves, photographs.
36. HUMBOLDT BAY KEEPER 211 E St. Bryce Gray, watercolor and oil paintings; music Ken Jorgensen and the Rovers.
37. RAMONE'S 209 E St. Nate Lomba, photographs; musical puppet show by Hibbity Skibbity.
38. BOOKLEGGER 402 2nd St. Art of the written word.
39. TRUCHAS GALLERY/LOS BAGELS 403 2nd St. Pedro Cruz Pacheco, watercolors.
40. BELLE STARR 405 2nd St. Donna Bush, watercolors.
41. MAD RIVER BIOLOGISTS 417 2nd St. (upstairs) Mark Morrissette, ceramic wildlife sculptures; Ron LeValley, wildlife photographs; music by the Singing Nettles.
41a. NORTH SOLES FOOTWEAR 417 2nd St. Ste. 102. Shannon, ceramic wall art.
42. HSU 1ST STREET GALLERY 422 1st St. Cecilia Paredes, Animal of My Time, photographs and sculptures; Karen Sullivan, Not What It Seems, paintings and mixed media works.
43. HEALTHSPORT BY THE BAY 423 1st St. Leslie Ogleberg, photographs; salsa dancing and lessons.
44.SEA BREEZE CANDY AND TEE'S F St. Plaza. Life is Good line.
45. STRICTLY FOR THE BIRDS 123 F St. Marie Raphael, A Child's Birds, photographs.
45a. ANDREA RALPH ACCOUNTING SERVICES 123 F St. St. A. Erin Austin, Erin House, Elizabeth Lipsky, Lindsay Behr, Lia Sharp and Sarah Bonser, metal works.
45b. HUMBOLDT ACUPUNCTURE 123 F St. Ste. F. Grand opening; Oriental art.
46. BELLA BASKETS 412 2nd St. Sandy Popko, photographs; Glenda Hicks, paintings; Colinda Gutierrez, ceramics; food demo by Calhoon's Original Southside BBQ.
47. GEPPETTO'S 416 2nd St. Toys, cards and gifts.
48.EUREKA BOOKS 426 2nd St. Books, letters, Wanted/Not Wanted posters and maps that explore themes of exclusion and persecution in California's past.
49. SHORELINES GALLERY 434 2nd St. EHS Limited Edition Band.
50. MANY HANDS GALLERY 438 2nd St. Nan Penner, Robes of Spirit; Kathryne DeLorme, masks.
51. ALL UNDER HEAVEN 212 F St. Augustus Clark, acrylic paintings.
52. TALISMAN 214 F St.
53. MOON'S 218 F St.
54. SASAFRASS 226 F St. Julie Frith, Kinetic modern mobiles.
55. ALIROSE BOUTIQUE 228 F St. Amanda Elizabeth Woodward, watercolors.
56. DOT AND DAUGHTER 311 F St.
57. CODY PETIT GALLERY 527 4th St. Linda Mitchell, Wyoming and Beyond; Stardust Memories, vintage clothing from the '20s.
58. COCO AND CUVEE 531 3rd St. Amber Billings, photographs.
59. DISCOVERY MUSEUM 3rd and F sts. Kids' Alive: Inventors' Day.
60. AMERICAN INDIAN ART AND GIFT SHOP 241 F St.
61. OLD TOWN ART GALLERY 233 F St. Ann Anderson, quilts.
62. BON BONIERE 215 F St. Rachel Bury, memory mapmaking and paintings.
63. OLD TOWN COFFEE AND CHOCOLATES 211 F St. Blake Reagan, acrylic surrealism; music by Steve Lloyd, Acoustic Alchemy.
64. NATURAL SELECTION AND THE EMERALD CITY 203 F St. Bob and Donna Sellers.
65. HOLLYGOLIGHTLY 514 2nd St. Jordan Design, in-store custom jewelry creations; Susan Strope, florals.
66. OBERON GRILL 516 2nd St.
67. LINEN CLOSET 127 F St. Gone to market--see you in March.
68. HURRICANE KATE'S 511 2nd St. Samuel and Angela Lundeen, oil paintings, still life, seascapes and portraits.
69. BLISS 527 2nd St. Bob and Donna Sellers.
70. HIMALYAN RUG TRADER 529 2nd St. Lorna Brown, rugs; music by Yo Tango.
71.BUHNE ART STUDIOS 207 G St., 2nd Floor. Studio 102: Karen Merry, watercolor and mixed-media paintings and pen-and-ink works; Studio 202: HR LoBue, photographs and Tazam; The Artist's Connection Studio 116: Pamela Reeder and Michelle Murphy-Ferguson.
72. HUMBOLDT CARPET SHOWROOM 2nd and G sts. Shoshana Bernie, marble works; Andrew Daniel, floral studies; Brandon Garland; David White, wall sculptures.
73. SUKI BOUTIQUE 612 2nd St. Rob Vandivelt.
73a. PIANTE GALLERY 620 2nd St. Jim Crawford, Kit Davenport, Nancy Frazier, Louis Marak, Keith Schneider and Shannon Sullivan, Ceramics Invitational 2009.
74. BODY OF LIGHT 622 2nd St. Hand massages.
75. SMUG'S PIZZA 626 2nd St. Louise Hogan, multi-media global collage collection.
75a. SALON M 630 2nd St. Michele Mori, vinatage jewelry designs.
75a. CLOUD 9 STUDIO 634 2nd St. AnnaLisa McLaughlin, animal celebration features paintings in acrylic.
76. AVALON 3rd and G sts.
77. FRONT PORCH at Lost Coast Brewery 615 4th St. Heart art.
78. STUDIO S 717 3rd St. Yevonne Reynolds, paintings; local artists, landscapes.
79. HAS BEANS 738 2nd St. Judy Oszman, oil and watercolor paintings.
80. BIGFOOT COMPUTERS AND PHOTOGRAPHY TOO... 905 3rd St. Artsy yard sale.
81. ANTIQUES AND GOODIES 1128 3rd St. Kathleen Bechler, paintings and knitwear; Dolores Polm, watercolors; Dale Lee, hats.