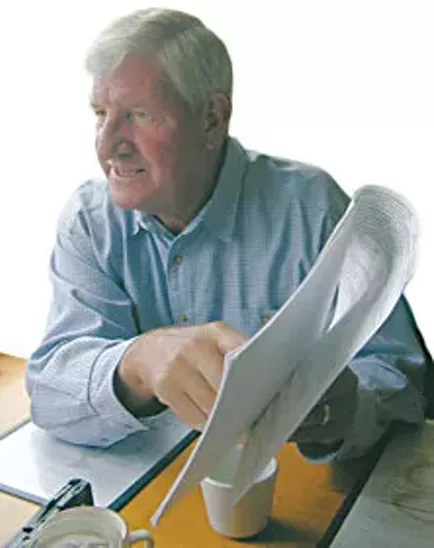 7 slides
If Fortuna ever builds a big box mega-mall, it's likely that Clif Clendenen would be one of the prime beneficiaries. The lanky 54-year-old is the owner and operator of Clendenen's Cider Works, a fruit stand and orchard that has been in his family for over 100 years. The Cider Works is located directly across 12th Street from the old Pacific Lumber mill, a 75-acre site that has been vacant for two years. There's easy access to 12th Street from the freeway. If a major retail center were to draw thousands of cars per day into the neighborhood, more than a few of them would probably make an extra stop at Clendenen's for some fresh produce.
But Clendenen -- a farmer and businessman who is just as happy talking about smart growth and urban planning -- is a vocal skeptic of big box development. Like many people, he cherishes Fortuna's "Friendly City" image. He fears that massive retail development could damage the city's small-town appeal. And he worries that city government could be throwing away a chance to do something extraordinary with the abandoned Pacific Lumber mill.
"I really think we should do this as a community," Clendenen said last week, taking a break from his duties at the Cider Works. "Let's come up with a really good community plan. And let's not do it with a guy on a backhoe sitting behind us."
A couple of weeks ago, as part of its drive to update its general plan, the city of Fortuna released three sketches for what might become of the old Pacific Lumber mill and the neighborhood surrounding it -- what the city is now calling "the Mill District." In two of the three sketches, the site would be anchored by large-format shopping centers -- either factory outlets or big box retail stores like Wal-Mart. The latter is the type of development favored by Sacramento-area developer Fred Katz, who has been actively eyeing the site for some time.
The fact that the sketch plans were weighted toward regional retail centers came as something of a surprise to Clendenen, in a way. He noted that the city's own consultants had considered a regional shopping center to be the "least realistic" option for the future of the town, and the least likely way to provide quality jobs for residents. But at the same time, it wasn't all that surprising, Clendenen said. He'd long had the impression that the city was tending toward big box, no matter what its consultants thought.
"The process always seemed like it was a little odd," Clendenen said. "They had this proposal from Fred Katz, and that was always hanging over things. The push seems to be toward the Katz project, and the blinders are on to head that way."
This raises some questions. It would be a rare Fortunan who didn't know that their mayor, John Campbell, has strong ties to Pacific Lumber. Campbell served as senior management at the company since the ancient timber company's takeover by the Texas-based Maxxam Corp. in 1986, quickly rising to become the company's chief executive officer and later the chairman of its board of directors. He was the face of Pacific Lumber through the turbulent 1990s, a decade that began with Redwood Summer, a season of large-scale protests against industrial logging on the North Coast, and ended with the Headwaters Forest Agreement, a public buyout of the company's largest remaining virgin stand of old-growth redwood.
Until recently, though, few people knew that Campbell has an active, ongoing contractual relationship with Pacific Lumber, which declared bankruptcy in January of this year. Until recently, few people knew that Pacific Lumber agreed to sell the old Fortuna mill to mall developer Fred Katz as far back as 2003, and that Katz and Pacific Lumber together had settled on a plan that would put a big box store on the site, with the city of Fortuna footing much of the bill.
John Campbell has served as a public official in the city of Fortuna for the last three years. During much of that time, the city has been grappling with the question of what should become of the old Pacific Lumber mill. And though he might protest the characterization, during that time Campbell has had dual obligations -- to the citizens who he serves, and to the company that holds the keys to Fortuna's future in its bankrupt hands.
When John Campbell left Pacific Lumber in 2003, he was the only participant in an antiquated retirement facility that the company offered to its management -- a "deferred compensation plan." When the company went bankrupt in January of this year, Campbell had drawn out a little more than half of the money he had remaining in this account. The annual checks he had received from the company stopped coming.
On July 6, Campbell filed a "proof of claim" form with Logan & Company, the New Jersey firm handling the paperwork filed by creditors who were left unpaid when Pacific Lumber and its sister companies went bankrupt. In his "proof of claim" submission, Campbell provided a copy of his deferred compensation agreement with Pacific Lumber, as well as a year-by-year breakdown of the funds that had gone into and out of his account.
The schedule shows that at the time of his departure from Pacific Lumber's board of directors, Campbell had accrued $815,622 in his deferred compensation account. The figure included money paid into the account by the company over 22 years of employment, as well as interest that the account had accumulated. When he left the company, Campbell started to draw on the funds. He would be paid the balance of the funds in five annual installments.
In 2004, Campbell received his first payment -- $163,124, minus taxes withheld. In 2005, he received $171,689. In 2006, he received $184,136. Then the company went into bankruptcy, and he received no more. Campbell's claim with the bankruptcy court seeks to recoup the approximately $400,000 remaining in the deferred compensation account.
The period Campbell was receiving checks from the deferred compensation account coincides remarkably with the period he has served in public office in Fortuna. He was first appointed to serve on the city's planning commission on Nov. 15, 2004. At the beginning of 2006, he ran for County Council and won. He was quickly chosen by his peers on the council to serve as the town's Mayor, a position he has held ever since.
Until this year, though, Campbell never disclosed his payments from Pacific Lumber on the annual statements of economic interests that most officeholders in the state of California are required to file. If he had, the state's conflict of interest laws would have prohibited him from participating in city hearings on proposals for the old Pacific Lumber mill. The city has had numerous discussions about the subject, including one special meeting earlier this year at which developer Fred Katz presented some ideas for his development; Campbell has never taken himself out of such discussions.
Campbell said last week that there has been no need to disclose his payments under the deferred compensation plan. He said that as he understands the law -- California's Political Reform Act -- he has no obligation to, as his plan qualifies as a type of retirement fund exempt from disclosure. A guidebook published by the Fair Political Practices Commission, the state body charged with enforcing the Political Reform Act, states that officeholders are not required to disclose payments received from a 401(k) retirement plan, and that many assets in individual retirement accounts are likewise exempt from reporting requirements.
But in one way, at least, the terms of the deferred compensation plan contract between Campbell and Pacific Lumber are unlike those of any individual retirement account or 401(k): It obligates Campbell to the company for as long as the plan is active. According to the contract, Campbell is required to provide services to Pacific Lumber in his retirement if the company so desires, and he is required not to act in any way that would adversely impact the company's interests.
"If the Board determines that any Participant, during the period when he or she was an employee of the Affiliated Group or thereafter, was guilty of an act of Material Misconduct, then such Participant's entire undistributed Deferred Compensation Account (and all rights with respect thereto) shall be forfeited," reads section 4(g) of the contract. "The term 'Material Misconduct' means any act or omission which materially and adversely affects the best interests of Pacific or any other member of the Affiliated Group or any person with whom Pacific or any such member has a substantial economic relationship." Later in the same paragraph, it is noted that the company's board of directors has the "sole and absolute" discretion to determine whether or not a participant in the plan is guilty of material misconduct.
Campbell said last week that Pacific Lumber had never exercised a section of the contract that would require him to perform consulting services for the company. And he maintained that despite the contract's seemingly clear language concerning "misconduct," the only thing that would trigger forfeiture would be going to work for a competitor, or somehow disgracing the company by committing a crime. He pointed to language in the contract that describes a participant in the deferred compensation program as having a "vested" interest in the account.

In April 2005, Pacific Lumber announced that it would shut down its Fortuna mill over the next few months. The company issued a press release lamenting that it had come to this. The problem, said the company, was that environmentalists and regulatory agencies had together succeeded in stifling timber harvesting. Thanks to them, there weren't enough logs to go around. Pacific Lumber had shut down its Carlotta mill just a few months earlier; with a brand-new high-tech mill just opening in Scotia, Fortuna would have to close down as well.
"[Vice President Dennis] Wood noted that after the announcement early last year to construct the new Scotia mill, it was always the Company's intent to operate all three facilities, which were dependent on achieving approved sustainable levels," the press release read. "However, the last seven months have proven that was not the case."
In fact, it hadn't been any secret that Fred Katz had been interested in the site. Katz, a developer specializing in big-box anchored malls, had already been in discussions with Pacific Lumber and the city of Fortuna.
But when Fred Katz's firm ("The FHK Companies") filed its own proof of claim in the Pacific Lumber bankruptcy case, just a week after Campbell filed his, it attached proof that FHK and Pacific Lumber had done much more than just talk. In July 2003, two years before the mill shut down, Pacific Lumber agreed to sell the Fortuna mill to FHK. The two companies signed a "real estate purchase contract" that would culminate in the actual sale of the property, so long as certain conditions were met.
Among those conditions was persuading Fortuna city government to foot most of the bill. Under the contract, FHK would pay Pacific Lumber $4 million to purchase the former mill site. But the two parties foresaw that the city of Fortuna could be persuaded to kick in between $4.7 million and $7.7 million from future sales tax revenue that the FHK shopping center would generate. Funds from the city would be split two ways, with roughly three-quarters of it going to Pacific Lumber and the rest to FHK. The public money used on the project would reimburse the two companies for part of the cost of the land and for some remediation work required to get the property ready for development.
Fortuna City Manage r Duane Rigge last week emphasized that the city had no part in crafting the contract between Pacific Lumber and FHK, and had certainly not consented to its terms. However, he was not surprised at the clause about city sales tax revenues being used to fund the project. FHK floated just such a proposal back in 2003 -- right before the contract with Pacific Lumber was signed, apparently -- to see how the City Council at the time would respond.
Fortuna City Manager Duane Rigge. Photo by Hank Sims.
"The question to that council was whether the city would consider a sales tax agreement to do infrastructure," Rigge said. "He got a timid response. It wasn't an alien idea, and it wasn't something we would necessarily agree to."
In addition to the financing element, the real estate purchase contract contained numerous clauses and subclauses. It required that before the close of escrow, Pacific Lumber would undertake all due diligence to get the property released from the company's Habitat Conservation Plan, an environmental deal signed with the state of California at the time of the Headwaters Forest Agreement. And it specified that FHK had the right to back out of the contract if, within six months of the contract being signed, it didn't come to an agreement with a big box retailer -- Wal-Mart, Target or another such superstore -- to anchor a development on the site. (Given that the contract was apparently still in effect, it's reasonable to assume that FHK had, in fact, reached an agreement with a big box retailer. Katz did not return calls seeking comment.)
In filing with the bankruptcy court in the Pacific Lumber case, FHK seeks to recoup some $275,000 in "earnest money deposits" paid to Pacific Lumber biannually in order to maintain its option on the parcel. But bankruptcy or no, Rigge confirmed that FHK is still actively interested in the purchase, and was doing work on the site as recently as last week.
For his part, Campbell said that he had never seen the contract between FHK and Pacific Lumber until the Journal e-mailed a copy to city government last week. Other city government officials said the same thing. Rigge said that he had once asked Katz for a copy of any agreements between the two companies, but his request had been denied.
Over lunch last week, Campbell -- courtly, silver-haired, his native Australian accent still strong -- asserted that everyone he has talked to about his relationship with Pacific Lumber, including a couple of attorneys, has felt comfortable that he has acted properly. Asked specifically about the part of his deferred compensation agreement that required him to refrain from "adversely affect[ing] the best interests of Pacific Lumber," and how that clause might impinge on his duties as the city's mayor, he argued that the company's bankruptcy made the point moot.
"I'm assuming that if I do something that's adverse, or is considered an omission, that I won't get paid the balance of my money," he said. "But I'm not getting paid anyway, because I'm a creditor."
Of course, that doesn't answer for all the years that he has served the city, during which time the proposed Katz project has been one of its most important pending issues. And it was only in March of this year, two months after Pacific Lumber went bankrupt, that Campbell decided to include his interest in the company on his financial disclosure forms. He wrote that Pacific Lumber owed him $400,000 in deferred compensation, a figure that was now "clouded" by the company's bankruptcy. Also, he wrote that he had received no payment for 2006. (In fact, he had received a substantial sum that year -- the company sent him a check for $120,977 on Feb. 6, right in the middle of his campaign for council -- but Campbell maintains that those funds were for calendar year 2005.)
It's not easy to determine whether Campbell broke California's clean-politics laws by not disclosing the terms of his relationship with Pacific Lumber. Such decisions would theoretically be made by the Fair Political Practices Commission, and that body does not speak to the press about specific cases, either before they are investigated or afterward. But Campbell, at least, feels that he is on solid ground. He has previously stepped away from city decisions involving his personal business partners, and he said that he wouldn't shy from doing so again, if he thought the case warranted it. In this case, he said, it does not.
"If I feel it's inappropriate that I should vote on a project, I would recuse myself," he said. "But right now I don't feel that way."
If the momentum toward the big box development that Clif Clendenen senses is real, it could be for any number of reasons, of course. It could be that citizens of Fortuna really want a big box development, despite the city consultant's gloomy forecast for its prospects. Indeed, results from the city's last election -- the one that brought Campbell to the council -- seemed to confirm this. The anti-big box candidates, who weren't shy about expressing their qualms, were soundly defeated.
But when Clendenen was presented with the documents filed by Campbell and FHK in the Pacific Lumber bankruptcy case, he was taken aback. He didn't want to hazard any conclusions about the propriety or impropriety of Campbell's role in city government over the last few years, and he won't attribute the push for big box development he perceives to Campbell's contract with Pacific Lumber. Still, he said that he was concerned that Campbell's active participation in discussions about the site could taint whatever decision the city ends up making.
"He's been highly involved in everything," Clendenen said. "There's been a hundred meetings. Should we go back a hundred meetings?"