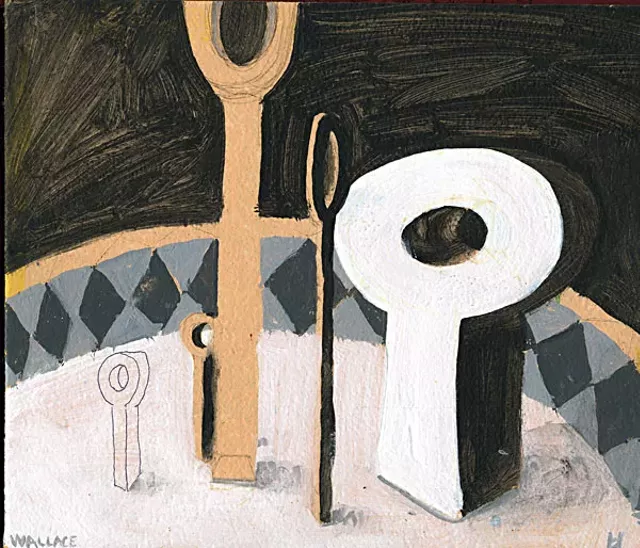 6 slides
1. Bubbles 1031 H St. Bluegrass by Clean Livin'.
2. Garden Gate 905 H St. Jim Crawford, mixed media and ceramics. Music by Striped Pig String Band. Wine served to benefit Arcata House.
3. Arcata Main Street 791 8th St. E.Chirstian Wisner, photographs. Wine served to benefit Arcata Main Street.
4. Arcata Artisans 883 H St. Susan Bornstein and Libby George, paintings; Loryn White, ceramics. Wine served to benefit Breast Health Project.
5. North Soles Footwear 853 H St. Arcata Arts Institute, photographs.
6. Arcata Exchange 813 H St. Jerry Lee Wallace; Music by Bob Billstrom.
7. Natural Selection 708 9th St. John Garcia, acrylic paintings & prints.
8. US Bank* 953 G St. Brian Alison, photographs.
9. Upstairs Art Gallery 1063 G St. Derek Bond, Jim McVicker, Theresa Oats, Linda Parkinson, Rachel Schlueter, Patricia Sennott and John Wesa. Animals in Art. Live animals. Wine & beer served to benefit The Humboldt Wildlife Care Center.
10. Moonrise Herbs 826 G St. Karen Merry, paintings.
11. Plaza Design 808 G St. Linnea Tobias, paintings & monotypes; Music by Sidekicks. Wine served to benefit Hospice of Humboldt.
12. Libation 761 8th St. Matt O'Brien, acrylic on wood; Music by Duncan Burgess.
13. Bon Boniere 791 8th St. Arcata Arts Institute; Music by Humboldt Music Academy String Quartet.
14. Cafe Brio 791 G St. Jazz by Weather Machine.
15. Arcata City Hall* 736 F St. Native American Honor Tax Project.
16. Arcata Marsh Interpretive Center* 569 South G St. Louise Bacon-Ogden, drawings.
17. Fire Arts Center 520 South. G St., #A. Tile Show.
18. New Image Salon Sunny Brae Center. Martha Tildon, copper wire creations.
19. Hunter Plaid Gallery & Studio 550 S. G St. #28. Jen Town, paintings and drawings.
20. Mazzotti's 773 8th St. William Twibell, nature prints.
21. Arcata Photo Studio 791 8th St. Sheldon Sabbatini and Terrance McNally, photographs.
23. Arcata Playhouse 11th & G St. Performance of Stones in His Pockets.
24. North Coast Co-Op 811 I St. Jorin Bossen, paintings.
25. AMPT Skateboard Shop 1040 H St. TBA.
26. Green Family Clothing Store 791 8th St. Jess Albee, multi-media.
27. Humboldt Arts Project Feuerwerker building 854 9th St. Wide range of artists' photographs, paintings, drawings, sculptures, video and performance arts; Samba by Samba Na Chuva; Wine served to benefit The Humboldt Arts Project.
28. Rocking Horse 791 8th Street Jacoby Creek Elementary School children's art.
29. Seventh Generation Fund 425 I St. Native American Artists.
30. Outdoor Store 737 G St. Jeremy Wall.
31. Multiplicity Therapeutic Services Corner of 10th & G St. Eli Veerkamp, glass blowing and sculpture.
*These venues are open only during regular business hours.