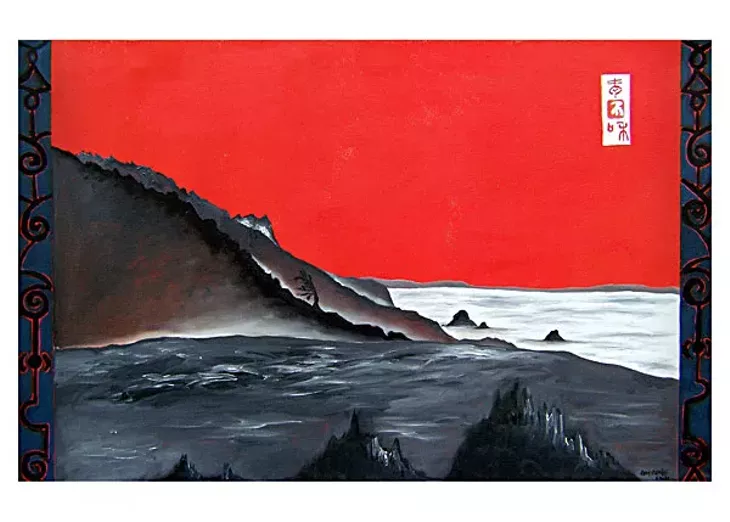 10 slides
First Saturday Night Arts Alive! Saturday, July 4, 2009, 6-9 p.m. is proudly presented by USBank, with Eureka Main Street and the Humboldt Arts Council. Opening receptions for artists, exhibits, and/or performances are on July 4th from 6-9 p.m. Join us after the 4th of July Festival and before the Fireworks show at 10 p.m. Phone 707-442-9054 for more information or to have an exhibit/performance included. http://aweurekatoday.blogspot.com.
1. WORLD CUP 1626 F St. Bill Pierson, photographs taken in Africa.
1a. F ST. CAFÉ 1630 F St. Bill Pierson, landscape photographs.
2. THE INK PEOPLE CENTER FOR THE ARTS 411 12th St. Mary Sukup, Teresa Whitehawk, Nina Wolf, Skye, Donvieve, Libby Maynard, Annie Reid, Leatrice Mikkelson and Lyn Risling, The Changing Times, Prayers for the World by Nine Wise Women.
3. EUREKA CONCERT AND FILM CENTER 612 F St.
4. PRAXIS 530 F St. Joyce Jonte, watercolor florals and figures.
5. SACRED PALACE BOUTIQUE - BIKRAM YOGA – HUMBOLDT BRANCH 516 5th St. Jennifer Sherman, Layered Identity, tile layered art.
5a. OASIS 520 5th St. Thangka paintings from Lokesvara Thangka Center; music with DJ after party, Continuing the Revolution.
6. SURFSIDE BURGER BAR 445 5th St.
7. SIDEWALK GALLERY at Ellis Art and Engineering 401 5th St. Ayla Khan, geometric mono prints.
8. WACHOVIA SECURITIES 318 5th St. Julieanne Johnson, collages.
8a. AMIGAS BURRITOS 317 5th St. Ben Secor, Local Shore Birds, handheld digital photographs.
9. EMPIRE SQUARED 47 W. 3rd St. 4th of July group show.
10. CHERI BLACKERBY GALLERY at the Studio 272 C St. Allen Cassidy, The Best of Allen Cassidy Show, paintings and drawings. Screening of Cassidy's filmography at 6:30 p.m.
11. ACCIDENT GALLERY 210 C St. Eric Fruman, Metal Space.
11a. C ST. HALL GALLERY 208 C St. Rick Gustafson, Seth and Liesl Smith, John Crater, Annie Bush, Ashley Foreman, Shoshanna, Kathy O'Leary, Tom Klapproth, Curtis Otto, Eric Furman, Phyllis Barba, Augustus Clark and Allison Baumsteiger.
12. REFLECTIONS 202 C St.
13. LIVELLA STUDIOS (Music Recording Studios and Art Gallery) 120 2nd St. Music by Machines Go Wrong; Laura Chapman White and Mike Stengl; Howard Lewis, glassworks; Jeff Davis, photographs.
14. STEVE AND DAVE'S 1st and C sts. Music by Dr. Squid; John Harland, photographs.
15. CHAPALA CAFE 201 2nd St. Traditional Southwest artists' prints.
16. HUMBOLDT COUNTY GENERAL STORE 219 2nd St.
17. GOOD RELATIONS 223 2nd St. Bob Lawblah, Magical Ink, India ink on Bristol.
18. HUMBOLDT HERBALS 300 2nd St. Amy Schectman, abstract oils and acrylics; music by acoustic guitarist Todd Krider.
19. ART OF WINE 308 2nd St. Representational Art League: Elsie Mendes, Beverly Harper, Camille Regli, Yevonne Reynolds, Marj Early, Sara Starr, Delores Terry, Susan Strope, Pat Cahill, Dolores Palm and Michelle Murphy-Ferguson.
20. NORTHCOAST KNITTERY 320 2nd St. Dan Tubbs, photographs.
21. CIARA'S IRISH SHOP 334 2nd St. Representational Art League, mixed media, including watercolors, oils and acrylics.
22. CLARKE HISTORICAL MUSEUM 3rd and E sts. Exhibits on summer fashions, Humboldt tourism, toys and ship-building.
23. STUDIO 424 424 3rd St. Peter Zambas, oil paintings; James Hamilton Smith, sculpture; Conrad Calimpong, ceramics and pottery; James Reed, photographs; live music.
24. GAIA IMPORTS 426 3rd St. Belly dancing by Jeannieve's Tribal Dancers.
25. YARN AND SHIPWRECK 430 3rd St. Lauren Miller, Twenty Short Stories, mixed media.
26. THE RITZ TEPANYAKI 3rd and F sts. Suza Lambert.
27. CAFÉ NOONER 409 Opera Alley. Arcata Arts Institute.
28. HUMBOLDT BAY KEEPER 211 E St. Holly Sweet, fabric art; music by Kenny Ray and the Mighty Rovers.
29. RAMONE'S 209 E St. Rosalie Thompson; music by the Sidekicks.
30. TRUCHAS GALLERY/LOS BAGELS 403 2nd St. Holly Garbutt, quilts.
31. REFLECTIONS JEWELRY 417 2nd St. Gary Todoroff, photographs.
32. HEALTHSPORT BY THE BAY 423 1st St. Jim Lowry, digital photographs.
33. SEA BREEZE CANDY AND TEE'S F St. Plaza.
34. STRICTLY FOR THE BIRDS 123 F St. Gary Bloomfield, Birds in Art.
35. EUREKA BOOKS 426 2nd St. Duane Flatmo and friends celebrate the release of Large Art in Small Places, a book featuring Humboldt County murals.
36. SHORELINES GALLERY 434 2nd St. Amber Jones, copper; Bob and Donna Sellers.
37. MANY HANDS GALLERY 438 2nd St. Northern Lao hand-woven textiles.
38. ALL UNDER HEAVEN 212 F St. Augustus Clark, acrylic paintings.
38a. MOON'S 218 F St.
39. SASAFRASS 226 F St. Julie Frith, Kinetic modern mobiles.
40. BAA BAA SHEEPSKIN 234 F St.
41. DOT AND DAUGHTER 311 F St.
42. COCO AND CUVEE 531 3rd St. Amber Billings, photographs.
43. OLD TOWN ART GALLERY 233 F St. Fire Arts in Arcata, fused glass/functional pieces and wall display works.
44. BON BONIERE 215 F St. William (Bill) Smith, acrylic landscapes, still lifes and portraits; music by guitarist and vocalist Dale Winget.
45. OLD TOWN COFFEE AND CHOCOLATES 211 F St. Country music from the heart by Guitar Stan; Angie Armijo, whimisical and colorful acrylics.
46. OLD TOWN ANTIQUE LIGHTING 2nd and F sts. John Palmer, Looking for the Light, landscape oil paintings; original and Celtic harp music by Kathe Lyth.
47. HOLLYGOLIGHTLY 514 2nd St. At the Shore, paintings.
48. OBERON GRILL 516 2nd St. Historical Society, photographs of Old Eureka.
49. LINEN CLOSET 127 F St.
50. HURRICANE KATE'S 511 2nd St. Karen Berman, Florals and Landscapes, watercolors.
51. BLISS 527 2nd St. Bob and Donna Sellers, mixed media.
51a. HIMALYAN RUG TRADER 529 2nd St.
52. BUHNE ART STUDIOS 207 G St., 2nd Floor. Studio 102: Karen Merry, watercolor and mixed media paintings and pen-and-ink works; Studio 202: HR LoBue, photographs and Tazam; Michelle Murphy-Ferguson, oil paintings.
53. SMUG'S PIZZA 626 2nd St.
54. AVALON 3rd and G sts.
55. UPSTAIRS ABOVE THE LOST COAST BREWERY 615 4th St. Ken and June Moxon.
56. STUDIO S 717 3rd St. Paintings highlighting the color Blue.
57. HAS BEANS 738 2nd St. Norman DuPalntis, landscapes, trains, boats and old buildings.
58. ANTIQUES AND GOODIES 1138 3rd St. Kathleen Bechler; Elaine Gredassoff, watercolors.
59. BIGFOOT COMPUTERS AND PHOTOGRAPHY TOO… 905 3rd St. Miscellaneous artists.
60. LOOKING GLASS RESTAURANT 1436 2nd St. Tamra Whitney, pastel drawings.