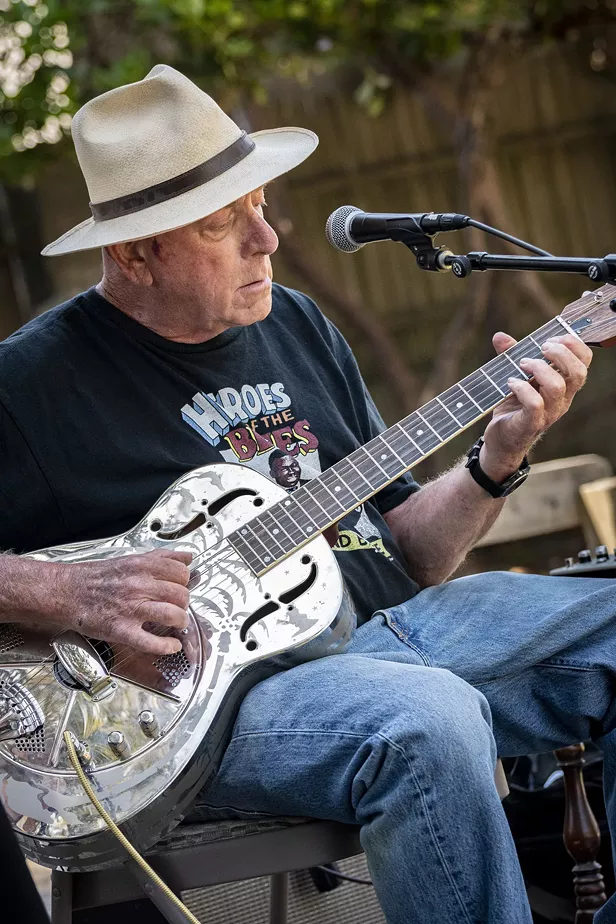 Mark Larson
Back Seat Drivers led off the afternoon of live music in Perigot Park (Alan Glaseroff on guitar).
Mark Larson
A tradition in Annie & Mary Day in Blue Lake is to have "Annie" (Janine Volkmar, Ieft) and "Mary" (Larella Moore) do some time traveling and lead the parade. Annie and Mary Day is a celebration of the historic Arcata Mad River Rail Line, named after Annie Carroll and Mary Buckley, two bookkeepers who were employed by the railroad around the year 1907.
Mark Larson
If you're wondering where the lake is in Blue Lake, ask Scott Oberlies, who is in charge of the Blue Lake Yacht Club.
Mark Larson
Bandemonium provided the live music for the parade.
Mark Larson
Dell'Arte International clowns on the left, jokers on the right preceeded Pandemonium in the parade lineup.
Mark Larson
Joel Canzoneri (left) and Rick Levin helped lead the Mad River Old Crows, the men's side of the Blue Lake civic organization.
Mark Larson
A large continent of young riders from the Six Rivers Pony Club lined up in the second-to-last parade slot (always a wise slot for live animals in a parade).
Mark Larson
Amber Lust got a ride in the parade, waving her fan while driver Jamie Bondage of the Rag Doll Review was in charge of throwing candy to attendees.
Mark Larson
Some performers from Circus Nonsense chose not to walk in the parade (the group will be performing this week at the Baduwa't Festival). Bottom left is Carlo Gentile and top left is Gioia Gentile. Bottom right is Orlene Carlos and top right Giusi Gentile.
Mark Larson
The traffic cone led the parade on a loop around town via west on First Avenue and then east on South Railroad Avenue back to the starting point on Hatchery Road.
Mark Larson
An electric bike replaced a horse for this backseat rider.
Mark Larson
Cadillac Ranch provided live music in the second set in Perigot Park.
Mark Larson
A large crowd of dancers were grateful for the Grateful Dead covers provided by Dead On in the second set of live music in Perigot Park.
Mark Larson
Steve Ayer, of Miami, shows off his photo of "Annie" (Carmen Gonzalez, left, also of Miami), and "Mary" (Cindy La Mar, of McKinleyville) at a painting in Perigot Park.
Mark Larson
More than a few of us stopped by this beautifully restored and very rare 1962 Volkswagen split-window truck to ask its owner (Ward Patterson of McKinleyville) why there were Mack truck symbols on each side of the front fenders. Patterson said the vehicle's original owner drove Mack trucks for a living and had added Mack-truck "everything" to the VW truck (he then removed everything but the two Mack truck symbols in his restoration).
Mark Larson
Two vintage-car spectators stopped by to check out the 1964 Jaguar XKE roadster owned by Jim and Mary Ann Brown, of McKinleyville (in the background).
Mark Larson
Every parade with live animals needs a volunteer at the end of the line to help clean up the droppings.