November 29, 2017 Slideshows » News
2017: The people, places and events of Humboldt County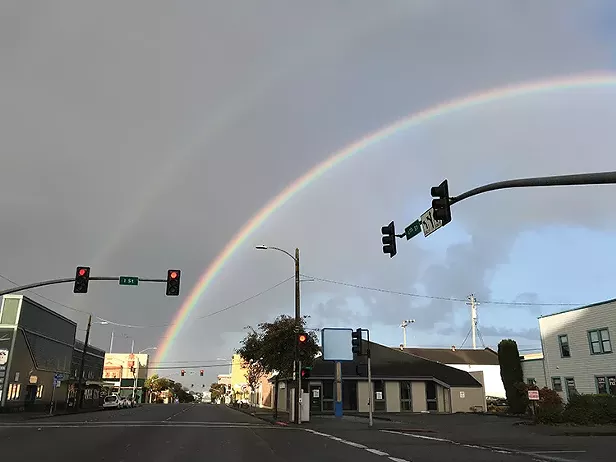 Photo by Shana Bishop
(8:36 a.m.) Humboldt State University student Shana Bishop skipped class to get a head start on a six-hour journey down U.S. Highway 101 and caught this double rainbow with her phone out the car window in Eureka.
Photo by Agnes Patak
(3:43 p.m.) Sydney Morrone (left) and Isabella Vanderheiden, news directors at KMUD Radio, prepare for their nightly news program in Redway.
Photo by Amelia Parker
(9:03 a.m.) A bulletin board is located outside of the Arcata Northcoast Co-op for local community news, such as events, concerts, and fundraisers. The rise in bike ridership in earlier 2017 was attributed to new bike paths implemented throughout Arcata, with a new project in place to extend a bike path from Arcata to Eureka, an extension of the Hammond Trail.
Photo by Annie Reid
(10:18 a.m.) "I live close by Scenic Drive near Trinidad and was stopped in my tracks when I saw this young man (Winston Beddingfield) on his slack line high above Secret Beach. As I took photographs, I was thinking, 'Does your mother know you do this?'"
Photo by Bob Doran
(11:53 p.m.) Stevie Culture, the Jamaican drummer and lead singer for the reggae band Irie Rockers, posed outside The Jam, a nightclub formerly known as the Jambalaya. (The photographer is caught reflected in the window.)
Photo by Brandi Easter
(5:50 p.m.) McKinleyville locals, Michael and Tom, sit in front of Roger's Market and reflect on the day.
Photo by Celeste Kastel
(10:30 a.m.) Eric Hollenbeck works on small wooden pegs to add to his detailed design of a porch railing. Eric is the owner and founder of the Blue Ox Mill located in Eureka right on the bay. He is a Humboldt legend who is a man of all trades as well as a teacher. Eric runs a school at the Blue Ox Mill for teens and teaches them how to work a loom, make stained glass, work with wood and metal, and much more time-honored work.
Photo by D'mitri Woodruff
(10:30 a.m.) The McKinleyville Barbershop has been family owned and operated for 46 years by Leroy Murrell and his son Ken. Ken Murrell said that many vets who frequent the shop have left their hats for the wall. In many cases, widows have brought the hats in after their husband's passing.
Photo by Deborah Ketelsen
(2:45 p.m.) Jeanine Cava, Open Door Community Health Center Gardens and Food Resource Coordinator, plants onions with volunteer Charles Anderson in the The Arcata Community Health and Wellness Garden on F and 11th streets in Arcata. The thriving garden is open 11-2 on Fridays and maintained by Open Door staff and community volunteers. The fresh produce is harvested weekly and distributed at Humboldt Open Door Clinic and North Country Clinic lobbies and to volunteers. This is one of many Open Door Community Health Gardens located in Humboldt County.
Photo by Deidre Pike
(8 a.m.) Wind and heavy rains left the memorial for Josiah Lawson in disarray at the West End, St. Louis roads and Spear Avenue roundabout.
Photo by Dobby Morse
(1 p.m.) A Call To Yarns meeting at the Arcata library. Librarian Susan Parsons described them as "Women who love to knit. Women who love the library. They come from all over, every Friday at noon."
Photo by Douglas Fir
(11 a.m.) Paul Henninger, of Garberville, smudges his daughter, Teal, and her partner, Kai Ostrow, with sage preparatory to a bulb planting ceremony in memory of Teal's mother/Paul's wife, Jennifer.
Photo by Jon Exley
(4 p.m.) Two locals walk by the front of Greenwired Renewable Energy at Third and A streets. in Eureka.
Photo by Jose Quezada
(8:15 p.m.) Fortuna High School running back JB Lewis is tackled by Arcata High School safety Anthony McQueeney after an 8-yard gain. Lewis and his Huskies teammates eventually beat the Tigers 49-14.
Photo by Lynn Enemark
(around noon) Class of 2018 members take a break from their studies at St. Bernard's Academy.
Photo by Malia Freedlund
(11:15 a.m.) The rain has let up enough for neighbors, Avery Raven and Michael, to shred apples for juicing in Michael's back yard in Petrolia.
Photo by Marcella Brown
(12:02 p.m.) Bertha Herd, featured in the 1987 book, is still cutting hair at 83. She's cutting Ellen Brown's hair in a chair at Redwood Roots Salon in McKinleyville.
Photo by Mark A. Larson
(10:38 a.m.) Andy Alm, of Arcata, poses at his home office with the photo taken of him at his computer at the Northcoast Environmental Center office in Arcata 30 years ago. "I vaguely recall Linn Norton visiting the NEC and taking my photograph at work in 1987, using a film camera," said Alm.
Photo by Mark A. Larson
(7:33 p.m.) It was a busy place in the dressing room for Jesse March (left), Janessa Johnsrude and Tushar Mathew before the Macabre Cabaret 2017 at the Dell'Arte International's Carlo Mazzone-Clementi Theatre in Blue Lake.
Photo by Matthew Filar
(1:10 p.m.) Wildlife rehabilitator Stephanie Owens feeds an orphaned female Northern Raccoon at the Humboldt Wildlife Care Center in Bayside. The HWCC was founded in 1979, serving the region as a network. HWCC began working with Bird Ally X in 2011, merging in 2014 into one nonprofit organization. Wildlife rehabilitation involves giving injured and orphaned wild animals a second chance, returning them to the wild after appropriate treatment. Over 1,200 injured wild animals per year are treated directly, and many more situations are addressed over the phone. Wildlife rehabilitation is regulated by state and federal agencies, and by the National Wildlife Rehabilitators Association Code of Ethics. The HWCC is permitted to rehabilitate wildlife by the California Department of Fish and Wildlife and the United States Fish and Wildlife Service.
Photo by Michelle Norton
(12:34 p.m.) Reflection in the rain puddle of the Arkley Center for the Performing Arts from E Street in Eureka.
Photo by Sam Armanino
( 9 p.m.) Marisa McGrew sets her anchor to rappel off Karin's Rock at Moonstone beach late on Friday.
Photo by Shaun Walker
(2:23 p.m.) Eureka High School students lip-sync and dance during their homecoming parade in Henderson Center. Activities for homecoming week included float building, spirit dress up days, a bonfire rally, athletic games, a dance, as well as the induction of EHS alumni into the school's Hall of Fame.
Photo by Sue Pfau
(11:06 a.m.) Photographer Sue Pfau's husband, Don, hangs out at the entrance to the freeway, going north out of Garberville, mimicking the same image photographed by Douglas Fir in the 1987 book.
Photo by Susan Seaman
(10:30 p.m.) Cedric Seaman takes an adventure party on a quest during their weekly Dungeons and Dragons game in Eureka. Clockwise starting with Cedric Seaman holding the book: Allison Edrington, Tyler Toroni and Jordan Lewis.
Photo by Sydney Fisher Larson
(10:54 a.m.) Leah Sanders, former pre-school teacher, now works in the office of Children's Cottage in Eureka with her 3-month-old daughter DonaJane.
Photo by Therese Scott
(12:20 p.m.) Marian Youngblood, gardener, piano player and fantasy writer, holds a marble egg in Trinidad overlooking the harbor. Why? Because the magic and mysticism of Life are found within the seemingly mundane moments of a day. Life is full of infinite possibilities. You never know what sort of delightful portal might open in a moment of meeting a new "friend." This egg's marble originated from the same quarry used by Michelangelo.
Photo by tom lurtz
(9:26 a.m.) A Coast Guard helicopter patrolled over the McKinleyville ocean bluffs. The rainbow was not considered a threat.
Photo by Victoria Sama
(1:50 p.m.) Jarrold Kwok, 28, from Silverton, Oregon, calls himself a starving artist who likes to live minimally. Trying to attract cars on G Street in Arcata, he was hoping his "sexy and broke" sign would help get him a ride home.