In the midst of grief over the death of their 18-year-old daughter Christina, Stewart and Tina Schwarz of Eureka are trying to find solace and inspiration from her memory. Despite the sudden and tragic loss, her mom said, "Her light will always shine."

Tina Schwarz said her daughter embraced life and encouraged others to do the same. "That's one thing we can carry with us — to live life to the fullest," Tina Schwarz said this morning.

Early Saturday morning, Eureka High School senior Christina Schwarz and 27-year-old Alan "Sunshine" Marcet were murdered inside the house at 2457 Eye Street in Arcata. Later that day, following a brief but intense manhunt, officers arrested Bodhi Tree, a 28-year-old with a criminal history, and booked him into the Humboldt County Jail on two counts of murder.
Christina Schwarz was just two weeks shy of graduating from Eureka High School. She had planned on attending MiraCosta Community College in San Diego County in the fall, where she wanted to study kinesiology. Eventually she wanted to become a flight attendant. "Her dream was to travel the world," her mom said.

During a family vacation to Costa Rica, Christina picked up the local expression "pura vida," which translates literally to "pure life" but is used more broadly to express happiness and a positive attitude. Christina's dad, Stewart, has the saying embroidered on a hat.

Friends described Christina as optimistic and life-affirming. "She was very outgoing, and she wanted everything life had to offer her," said Veronica Santiago, who grew up with Christina and knew her since they were both 6. "She wanted to dance and sing all of the time ... a really happy person." Santiago said Christina often encouraged people with the expression "Manifest your destiny."

An avid swimmer, Christina started going to the Cal Courts swimming pool with her dad at age 2, and she met many of her best friends while competing on the Eureka High swim team. In an online profile, Christina said she also enjoyed nature, meditation, reggae and dancing. Her senior project was to clean blue-green algae from the banks of the Eel River, the profile states.

Through tears, her father could only say, "She will be missed."
click to enlarge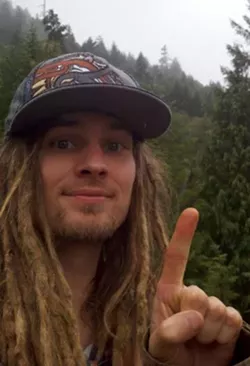 We have yet to speak with any friends or relatives of Alan Marcet, who went by the name Sunshine DayDreamer. His hometown is listed as Flint, Michigan, on his Facebook profile, where friends have been posting artwork, photos and messages of love.

A slideshow with photos of Marcet, along with information about a memorial celebration at Moonstone Beach, can be found here.