click to enlarge
After a full festival dose of music, our teen correspondents Kaylee and Nick Savage-Wright report back from San Francisco's massive Outside Lands Festival.
Kaylee: Only a few hours after the first day ended, people were already reliving the events of the past 24 hours, already planning for next year, their talk full of words like "awesome," and "incredible" and "this-is-the-best-weekend-ever." I can agree wholeheartedly.
The Outside Lands Festival of 2012 took place Aug. 10-12 and gave everyone who attended three days of bliss, so that if the world really did end this year, it would be OK. One of the first and best performances I caught was Of Monsters and Men at the Sutro Stage. I made my way through the huge mass packing in to almost front row, cheering as loud as I could when the Icelandic band members came onstage at 5:40 p.m. Band members charmed their fans with jokes and energy, slamming on their instruments and grinning at each other. At one point the guitarist, Brynjar, stepped forward between songs and threw packets of Skittles into the crowd, his red jacket and candy-giving making him "like Santa Claus," as Raggi said. Besides candy, Of Monsters and Men gave us all a memorable hour of dancing and singing, its blend of Icelandic folk and pop with Nanna's and Raggi's beautifully unique voices leaving everyone wanting more.
When it was clear there was no encore to be had, I walked across the park to the Twin Peaks Stage to stake out a spot for Justice and meet back up with my friends.
Yet another European band making the night worthwhile, Justice threw a crazy performance at us, from the heavy bass blasting my eardrums to the wild, sweaty dancing of the enthralled mob. I almost had a heart attack when Jesus (a.k.a. Gaspard Augé) was suddenly crowd surfing, but my shock turned to laughter and cheering after only a moment of, What the hell? Justice was a great way to keep me awake for the rest of day one and yet tire me out perfectly, so that I crashed once we got back to my friend's brother's apartment.
click to enlarge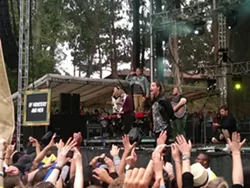 Our concluding day at Outside Lands was possibly the best, the highlight definitely being
Stevie Wonder
. Around 7:20 p.m. the legend arrived on the stage, hundreds of people welcoming him with cheers of adoration and applause. He and his band returned the love with a soulful deliverance of R&B, swaying the crowd with lively jazz pieces and slower songs that made Stevie's words of peace and unity strike the heart.
Nick: Justice is a duo of French house producers. They played Friday night at the Twin Peaks stage. Justice had extremely long and drawn-out builds for their drops. My favorite part was when a Jesus figure rose and appeared to stand on the crowd as if they were water. As the drop built and built the two producers seemed to freeze in a salute to the robed man in the audience. The moment seemed to be frozen in time, even though it was probably several minutes. With a sudden explosion of music our savior dropped like the music into the crowd, disappearing from view.
MiMOSA is a dubstep producer from Los Angeles. He played Saturday afternoon at the Twin Peaks stage. He plays dubstep and electronic music, but also includes hip-hop songs and styles in his music. My favorite part was when he dropped "Hands on the Wheel" by Schoolboy Q featuring A$AP Rocky (a great new song for anyone into hip-hop).
Big Boi was my favorite show. He played on Saturday evening. at the Twin Peaks stage. For people who don't know, Big Boi was part of the hip-hop duo OutKast (with Andre 3000). He was there to make up for last year's power outage fiasco (the power to his stage didn't work and he had to cancel his show) and that's exactly what he did. "Ms. Jackson" sure took on a personal twist, and the crowd went loco after Big Boi played it. DJ Swift was ready for an encore, but sadly the tech guys had already cut the power to the stage and that was the end of the show.