Last night I moved into my buddy's place, where I'll be staying for the summer. He works for 2nd District congressional candidate Jared Huffman. So there I am, brushing my teeth like I do most every night, and I spot a note on the counter:
click to enlarge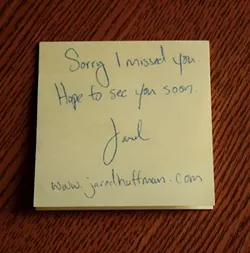 Sweet. Seems like a nice guy. Good penmanship too. But why the URL?
click to enlarge
Oh.
click to enlarge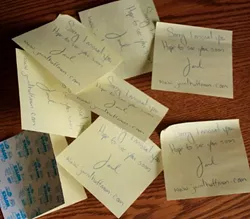 Apparently these things get left on doors. Anyone had their fine oaken paneling gummed by a Jared Huffman Post-it?
Previously: The Huffman Sponge