click to enlarge
Could they all get along?

Over 100 people representing Humboldt's various Occupy groups gathered in HSU's Kate Buchanan Room Monday night for what was billed as a countywide General Assembly to explore the local movement's options going forward. Numero uno on the list of topics: should/could/would OccupyHumboldt, Occupy Eureka and Occupy Arcata consolidate their energies in one form or another.

The night began with a YouTube clip produced by OWS projected on the big screen followed by introductions from every … one … in … the … room. … OccupyHumboldt's Travis Turner acted as moderator, and after some brief announcements he directed attendees into smaller breakout groups to discuss the pros, cons and logistics of consolidating the three groups … somehow.
click to enlarge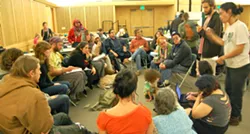 Agreement on what consolidation looked like became the issue. While folks mostly stuck to established Occupy assembly efficiency protocol -- wiggle them fingers, crew! -- reaching consensus on how collective efforts would be directed, as well as whether or not one central location was a good idea, proved to be an impasse.

Turner wants to bring all the local movements together and then divvy up occu-duties under four (or five) subcommittees. Occupy Arcata's Trish Ti thought they might need more commitees. Occupy Eureka's Verbena wants that damn fence (the one around the Humboldt County Courthouse lawn) down!

In the end, consolidation's future remained unclear, but a few things were accomplished. A dialogue was started amongst the factions and another meeting was scheduled for next week.
For more meeting highlights, head over to the Twitterverse and scroll around the #OccupyHumboldt play-by-play. For more photos, hit up NCJ Facebookland.
click to enlarge