click to enlarge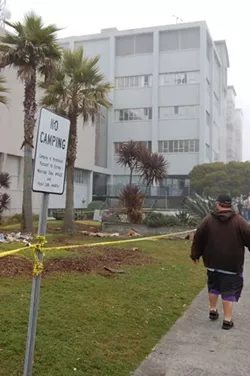 Update: Eureka attorney Laura Cutler arrived at the county courthouse this morning to find the scene pictured above -- the lawn scattered with debris and cordoned off with police tape. The protesters, she said, were given only 10 or 15 minutes to vacate the encampment in the dark, early-morning hours under threat of tear gas. Those who weren't arrested have been seeking permission to cross the tape and clean up the cardboard signs and other detritus.
Two calls this morning to the Eureka Police Department's public information officer, Sgt. Steve Watson, went unanswered.
Cutler said she's serving as a mediator between protesters and local government officials, including Eureka City Manager David Tyson, Humboldt County Sheriff Mike Downey and Humboldt County Chief Administrative Officer Phlilip Smith-Hanes. The two key questions at this point, according to Cutler, are a) what are the charges against the dozen or so protesters who were arrested this morning and b) whose jurisdiction does the courthouse lawn fall under? It's county property in the middle of Eureka.
The Occupy Eureka protesters are planning a "general assembly" today at noon on the corner of Fifth and I streets (in front of the courthouse). "There needs to be a public meeting with all the parties," Cutler said. "The community needs to speak up about whether they want to support this and how they want to see it."
According to Cutler, the protesters up the road at Occupy Arcata are planning to march in solidarity this afternoon, departing from the Arcata Plaza at 4 p.m., proceding south on Hwy. 101 to the Eureka courthouse. Both Occupy groups are hoping to rally supporters via Facebook and Twitter for a demonstration outside the courthouse this evening.
Original post: Police action at the Occupy Eureka protest at the Humboldt County Courthouse at 3:40 a.m. resulted in multiple arrests.
click to enlarge