click to enlarge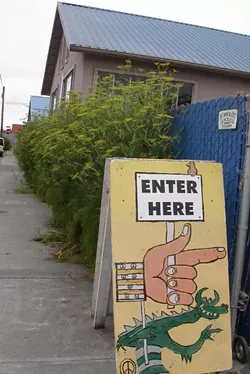 Start making your clattery-boned, orange-vested, hard-hatted, gloved and virtuously reeking calaveras now -- 35 of them -- for those iconic worker-denizens of the Arcata Community Recycling Center. On Jan. 12, the ACRC will be no more. Shut.
We steal this portentous news straight from the reliably fresh slate of Hank Sims' Lost Coast Outpost. Sims confirmed the closure and posted a news release, from which we learn there will be no more Reusables Depot on 9th Street, no more Center for Hard to Recycle Materials (CHaRM) on 10th Street, and no more fancy, gleaming new Processing Facility on the Samoa Peninsula. No more collection service for businesses, either, and say bye to the educational programs the ACRC brought to local schoolkids and residents. Maybe start looking for jobs for the 35 ACRC employees who'll be cast free.
Forty years, rolled out to the curb.
But don't worry, someone else will be dealing with the recyclables: The Humboldt Waste Management Authority (HWMA) awarded the recycling bid to a Willits company. Says the ACRC Board of Directors, in the news release, about that:
"Exporting the material, as is now being done, results in loss of local jobs and hurts the Humboldt County economy. The HWMA will receive approximately $50,000 per year for the recyclables currently shipped out of County. The County's economy will lose $1.5 million dollars in annual payrolls and experience an additional $2.5 million loss in economic activity involving many local businesses in exchange."
click to enlarge