click to enlarge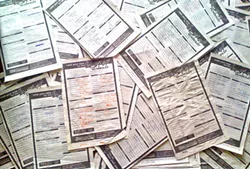 This is it, Hum. Best Of deadline day. You have until the end of the day for you and your friends' opinions to be mega-important.

If you haven't already voted in our annual Best Of poll you can do it here.

But it's not all about you. We should also mention that if you're affiliated with an organization -- or whatever -- that may be in the running for coveted Best Of recognition, you should probably be rallying the troops.

Why? 'Cuz others are.

Yesterday, head Sinner, St. John Hunt, lived up to the pre-poll hype we gave him and dropped off a heavy stack of what appear to be legit ballots. They still need to go through our extremely thorough Jesse Ventura-led Inspection Department -- Jess don't miss things -- but they smell like winners. In short, St. John knows how the game is won. Now you do too.

Y'all have until closing time today -- 5 p.m. for us -- to register your e-votes or walk in our front door and drop off some paper.

Be democracy. Vote, foos.
click to enlarge
Savvy democracy lover.