click to enlarge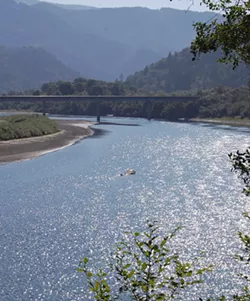 Sad news -- especially for those who seized the opportunity to be mesmerized by cetacean sublimeness in the past couple of months. The mama gray whale who had been living in the Klamath River since June 24 -- and who'd been alone since her calf swam back out to sea July 22 -- has died. Monday evening, she beached herself on a sandbar, and she died at 4:19 a.m. Tuesday with people who had been monitoring her health by her side.
Most agreed that mama's health had been deteriorating more rapidly over the last few days. A press release issued by the Yurok Tribe suggested the whale died of natural causes, but a necropsy had yet to be performed.

Tuesday morning, the whale's body could be seen in waist deep water about 25 feet from the Klamath's north shore and roughly a half-mile west of the Highway 101 bridge.

Yurok tribal members and a team from Humboldt State led by professor Dawn Goley made arrangements to move the corpse out of the river, where they could more easily assess its cause of death. White sheets dampened with a boat's hose kept the whale's skin moist so it would be easier to move and analyze, while the team waited for an excavator that would drag the whale by the tail to shore.

Yurok Tribal Chairman Thomas O'Rourke Sr. summed up the experience in the tribe's Tuesday statement. "To have such a large animal in our presence for so long was a great gift, but now nature has taken its course," he said. "It is truly unfortunate that she didn't try to make it back to her home."
It is. Thanks for the magic, mama.
click to enlarge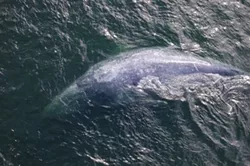 R.I.P.
click to enlarge