click to enlarge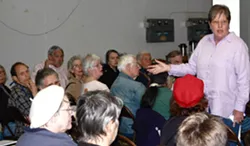 Nearly 100 Eureka residents filled the basement of the Eureka Veteran's Hall Monday night for a community forum scheduled to discuss the firing of former Eureka Police Chief Garr Nielsen.
While praise for the changes witnessed under Garr's tenure made up a significant portion of the sentiment, displeasure with the power wielded by City Manager David Tyson quickly became the theme of the night.
click to enlarge
The following are -- shaky -- video highlights from that meeting featuring resident Sylvia Scott, Eureka City Councilmember Linda Atkins, former Eureka Mayor Peter LaVallee and former Eureka City Councilmember Larry Glass. If you get motion sickness, you might want to wait 'til Ryan Burns breaks it down in print in tomorrow's NCJ.
Nah, watch this.
Yes, blogosphere. Larry Glass "called out" county supervisor Virginia Bass's husband Matthew Owen. If that's all you want to see, scroll south. Have fun, kids.