click to enlarge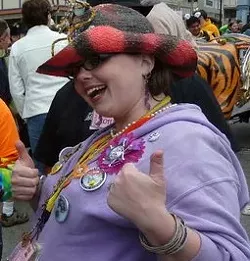 In a sort of epilogue to last week's 2011 Kinetic Grand Championship, the Kinetic Universe announced late last night via their Facebook
page
that President Monica Topping is stepping down after five races and handing the job over to fellow Rutabaga Queen Kati Texas.
While she'll no longer be the point person for future races, Monica assured the Journal via email that she will continue to be a part of the race, now holding the glorious title of "Retired Queen President III."
"Once a Rutabaga Queen, always a Rutabaga Queen," she reminded us while also sending along a tattoo pic that should squelch any question about her kommitment to Kinetics.
click to enlarge
While some may wonder whether the transfer may have been related to any of the kontroversies -- trademarks, age restrictions -- surrounding this year's race, Topping assured the Journal that the transition was scheded well in advance, claiming that "when the board of Kinetic Universe met for its annual retreat in January, I officially announced my intention to serve on the board and as Queen President through the 2011 race."
Speaking about whether or not age restrictions -- the source of this year's glorious beef between race organizers and a few racers, notably the Tiger & Amazon team -- would or could be amended for future races, Monica stated the following:
"I'm not going to say that its impossible that the board would change them at all, but any decisions made in regards to racer/volunteer/spectator/innocent passers-by's safety and board liability are made with utmost care and appropriate time expenditure. I'd like to also point out that if the rules were to be adjusted at all, it would not be in response to any machines [that] did not follow the rules this year, but purely in the interest of making the Kinetic Grand Championship ever-better."
In related news, the Kinetic Universe also welcomed new board member "Hippie," for what it's worth.
click to enlarge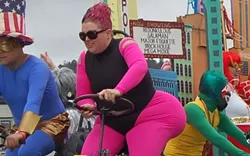 New Kinetic President Kati Texas' alter-ego "Queen Redonkulous."