KSLG DJ Melissa Culbertson is covering the CMJ Music Festival for the North Coast Journal and KSLG. Follow her at @silygirl0.
click to enlarge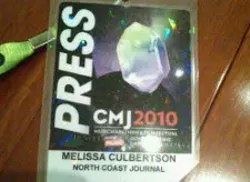 What I Did On My CMJ Vacation -- Day One.
By Melissa Culbertson
Melissa Culbertson here in New York City all week long to attend the CMJ Music Marathon and Film Festival. (If you have no idea what I'm talking about go here and read all about it.) Yesterday was day one of this 5 day long five-day marathon, and it is indeed quite the marathon. With over 1,200 bands playing at various venues through out throughout the boroughs, along side alongside interesting panels and films, I seriously didn't know where to begin. I think I need a secretary to help keep my plans in order.
I started off my day by taking the subway down to get my credentials and just check out the over all overall scene at NYU, which is the main head quarters headquarters of the event. There were hundreds of people coming and going, all dressed up in their best hipster gear, ready to prove their coolness and overall knowledge of the scene. I was a bit out of place, being older and inexperienced with the whole process, but I quickly adapted and joined the ranks of the masses their ranks .
I didn't know where to begin, so I decided to start my time day by attending a panel en titled "American Hardcore and the Rise of Modern Rock. ". It was an informative and interesting hour. There were panelists such as The panelists included Jack Rabid, who started the magazine The Big Takeover, and Steven Blush, author of American Hardcore: A Tribal History. The panelists mainly They talked about how the DIY (aka d "D o i I t y Y ourself" ) movement got started and how it has affected today' s record industry. It was very interesting, but yet not so informative to me, being as though i grew up in that scene, and have helped many bands and zines do it themselves. [Comes off as bragging, Melissa -- Ed.] It was refreshing to see so many students and young college music directors listening to these words of wisdom. Hopefully the next generation will take cues and keep producing their own publications, and albums in the future. If you are interested in reading more about this topic, check out Blush's book, which is available online and in most book stores.
click to enlarge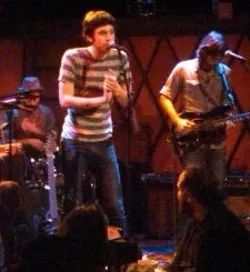 Since it was the first night, there weren't too many bands I specifically wanted to see There weren't too many bands I specifically wanted to see on the first night , so I decided to just wander around the East Village and see what came my way. Luckily I stumbled across an artist named Jeff Taylor who put on quite the an incredible live show. Every song went in such a different directions, as well as his vocal range . Jeff Taylor would make these moans, and screams out of nowhere, blended blending them with his lovely melodies and honest song writing songwriting .

I was lucky enough to snag a quick interview with him and ask him about his performance and writing process. My first question to him was about this unique sound he has created, . and h H e explained that it isn't really planned he doesn't really plan it while writing the songs, that -- it just sort of comes out of him while performing during the performance . You can see w W hile watching him on stage, you can see that he is sincere and filled with emotion with every note . During one of the final songs he was playing piano, and you could actually see tears in his eyes.

I asked him what happened to evoke so much emotion, . Jeff Taylor explained that his father had passed a while back, and always wanted the best for him, but it wasn't exactly what he wanted to do. So he feels the pull to try to follow his parents' wishes in life, and just go on his own path, and that song was inspired by these emotions. [Unclear, please rephrase -- Ed.] It was nice to see an artist really expose themselves himself on stage, and just be real .

Tonight's line up lineup promises to be even more exciting and jam packed jam-packed than yesterday's events. I will do my best to go to as much as possible, and then inform you of all the happenings out here on the east coast East Coast .