click to enlarge
No freaking joke -- the Eureka Inn is going to have a semi-stealth grand opening tomorrow. The Journal just spoke with owner Libo Zhu, who was answering phones at the desk when we called. Zhu said that the company didn't wish to make a splash because they're just starting with a few rooms at first. (Zhu also said that the opening is happening tomorrow, not Wednesday, as the link above would indicate.)
This is a historic goddamned day. It's been almost six years since the grand old Inn, perhaps the second-most historically significant building in Eureka, shuttered its doors amid all kinds of weird financial scandal.
Welcome back, Eureka Inn! Congratulations, Libo Zhu!
UPDATE: On-the-scene report from Richard Stenger of the Humboldt County Convention & Visitors Bureau, who was as shocked as everyone by the news:
click to enlarge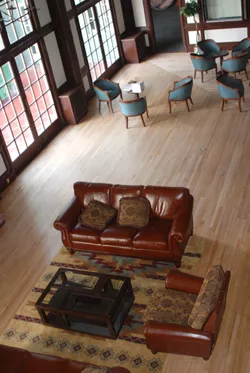 The Eureka Inn is going to have a modest reopening of 50 rooms while they renovate and upgrade the other 50. It will be sort of kitschy and retro, but not 100 percent luxurious yet -- that is, the rooms are in clean but not luxury shape. But the price will be quite a draw: $64 and up. Priced equivalent to a mid-level hotel it will be a good value, and fun for those wanting a bit of history with their room.
UPDATE 2: The T-S is saying that the first rooms will be let next week, not today. Open for reservations as of now, though!