click to enlarge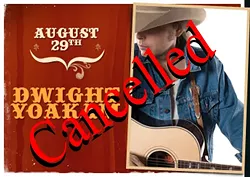 This just in from the folks at Dimmick Ranch:
Regrettably we have to announce that the Live on the County Line show Saturday August 29 featuring Dwight Yoakam at the Dimmick Ranch has been cancelled.
The show was also set to feature Kelly Willis , John Doe and the Sadies and Wanda Jackson . "This is a good thing," said Yvonne Hendrix, media director for the event. How's that? "Dimmick Ranch really wants to focus on Reggae Rising 2010," Hendrix said. "This year was such a great success."
So what? You can't have two successes? "Ticket sales were really slow," she added. "There's a lot of music happening that weekend."
Oh, I get it. Well, on behalf of the other five -- or however many -- people who actually bought tickets for this super-fun-sounding event, I'd just like to say, fuck you, Chris Isaak . And you, too, Built to Spill . And Ween? Why don't you demented jokers go back to huffin' Scotchgard ?
(If I'm being honest, Ween/Yoakam fan crossover seems unlikely, but, hell, there must be a few others like me out there. Plus, I need a scapegoat. You goofy-lookin' bastards.)
Refunds are on the way, apparently -- automatically if you used PayPal; through your chosen ticket outlet otherwise. Sigh... After that Prince show in 2002, Dwight moved into the number-two spot on my wife's list of who to see before she dies. I guess we'll just have to drink ourselves into a stupor while quietly weeping to " Buenas Noches From a Lonely Room " and embracing our custom-painted black-velvet Dwight portrait. (Yes, we actually have one of those.)