click to enlarge
You may remember Mary Ann Lyons from last year's presidential race. She was Humboldt County's Obama Girl , the early adopter who ended up running the local portion of his campaign. Last week we got a call from her. She was on the road, on her way to Los Angeles.
She was among those who won the ad hoc lottery and received what she called "a golden ticket" - an opportunity to witness history by attended the memorial service for the King of Pop. We asked her to share her thoughts when she returned. Here's what she wrote:

Pilgrimage for Michael.
By Mary Ann Lyons

"Michael Jackson died," my son, Josh, told me. It was the sort of news item I never believe, so of course I went straight to the Internet. Yes. He had died of cardiac arrest.
As the day wore on and I searched for more news, I realized that this was no ordinary passing in my life. The child in me felt I had lost an old friend. When I was 11 years old, I inherited my Grandma Mert's old phonograph and 78 records: the Andrews Sisters and Ink Spots. My first 33 1/3's were the Jackson Five and the Monkees. I remember dancing in front of the screen on the turned off black and white television set so I could watch myself — and just loving it. My childhood was not an easy one. It was filled with violence and unhappiness, but little Michael Jackson could get me up on my feet and I would dance and dance and dance. He grew up with me. I grew up with him. "A-B-C, It's easy as 1-2-3."
By the time Michael Jackson was a solo artist, I was becoming a mom. MTV appeared one day over the airwaves. Music videos played 24 hours a day and the announcer kept telling us cable was coming to our area soon (Riverside) and when it did we should ask for MTV. Michael's videos were awesome. They were short stories. They were art. My children danced along with me as I aged with Michael.
I backed him all the way: in good times and bad. I was a true fan. I knew about his eccentricities and his illnesses. I followed his trials and tribulations. Over the years, like many others I watched as the child our culture had made into an icon was torn down and cast aside as we have done to so many others.
I lived my life far away and far removed. Like a little girl I daydreamed that I could go to Neverland and show him there are good people in the world who want only other people's happiness, not their money.
When I heard he sold out 50 shows in England, I was happy and excited that he was able to pull himself out of the despair and wanted to make us all dance again as only he could. I was rooting for him. Go with your bad self, Michael! You can do it.
And then he died.
I was surprised at how strongly I was affected. I wanted to go. Wanted to pay me respects. But then I read and saw how many others around the world were saddened by his death. I entered the lottery along with 1.6 million other fans who, like me, wanted to attend his memorial in L.A. The website and all the news outlets said we would find out on Sunday after 11. The time came and went and I resigned myself to watching it on TV.
Then… at 8:30 pm, I checked my email again and — there it was: Congratulations! I was one of the chosen! I had to make it to Dodger Stadium by 5 p.m. the next day to pick up my wristbands and tickets for the Tuesday Memorial at Staples Center!
Two hours later, my daughter-in-law, Tomire, and I began our pilgrimage. We drove all night to get there early enough to assure a seat inside Staples Center. We went through the checkpoints down the street from Dodger Stadium. In the middle of an empty parking lot, we drove between row of cones lined with friendly LAPD officers and stadium staff to receive our wristbands, then, tickets in hand with time to kill, we bumped to "Thriller" as we drove to Hollywood Blvd. to pay tribute at Michael Jackson's star.
In front of Graumann's Chinese Theater, the gathered crowd pointed the way to his star. There were cheap t-shirts, bootleg CDs, impersonators, tourists, and security guards amongst the crowd. Our wristbands made us the center of attention. It was a happy, curious, sad, somber moment.
By three in the afternoon Tomire and I were delirious. We found a hotel on Hollywood Blvd. and prepared for Tuesday's Memorial. Up early with lattes in hand, we hopped on the Metrolink and visited with other 'golden ticket' winners. A young Mexican woman told me in broken English that her husband had worked all night but she made him come. She knew I understood. We giggled, then got teary eyed. Everyone felt a special honor and luck at being given this opportunity to attend.
click to enlarge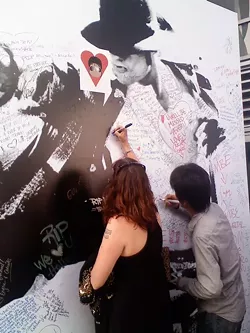 Tomire and I stood in line to sign the Memorial Wall.
click to enlarge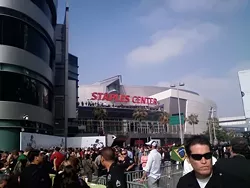 By the time we were seated in the arena (up very high to the right of the stage), we could feel the emotional energy building around us. Every demographic was there. Well, maybe not too many 80-year-old rednecks, but all the rest of us were represented.
A choir sang while Michael's casket was brought in by his brothers — there was not a dry eye in the house. As one, we applauded his achievements and grieved with his family. Almost 20,000 of us gave standing ovations to powerful speeches by Rev. Sharpton and Martin Luther King's grown children. We applauded videos of Michael's signature moves. We understood when Mariah Carrey wasn't pitch perfect, and when Usher broke down crying, it grabbed our hearts. We felt a brother's pain and love when Jermaine sang Michael's favorite song. We laughed at Magic Johnson's KFC chicken story. We sang along to "We Are the World," remembering for a moment the power of the gentle voiced man who had given so much to charity, and to the world. And in a little girl's voice, we felt the loss of a father.
As I looked around the stadium, I wondered at our culture and the little boy who became a king. I was glad I had made this journey. For me, it was the end of an era. It was a fitting send-off for a troubled soul who was my childhood friend, a friend I never met, but dance with still. I hope somehow he knew.