click to enlarge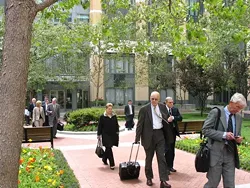 Defense attorney James Brosnahan (center, bald) and Maxxam chief Charles Hurwitz (behind Brosnahan) leave the Oakland federal courthouse Monday, which turned out to be the last day of the trial. Photo: John Geluardi.

This just in from Oakland: Parties in the fraud suit against Charles Hurwitz , former owner of the Pacific Lumber Company, have reached a settlement after one week of trial. Journal freelancer John Geluardi reports that former CDF employees Chris Maranto and Richard Wilson have agreed to drop their whistleblower suit against the Texas financier in exchange for $4 million. Originally, the two had sought damages of up to $750 million for allegedly defrauding the federal government during the Headwaters Forest deal.
We'll have updates here as the day goes on, and this week's Journal will feature a cover story looking back at the trial.
click to enlarge