click to enlarge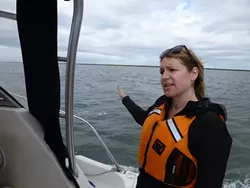 Do rockfish breathe sighs of relief? No? How about shorebirds? Or sea lions? Perhaps razor clams? (How do those things even breathe?)
Okay, well, whether or not they know it, marine life on the North Coast will now enjoy protection in a new network of underwater parks. Yesterday, in a conference room at the Eureka Red Lion, the Fish and Game Commission voted to adopt a network of marine protected areas that, remarkably, had been agreed upon by a diverse group of local stakeholders, including environmentalists, fishermen, scientists, native tribes and government officials.
These protected areas were created through the state's 1999 Marine Life Protection Act (MLPA), a public/private initiative to limit or restrict fishing and gathering in sensitive areas. The North Coast Study Region, which stretches from Mendocino County's Alder Creek up to the Oregon border, was the only section of the state in which stakeholders reached a consensus on where these safe zones should be located. In the photo above, Humboldt Baykeeper Director Beth Werner discusses one of these areas, located in South Humboldt Bay.
click to enlarge
The map at right shows that area's boundaries, which were included in the region's unified proposal after negotiations to avoid important Wiyot tribal gathering spots. On Monday's boat tour, Werner said that the Harbor District is working on an agreement with Fish and Game to set up and maintain buoys to make the area's edges easier to identify.
Below is a press release from Jennifer Savage of the Ocean Conservancy.
Eureka, CA-- California made history today when the Fish and Game Commission voted to adopt a network of Marine Protected Areas for northern California. The vote marks the completion of the United States' first statewide network of underwater parks, protecting California's most iconic coastal waters and sea life, from rockfish and razor clams to Steller sea lions and shorebirds.

In Eureka, where the hearing was held, tribal leaders and conservationists celebrated the announcement.

"We can thank north coast solidarity for this remarkable achievement," said Bill Lemos, a retired schoolteacher and fisherman. "People came together to protect one of the most productive ocean regions on the planet."

The unified plan for marine protected areas that Fish and Game adopted was created by local fishermen, divers, tribes, business owners and conservationists. "After years of debate, people put their differences aside and focused on what we all agree on," said Jennifer Savage, North Coast Coordinator, Pacific Programs at Ocean Conservancy. "We agreed we need to act now to protect the ocean health that's at the heart of our local economy and identity, whether we're business owners, fishermen, birdwatchers or just love this wild coast."

The protected areas were created through the landmark Marine Life Protection Act (MLPA) of 1999. Over the last eight years, conservationists, business owners, scientists, tribes, fishermen, recreational ocean users and government officials met up and down the coast to collaboratively design the network. It is one of the largest, most public natural resource management initiatives ever undertaken.

Special North Coast places that will be protected include:

South Cape Mendocino,whose pebble beaches entice visitors for world-class wind surfing, tidepooling and wildlife viewing. Its waters are teeming with sea life like Steller sea lions, abalone and cabezon. Nearby Sugarloaf Rock is one of the state's most important seabird rookeries for species including the tufted puffin.

Pyramid Point, the northernmost tip of the ruggedCaliforniacoastline and popular for shore angling, beachcombing and kite flying. It provides shelter for nearshore rockfish and feeding grounds for sea lions, dolphins and other large sea mammals. The rocks also support some ofCalifornia's only breeding Fork-tailed Storm-Petrels and Tufted Puffins.
Ten Mile.Located 10 miles fromFortBragg, the beautiful beach entices visitors down to the shore to view birds and whales, ride kayaks and picnic. This area at the mouth of Ten Mile River includes estuarine waters important to salmon and steelhead, and nearshore waters home to abalone, sea urchins and Dungeness crabs.