Posted

By

Ashley Harrell on

Wed, Jun 24, 2020

at

11:12 AM


Aspiring photographers, outdoor enthusiasts and science nerds: Please allow us to introduce Humboldt Geographic. No, not the new HSU geography department magazine. This Humboldt Geographic is a new-ish Facebook group where you can post your jaw-dropping photos and videos, learn interesting things about the county's geography, connect with people who have similar interests and get ideas for outdoor adventures that are unlikely to result in a COVID-19 infection.




Group founder Rowdy Kelley is based in Fortuna but frequently ventures out and about, scouting locations for Humboldt-based feature films, IMAX movies, music videos, promo videos and commercials. He's worked on the sets of more than a dozen films, including Woodshock, The Majestic and A Wrinkle in Time, along with six TV and movie projects involving Bigfoot. He mostly serves as a location manager but occasionally he's taken on roles as an actor and even a stuntman.


Sunday, June 7, 2020
Tuesday, March 31, 2020
Hang your heads, for the Kinetic Grand Championship Race as we know it will not take place this year with an Arcata Plaza kickoff and all its attending fanfare. Instead, as Queen Professor President Kati Texas stated in a press release, a three-day Kinetic Sculpture in Place event will take place online, with teams completing challenges on video with their human-powered art mobiles from May 23-25.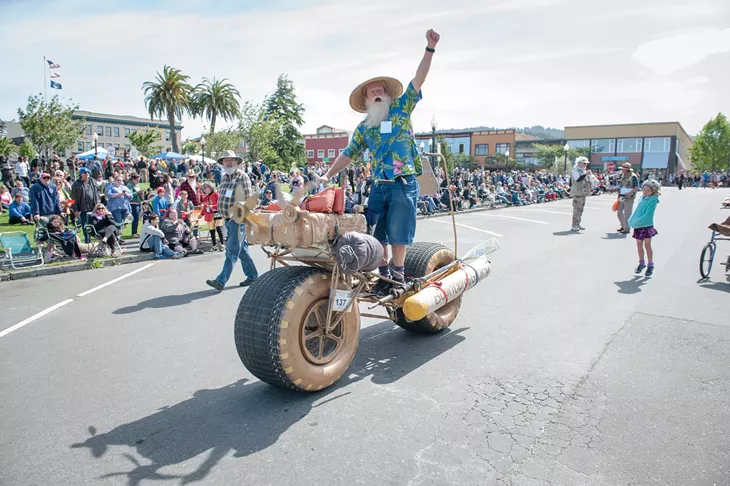 45 slides
"Artists, engineers, athletes, and Glory hogs of all ages will compete in the traditional categories of Art, Speed, Engineering, and Pageantry plus some online exclusive awards just for this year (we all hope.)," the release reads. Whether shelter-in-place orders would mean teams would have to be restricted to household members is yet to be seen. The Memorial Day weekend will also include a Kinetic Kids Challenge, a Remote-abaga Ball Live and viewing documentary and other footage from the Kinetic Museum Eureka. Enjoy Mark McKenna's slideshow of kinetic madness from last year and let it buoy you like a giant floating dragon/horse/crab thing full of exhausted, sunburned people pedaling and paddling as fast as they can.
Monday, August 26, 2019
Posted

By

Mark Larson on

Mon, Aug 26, 2019

at

5:26 PM

A large crowd of fans of horse-racing and ladies in hats showed up for Saturday's free admission to the eighth annual Ladies Hat Day at the Races at the Humboldt County Fair in Ferndale.
The hat wearers moved onto the racetrack for the Parade of Hats competition in "Hatagories" that included Most Glamorous, Best Racing Theme, Funniest or Most Outrageous, Most Original, Youth and Best Couple or Group. Generous prizes were offered after the sixth race for the Grand Prize winner, the Runner-Up winner and the best hats in the four categories. See the slideshow below for shots of the top toppers.


Thursday, August 22, 2019
Enjoy a mood lifting three minutes of the happiest music you'll hear all day in the some of the prettiest places in our neck of the woods. Raashan Ahmad's video for "Wonderful Fantastic" is a joy-driven tour of Humboldt beaches and forest featuring local talents Jonny Woods and Brian Swizlo of Object Heavy. We defy you not to tap your toes and challenge you to spot all the locations in the video below.


Monday, August 19, 2019
Posted

By

Mark Larson on

Mon, Aug 19, 2019

at

4:35 PM

Given the last few years of wildfire smoke-filled skies, it was a relief for a large crowd of attendees to only smell smoke from the traditional salmon fire pit at the 57th annual Klamath Salmon Festival on Saturday, Aug. 17. This year's theme was "Skue'n 'Owook, Can't Wait for Tomorrow," which linked Yurok Tribe plans for the removal of the Klamath River dams and the reintroduction of the California condor in Northwestern California. (See the slideshow below for highlights of the event.)


Sunday, July 21, 2019
Posted

By

Anthony Westkamper on

Sun, Jul 21, 2019

at

3:00 PM

Like any collector, I have my unicorns. Near the top of my list was Holorusia haspera, the western giant crane fly. Looking like the biggest mosquito you ever saw, this is an impressive critter. I grew up calling them "mosquito catchers." As a larva, they live near water, feeding on decaying vegetation in the moist soil. As adults, they are not known to feed at all. These fragile creatures resemblance to the pesky little vampires often gets them killed. I hadn't seen one in years.

The day after I received my newest camera, ordered for its impressive focus stacking capability, I noticed one with a nearly 5-inch leg span on my wall. It was very cooperative so I took dozens of shots using every technique I know for the little camera. Yay, for coincidence.




Wednesday, July 3, 2019
Posted

By

Mark Larson on

Wed, Jul 3, 2019

at

3:33 PM


The 24th annual Sand Sculpture Festival turned the Samoa Drag Strip into a packed parking lot on Saturday, as the Friends of the Dunes fundraiser attracted a large crowd to the nearby ocean beach. Nineteen teams of artists working in the medium of ocean beach sand competed for fun, cash prizes and various awards, while attendees who made donations got flags to post in the sand and "vote" for their favorites. (Dig the photos of the sculptures and sculptors below.)

"We created this event as a way to share the dunes with our community in a fun, creative way," said Mike Cipra, executive director of Friends of the Dunes. "It's another way to get local artists and others out here to enjoy the ocean shoreline."


Thursday, December 13, 2018
Posted

By

Mark Larson on

Thu, Dec 13, 2018

at

4:30 PM



The third annual Ugly Holiday Sweater Run on Sunday had runners and walkers in the1-mile and 5-km races wearing examples of taste-deficient knitted nightmares. The races began and ended on the Arcata Plaza. The family-friendly event is a fundraiser for Humboldt Educare, organized by Arcata Main Street.

Prizes were given out for age-bracket winners by gender in the races and for winners who stood out in the "ugly holiday sweater" theme across a mix of categories. Brace yourself for the garish slideshow below.


Wednesday, October 10, 2018

Bushels of fun were had this past weekend at Fortuna's annual Apple Harvest Festival. Locals and visitors alike enjoyed pies and cider, a street fair, arts and craft vendors and live music throughout the weekend. And down at Clendenen's Cider Works, apple-cheeked kids and adults alike sampled pressed cider and climbed aboard hayrides through the orchard. Photographer Mark McKenna captured some highlights from Sunday's festivities in the slideshow below. Savor the sweetness at your leisure.