Libby Maynard, co-founder of the Ink People for the Arts in Eureka back in 1979, retired recently after 42 years as its executive director. She was offered much love and appreciation from a wide range of community members at the Ink People Street Party and Celebration of Libby Maynard at the Synapsis space in Eureka on Saturday.
Through its DreamMaker Program, Ink People provides administrative and logistic support to more than 100 independently directed, community-initiated arts and culture projects. Its other core projects include facilitating public art, promoting community artists and culture bearers, creating arts programming for youth and the differently abled, and partnering with municipal, state and tribal authorities to promote the arts.
The rain held off until the live music and dance events held outside on Union Street starting at noon were over. At 3 p.m., Ink People Executive Director Leslie Castellano (who recently replaced Maynard in that role) led a program inside Synapsis acknowledging Maynard's career as an artist, community organizer, Ink People administrator and friend of anyone who wanted to join the local arts and cultural scene. (See the slideshow below for highlights of the event.)

Speakers included past and current Ink People board members, Wiyot Tribal Chair Ted Hernandez, Eureka Mayor Susan Seaman and members of community arts and cultural groups who, over the years, had found shelter under the Ink People organizational umbrella and benefitted from Maynard's guidance. Carrie Grant, on behalf of the Ingrid Nickelsen Trust, presented Maynard with a $5,000 grant to support her own work as an artist into her retirement. The Ingrid Nickelsen Trust was established in 2007 by the artist's estate to provide grants to women artists in Humboldt County.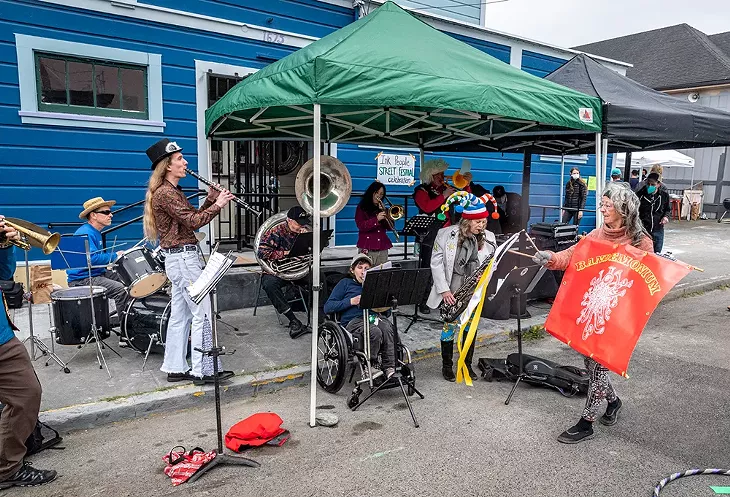 14 slides