Given the last few years of wildfire smoke-filled skies, it was a relief for a large crowd of attendees to only smell smoke from the traditional salmon fire pit at the 57th annual Klamath Salmon Festival on Saturday, Aug. 17. This year's theme was "Skue'n 'Owook, Can't Wait for Tomorrow," which linked Yurok Tribe plans for the removal of the Klamath River dams and the reintroduction of the California condor in Northwestern California. (See the slideshow below for highlights of the event.)
The festival featured the usual long lines of attendees waiting to enjoy the traditional meal of salmon steak. Other activities included live music, Indian card game and stick game tournaments, and 105 vendors of Native American jewelry, clothing and other food options including a fresh fruit and vegetable stand by the Potowat Community food Garden. Saturday morning began with the Ney-Puey Color Run, followed by the festival parade that ended amid the 10th annual Classic Car Show organized by Yurok elder George Smoker and his wife, Marla.
The annual parade featured four grand marshals including Joe Pitt Sr., of Klamath, Nellie McNeal, of Pecwan, Gloria Shuster, of McKinleyville, and Mildred Griffith-Montgomery, of Hoopa.
A popular venue in its second year was the Native American basket weaving demonstration and displays by 10 talented weavers representing the California Indian Basketweavers' Association and multiple tribes in the Pacific Northwest. The Klamath River Book Nook basketry class also displayed a new exhibit of five dolls with hand-made regalia.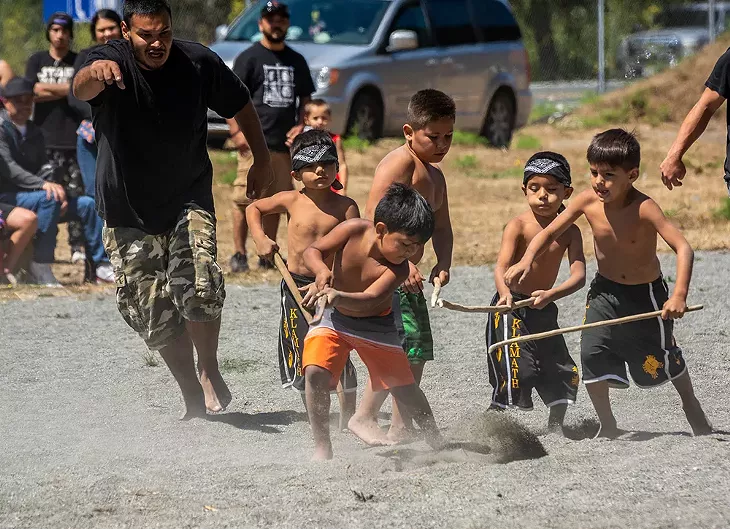 23 slides